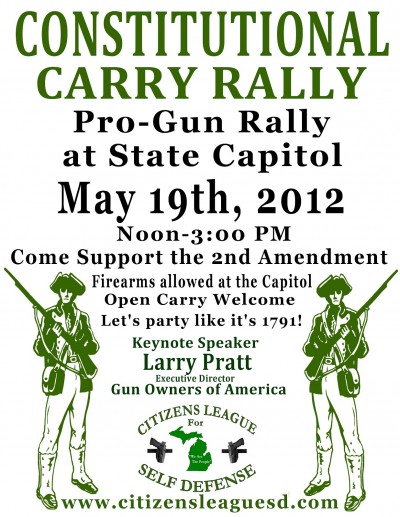 For those with a mind for voicing their support of Second Amendment rights publically, the Citizens League for Self Defense (CLSD) is planning a rally in Michigan on May 19th in support of constitutional carry in the State Capitol in Lansing.
This rally seems timed to come nipping at the heels of proposed Michigan legislation to scale back some of the bureaucracy involved in acquiring a CPL in the state.  The bill would also seek to allow concealed carry in what were once "pistol-free zones" on the condition that a CPL holder underwent an additional nine hours of training in the classroom and on the range.
The rally, of course, is in essence asking legislators to take this one step farther and join Vermont, Alaska, Arizona, and Wyoming in opening up concealed carry to all responsible citizens, not just the ones who have the time and money to work through the licensing system.  As the CLSD states on their website, "The 2nd Amendment is clear, the right to keep and bear arms shall not be infringed.  It does not state 'Unless you have a license or permission.'" John Roshek, President of the CLSD, says this of the goals of the rally in MLive, "We're in the beginning stages right now in [attracting the interest of legislators].  We have reached out to one or two lawmakers and basically the response we got is, 'Let's have the rally and see what you have in writing and go from there.'"
The rally will include Brian Jeffs (2nd Amendment March Board Member), Michael Trebesh (a State Representative candidate), Steve Dulan of the Michigan Coalition for Responsible Gun Owners, Michael Thiede (Vice President of Michigan Gun Owners), John Roshek (President of the CLSD), Doc Thompson (National Radio Host 1270AM), and keynote speaker Larry Pratt, the Executive Director of Gun Owners of America.  Roshek anticipates between 300-400 attendees at the rally, which will last from noon to 3:00 PM, and open carry at the event is encouraged.  Additional musical entertainment will be provided by the band High Class Truckers.
The Citizens League for Self Defense has further information, including Lansing bus schedules, maps, and dining guides, on their websites. The rally's schedule of events, as listed by the CLSD, is as follows:
Schedule of events:
Noon-12:15 PM: The Band-High Class Truckers
12:15-12:20: Welcome and intro Brian Jeffs
12:20-12:30: Brian Jeffs
12:30-12:35: Intro for Michael Trebesh
12:35-12:45: Michael Trebesh
12:45-1:00: High Class Truckers
1:00-1:05 Intro for Steven Dulan
1:05-1:15: Steven Dulan
1:15-1:20 Intro for Michael Thiede
1:20:1:30 Michael Thiede
1:30-1:35: Intro for John Roshek
1:35-1:45: John Roshek
1:45-2:00: High Class Truckers
2:00-2:05 Intro for Doc Thompson
2:05-2:20: Doc Thompson
2:20-2:25: Intro for Larry Pratt
2:25-2:50: Larry Pratt
12:50-3:00: Wrap-up and finish with High Class Truckers
Again, the event is taking place on: May 19th from 12:00 PM – 3:00 PM in Lansing, MI at the State Capitol
Photo: Citizens League for Self Defense
Any views or opinions expressed in this article are those of the author and do not reflect those of OutdoorHub. Comments on this article reflect the sole opinions of their writers.