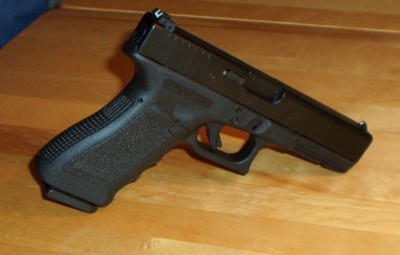 Last Friday a state judge ruled that Steve Hopler, a 49-year-old legally blind New Jersey man, is to have his gun collection returned to him from the Rockaway Township police.  This latest ruling is one in only a string of legal scuffles over the enthusiastic collector's Second Amendment rights.
Hopler's troubles started three years after he lost his sight to diabetes in 1991.  At that time, police revoked his firearms purchaser identification card (FPIC) after learning of his blindness.  Hopler, however, wouldn't stand for the decision and appealed, leading to a court order that allowed him to keep his permit and fire his weapons "only in the presence of an adult trained in the use of firearms," according to the Star Ledger.
This is, in fact, an issue that crops up surprisingly frequently across the United States, and it sits squarely in the murky waters where personal responsibility and disabilities mix.  In some states, like Michigan, hunting while blind is legal if a well-trained companion, of legal age, is along to aid the blind hunter and prevent accidents.  This has worked rather well so far, such as in the case of 81-year-old Louisiana man Walter Hill who was blinded in a work accident in 1975.  He shot his first buck in 37 years with the help of a friend and the recently passed HB 39.  As his wife told the Shreveport Times, "Walter will be 82 years old in three months and hopes he can 'see' and shoot a bigger buck next time.  Bucks or does, he's still having the time of his life getting back in the woods again to hunt."
Here is a video of a blind shotgun shooter making some great shots:
Of course, not everyone feels comfortable with the idea of a hunter, target shooter, or even just a collector who lacks the ability to directly see his or her target.  User Sachiko related a common criticism on a related story on HotAir.com, "How do we know he won't accidentally hurt himself again? Or accidentally hurt someone else?  I support the 2nd Amendment… for people who can actually see where they are aiming. Letting him have guns defies all common sense."
Steve Hopler, though, has not had the decency of a definitive decision on his status as a gun owner; over the last decade, he has been forced to fight a string of attempts to take away his Second Amendment rights.  In 2004, the Rockaway Township police chief refused to grant Hopler a new handgun permit because he had been arrested for getting drunk and unruly in a local bar the previous year.  Hopler challenged the police chief and won.  In 2008, a negligent discharge while cleaning one of his weapons wounded Hopler in the shin.  While in the hospital recovering, Hopler's tenant, Kenneth Struck, broke into Hopler's apartment with an accomplice and stole 12 firearms.
While investigating the burglarly, Rockaway police took eight firearms they found in Hopler's apartment and kept them originally for "safekeeping," which eventually became "because we are seeking their forfeiture," according to Jeffrey Paul, a spokesman for Morris County Prosecutor Robert Bianchi.  Following testimony (from the very same tenant/burglar who stole the weapons) that Hopler supposedly frequently drank entire 30-packs of beer a day, the Morris County Prosecutor's Officer decided to attempt to revoke Hopler's FPIC and seize the remainder of his weapons, which were stored in a safe in his basement.  Hopler vehemently denied all charges, stating that he never consumed more than two alcoholic drinks in a day and that 30 was "unbelievable", and that what Struck claimed was loud, drunken cursing was often frustration with his own condition, as NJ.com paraphrased, "He acknowledged that he sometimes "cussed" loudly but cited the difficulty, for example, of dropping macaroni all over the floor and then having to pick it up without being able to see it."
Judge Manahan, who oversaw the case, ultimately ordered Hopler to undergo an alcohol abuse evaluation and to take a weapons course.  Now that both are completed, Manahan has stated that he feels Hopler is well versed in how to handle a firearm, and that he can finally get his weapons back.  Hopler's lawyer champions this as a win for personal liberty, saying, "[Hopler's] always enjoyed collecting. When he lost his sight it was just a continuation of what he'd done his whole life.  It's a hobby and you know what? It's his right."
Any views or opinions expressed in this article are those of the author and do not reflect those of OutdoorHub. Comments on this article reflect the sole opinions of their writers.