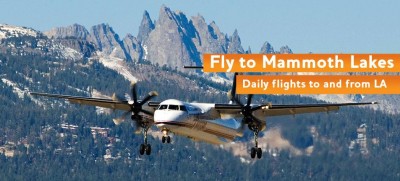 With a 4-1 vote to allow gun stores in the town's small commercial area, Mammoth Lakes, CA proved last Friday that even in states where restrictions on firearms are heavy, common sense can still prevail.  The small resort town, which as of 2010 had a population of around 8,200, is located in the Eastern Sierras of the state, and it bills itself as "California's premier mountain resort".  It's home to, amongst other notables, Mammoth Mountain, an 11,000 foot summit ski resort, and Mammoth Brewing Company, winner of the World Beer Cup Gold Award.
There is a particular quirk of tourist-driven economies that becomes readily apparent to persons who have spent much time in places like Mammoth Lakes (where vacationers account for most yearly income): the image and "feel" of these town are paramount to their survival.  Understandably, the Mammoth Lakes Planning Commission immediately hopped onto the issue of gun stores in their downtown area after an inquiry was made into opening a store on one of Mammoth's primary thoroughfares.  The interested party has not yet officially filed an application to open a business, so his or her name is known only to the Community Development Department.
Thoughts from the community at large were mixed, such as Clayton Mendel of Eastern Sierra Armory, who was taken by surprise when his plan to move his business to the town's Industrial Park (where gun stores were already permitted) was held up.  His store has so far been run from a home manufacturing office, where he deals heavily in rifles and rifle accessories for biathlons –a perfect fit considering that Mammoth just hosted its 5th Annual Mammoth Winter Biathlon, the largest competition of its kind in North America.
Others, such as resident Wilma Wheeler, were opposed to the idea on the basis of how it might change the feel of the town: "I object to seeing a firearms dealer in our community.  I don't think it goes with our, or at least my, vision of Mammoth as a place for recreation and for people to enjoy the peace and serenity of this area. I don't have a legal reason to object, but I object because I think it might change our community quite a bit. We know there are some people, who unfortunately, don't use firearms in a good manner, like that tourist shooting a bear. "
Ultimately, however, the planners made a well-informed decision regarding the issue and sided with a staff report that, according to the Mammoth Times, "suggested there was no reason why a firearms store should be treated any differently than any other kind of store, at least by the town government."  Community Development Director Mark Wardlaw also stated that there was "no connection" between the usage of firearms and their point of sale.  This stands in stark contrast to the ban on home firearm sales enacted by a zoning commission in another California town last month.  Read more on that here.
Photo: Mammoth Lakes Tourism