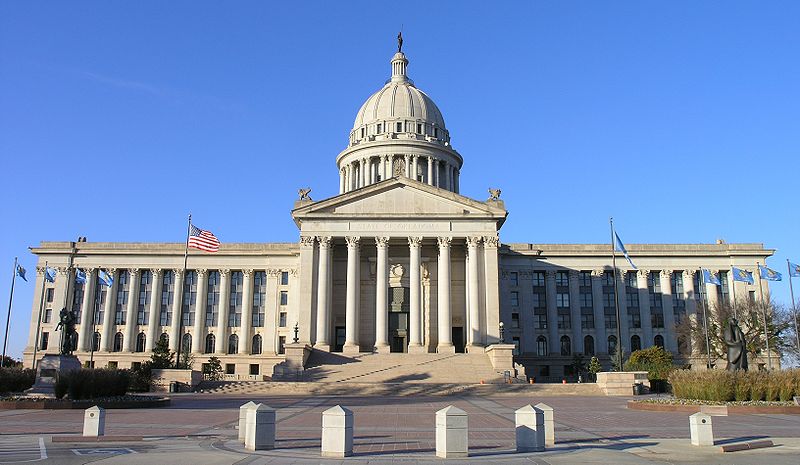 On Tuesday, Oklahoma State Representative John Bennett (R – Sallisaw) lost out in his latest attempt to amend a bill to allow state lawmakers to carry a concealed weapon almost anywhere without obtaining a concealed carry license. Bennett's attempts have caused quite a stir, raising debate about whether legislators earn any special privileges with their position.
Bennett is seeking to not only circumnavigate the process of acquiring a CPL, although many Oklahoma Senators and Representatives already have one, but to allow state congressmen to carry their firearms into public buildings and the Capitol itself. Said Bennett, "We don't protect ourselves. According to the Constitution, the Second Amendment, I can carry in this building, that building, anyplace I want to go except if I do now I'm going to get in trouble, probably get arrested." It should be noted, of course, that the average Oklahoman citizen cannot legally concealed carry in these areas either, and HB 2522 would not give them any provisions to do so. The bill, dubbed by some the "Open Carry Proposal", would instead merely allow Oklahomans with CPLs to open carry in the same places where concealed carry is allowed.
Bennett's fear for legislators, however, seems likely driven by tragedies such as the shooting that nearly took Representative Gabrielle Giffords's life in Arizona, as he went on to say, "How many people in here go to public events and public meetings and speak out in public either at the libraries, football fields, schools and places like that? Some of you may carry there anyway even though you're not supposed to. But you probably do it because those are killing grounds. We have provided killing grounds for the bad guys to come and get us."
According to NewsOK, Bennett, along with several other legislators, have in fact received a number of death threats. Bennett's proposed amendment would have simply piggybacked on a provision of the bill that allows the state's attorney general or assistant attorney generals to "carry a firearm anywhere in the state except while off-duty and in businesses or on private property where firearms are prohibited. The attorney general and his assistants would first be required to complete an approved firearms training course." These are the exact same privileges Bennett is asking for lawmakers, but when he attempted to send the bill back to the conference committee to add lawmakers, House members voted 55-32 to prevent the return and ultimately passed the bill unchanged in an 82-11 vote.
As previously noted, this issue is not new for the Oklahoma Congress, as Bennett attempted to add similar language, in essence allowing legislators to carry a concealed weapon anywhere, to Senate Bill 1541 last month. Rep. Marian Cooksey (R – Edmond), ultimately withdrew the bill when she was unable to eliminate the amendment. The measure has so far been seen as very unpopular among lawmakers and constituents alike, such as Rep. Steve Martin (R – Bartlesville) who authored HB 2522, "[Bennett's amendment] might start us down the dangerous path of giving ourselves really unjustified privileges that the average citizen doesn't have. I would hope that the members would not support the idea of sticking legislators in this simply because we're legislators and we'd like to have that privilege." User Nick on NewsOK put prevailing sentiments simply: "If they could spend some time repealing gun control laws, the new bill wouldn't be necessary. Oh, I forgot…. they want SPECIAL status. "
HB 2522, without Bennett's suggestion, will now move on to the Senate, though it will likely not be heard for at least several weeks.
Video of explanation and debate of the bill from the House floor can be seen here, at the 1:06:00 (one hour and six minute) mark, or selected from the bill index directly below the video player.
Photo: User Daniel Mayer from the Wikimedia Commons