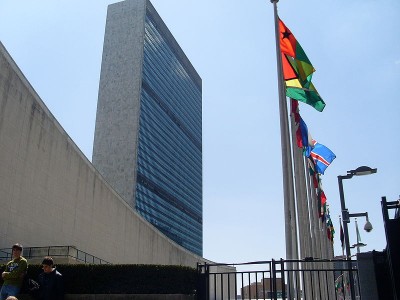 As of Tuesday, final deliberations have begun on the fate of the world's first global and legally binding treaty to regulate the international conventional arms trade, and it has some firearms enthusiasts and advocacy groups in the United States raising alarms.
The United Nations (U.N.) has been working on the Arms Trade Treaty (ATT) since 2006, and after positive feedback from member states' governments, including that of the United States, the group is looking to pass the measure following a four-week diplomatic conference to discuss the matter in New York from July 2-27.
The treaty is ostensibly designed to prevent the top-down trickle (and oftentimes outright trade) of small and heavy arms from U.N. member states to dictators, terrorists, and other human rights violators throughout the world. As Secretary-General of the United Nations Ban Ki-Moon stated in the opening of the conference:
Our common goal is clear: a robust and legally binding Arms Trade Treaty that will have a real impact on the lives of those millions of people suffering from the consequences of armed conflict, repression and armed violence. It is ambitious, but it is achievable.
Or, in the legal terms laid out by the latest report by the Preparatory Committee for the United Nations Conference on the Arms Trade Treaty:
This Treaty will seek to:

1.  Promote the goals and objectives of the United Nations Charter;
2.  Establish the highest possible common international standards for the import, export and transfer of conventional arms;
3.  Prevent, combat and eradicate the illicit transfer, illicit production and illicit brokering of conventional arms and their diversion into the illicit market, including for use in transnational organized crime and terrorism;
4.  Contribute to international and regional peace, security and stability by preventing international transfers of conventional arms that contribute to or facilitate: human suffering, serious violations of international human rights law and international humanitarian law, violations of United Nations Security Council sanctions and arms embargoes and other international obligations, armed conflict, the displacement of people, transnational organized crime, and terrorist acts, and thereby undermine peace, reconciliation, safety, security, stability and sustainable social and economic development;
5.  Promote transparency and accountability in import, export, and transfers of conventional arms;
6.  Be universal in its application.
The scope of arms covered by the treaty will include tanks, military helicopters and other aircraft, missiles, and small arms (such as rifles, handguns, shotguns, etc. of all calibers and types), among others.
The treaty is drawing a massive amount of flak from concerned citizens and shooting sports advocacy organizations in the United States, primarily because the existence of such international influence on firearms raises fears of outside interests restricting the United States' firearm ownership rights. President Bush's administration voted against even beginning the process to draft an arms trade treaty in 2006, stating that national controls were more effective. Last week a group of 130 senators sent a letter to President Obama (who overturned the Bush decision) stating that the ATT was "likely to pose significant threats to our national security, foreign policy, and economic interests as well as our constitutional rights."
The National Shooting Sports Foundation's Steve Sanetti on ATT negotiations:
The National Rifle Assocation's Institute for Legislative Action (NRA-ILA) has also brought up what is now a rallying point for many opponents of the treaty, a U.N. pre-conference position paper titled "The Impact of Poorly Regulated Arms Transfers on the Work of the U.N." Language in the paper reportedly reads:
United Nations agencies have come across many situations in which various types of conventional weapons have been…misused by lawful owners, and …arms trade must therefore be regulated in ways that would…minimize the risk of misuse of legally owned weapons.
How, ask many, is that going to be implemented without quashing U.S. Second Amendment rights?
The answer, according to some sources, is that it won't be implemented at all. The document quoted above was a "position" paper, not in any way part of the treaty or legally binding, but more of a presentation of numerous ideas from member states as to what sort of final agreements and language should comprise the treaty. On top of that, it's extraordinarily difficult to find a copy of this document, and the quote that is being so widely presented uses a remarkable number of ellipses, which, when combined with the fact that readers are viewing this quote in a "void" (i.e. without the context of the rest of the paper), means that it would be very easy to misconstrue its original intended meaning.
That doesn't, however, necessarily entail that the meaning of the quote actually has been skewed, as according to NRA-ILA, gun control advocates worldwide have been trying to exert their influence on the ATT for years:
For many years, international anti-gun groups have attempted to make the ATT a vehicle for numerous gun-control schemes.  Among other things, proposals have been made for the treaty to impose stringent registration requirements, gun bans, and the tracking of ammunition, along with mandating new permits for traveling international hunters and sport shooters, and the creation of a U.N. gun control bureaucracy.
Simultaneously, proponents of the treaty in the U.S. and abroad are quick to say that the current and final draft of the treaty will have no effect on domestic, civilian small arms trade. According to the current U.S. administration, "There will be no dilution or diminishing of sovereign control over issues involving the private acquisition, ownership, or possession of firearms, which must remain matters of domestic law." The draft treaty itself contains pointed language to this end in its Preamble: "6. Recognizing further the sovereign right of States to determine any regulation of internal transfers of arms and national ownership exclusively within their territory, including through national constitutional protections on private ownership," and according to the U.N. website on the ATT:
The ATT will not:

Interfere with the domestic arms trade and the way a country regulates civilian possession
Ban, or prohibit the export of, any type of weapons
Impair States' legitimate right to self-defence
Lower arms regulation standards in countries where these are already at a high level.
The joint statement released by the People's Republic of China, France, the Russian Federation, the United Kingdom, and the United States last year also suggests support from these nations will only come about if domestic firearms laws are left alone:
Our countries agree that our document is not a disarmament treaty nor should it affect the legitimate arms trade or a state's legitimate right to self-defence. The decision to transfer arms is an exercise in national sovereignty, and any instrument in this field must keep this principle at its core.
The treaty is also claimed to be unlikely to have a large impact on First World nations with adequate rule of law, as Sweden noted in their opinion of the draft treaty's wording:
It is important to note that these criteria commonly occur in the already well-established control systems of major exporting countries. Their inclusion in an arms trade treaty is therefore not expected to have much overall impact on current legal trade.
Regardless, rhetoric from both sides of the aisle has been intense, and the NRA and other groups are making their presence known at the conference in New York and have been lobbying Senators (the only U.S. government body with the power to ratify a treaty, requiring a 2/3 majority vote) to drop support for the ATT. The question, of course, is will the ATT, which is expected to be approved by the U.N. with little challenge, have a major effect on the U.S.? The NRA-ILA Executive Vide President Wayne LaPierre claims that yes, it will:
The U.N. hides its intentions behind impenetrable labyrinths of bureaucracy, paperwork, regulations and elite-speak. They soften their schemes through slow, mind-numbing processes, committees and concessions. Behind every program is a buffet of government encroachment tools: tracking, tracing, restriction, regulation, surveillance, microstamping and more. But that's just the start. If we give even an inch to the U.N.'s one-world gun-banners, an unimpeachable global bureaucracy will spring up to enforce every new rule, and we'll never regain our lost freedoms.
Or, is it really just as simple as an attempt curtail blatant abuses of the arms trade? As the joint statement from China, France, Russia, the U.K., and the U.S. in 2011 put it:
An effective [treaty] would help curb the illicit trade in conventional weapons that is undermining security and prosperity. All states share responsibilities to ensure that weapons transferred are not diverted for illicit purposes or illicit activities.
It's up to every concerned citizen and gun enthusiast alike to reach their own conclusions. For those interested in reading more on the issue, see the following documents and statements linked below:
Image from public domain