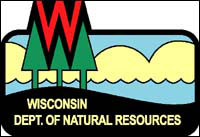 On September 18, Wildlife Services confirmed that wolves from the Siskiwit Lake pack killed a bear hound while hunting in the Town of Bell, Bayfield County.  Hunters should be aware of the potential conflict and should exercise caution within the caution area.
Find a caution area map and more on the gray wolf webpage.
Logo courtesy Wisconsin Department of Natural Resources
Any views or opinions expressed in this article are those of the author and do not reflect those of OutdoorHub. Comments on this article reflect the sole opinions of their writers.