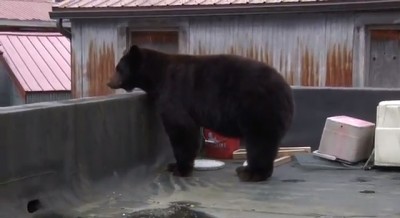 On September 21, the Juneau Empire reported that a bear had gotten into the Alaskan city's downtown area and entered a yogurt shop and grocery store parking lot. He was tranquilized when he made his way to a residential area and posted up on a stairwell and roof. Later he was discovered to be the same bear that had twice before been removed from the area and relocated. As the bear was a "repeat offender" that had become comfortable around humans, he was euthanized for public safety.
Fast forward to 7:51 to view footage of his actual removal.
Image screenshot of video by AlaskaRobotics on youtube
Any views or opinions expressed in this article are those of the author and do not reflect those of OutdoorHub. Comments on this article reflect the sole opinions of their writers.