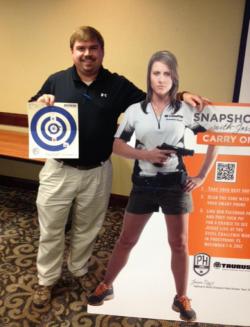 During the recent national sales meeting held by Taurus International in Miami, Florida visiting sales representatives got the chance to visit the range and engage in a little friendly shooting contest. ProActive Sales & Marketing rep Richard Dalton beat out 20 other shooters by "knocking out the comptetition" to take first place in the event. In recognition of his shooting skills, Dalton was awarded the Taurus gun of his choice by the company.
Image courtesy ProActive Sales & Marketing
Any views or opinions expressed in this article are those of the author and do not reflect those of OutdoorHub. Comments on this article reflect the sole opinions of their writers.