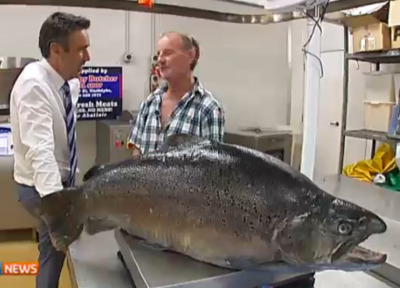 A gigantic brown trout caught earlier this year by New Zealand angler Otwin Kandaolf, 71, has been officially recognized as the largest of its kind caught on rod and reel. According to the Bay of Plenty Times, Kandaolf received word from the International Game Fish Association that his record was certified last Saturday.
"I had only a small, short-handled net," the angler recalled. "It was a joke of a net for a fish that size but it was all I had."
He had originally described the fish as an ugly "submarine-sized" trout with a small head and big belly, but his pride in the catch was obvious. The record brown trout weighed a staggering 42 pounds, one ounce and measured over 36.6 inches long. Its belly was over a foot wide.
Kandolf's friend Gunther Propst first sighted the fish when the two were casting in the Ohau B Canal near Twizel. Propst had mistaken the massive fin of the trout for a water rat. When they realized that it was, in fact, the largest brown trout they have seen, the anglers followed it near the canal's turbines.
"I waited for him to come up to me," Kandolf said. "I got his head in the net and then just pushed the whole body and everything up towards the bank. I grabbed him and somehow got him up the bank."
Unfortunately neither of the anglers carried a camera, and they could not find a scale–certified or otherwise–to weigh their catch. Kandolf had to wait until the next day to put the fish onto a scale, which initially measured over 46 pounds. It was not until two weeks later that he found a certified scale and made the official weigh-in. At over 42 pounds, it was still enough to take the crown from record holder Roger Hellen, who hooked a 41-pound, eight-ounce brown trout from Lake Michigan in 2010.
Kandolf plans on mounting the fish for display in his home.