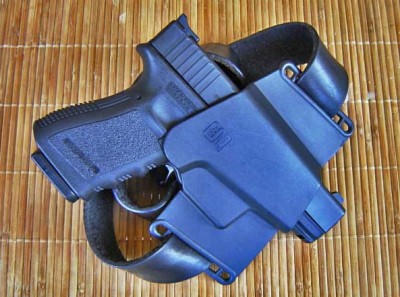 Last week, as the fight over a federal lawsuit against Georgia's stand your ground laws heated up, a Georgia grandmother demonstrated the necessity of this kind of legislation with her exceptional calm and responsibility in the use of her concealed weapon to fend off two armed attackers.
The woman, Lulu Campbell, owns a number of gas stations and convenience stores in Macon, Georgia, including the Shell station at 2700 Riverside Drive. This is where she believes her attackers began to follow her and her grandson as she drove the child back to his mother's house.  After dropping him off, Campbell remained for a few moments in the driveway to look through her purse for her cellphone; this is when one man pointed a gun at her through the passenger window and demanded money.  Campbell refused to give in and relinquish her human dignity and rights, and she quoted the exchange to WMAZ-TV this way: "I said, 'I got no money.' Then he said, 'You don't open the door, I'll shoot you.' I answered him and said 'You're gonna kill me anyway no matter what."  Campbell attempted first to peacefully flee by backing up her car, but the man shot at her, narrowly missing.  Campbell, who finally drew her concealed pistol, did not.  As she said, "…they [had] bad news for them.  I always carry a gun, 24 hours, 7 days a week."
The man, 32-year-old Brenton Lance Spencer, was shot in the abdomen, and he is under 24-hour guard at the Medical Center of Central Georgia.  His accomplice, 35-year-old Dantre Shivers fled the scene and is still being hunted by police.  This brave action, which likely saved the life of Ms. Campbell, came about the day after the firearm rights group GeorgiaCarry.org asked that the lawsuit challenging stand your ground laws in Georgia be tossed out.  The lawsuit was brought about on April 9th by Rev. Markel Hutchins as he believed that, according to The Atlanta Journal-Constitution, "the statute is vague about 'what actions would create 'reasonable belief' that deadly force is necessary.'"  GeorgiaCarry.org argued that, "Instead, he vaguely claims that the so-called 'stand your ground law' exposes him to 'risk of arbitrary enforcement.'  He only speculates that he may someday experience the effects of the statute."
Though only roughly five percent of Georgians have concealed carry permits, there have been 21 case of justifiable homicide in the state since 2003 (the state's stand your ground law, modeled after Texas's legislation, wasn't introduced until 2006), and it's possible this may become another one shortly.  Stories such as this make it difficult to justify Rev. Hutchins's lawsuit, particularly when prevailing online sentiment around Campbell's story was summed up well by user "Bubbletoes" from Topix: "[Campbell] exercised great restraint by choosing to try to flee, but took a round into her car anyway. If she didn't have her firearm with her, she might have been killed and these bad guys would be free to accost others."
Any views or opinions expressed in this article are those of the author and do not reflect those of OutdoorHub. Comments on this article reflect the sole opinions of their writers.