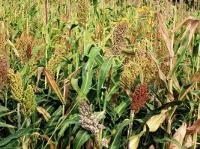 High quality grain food plots next to cover allow quail to establish safe winter feeding patterns – minimizing movement and reducing predation. Next winter's food plot starts this spring, so choose from Quail Forever's Signature Series Food and Cover Mixes and make sure your birds aren't left out in the cold.
Why choose one of the 13 Quail Forever Signature Series Food and Cover Mixes?
They're specially formulated, designed by Quail Forever's certified wildlife biologists
Large selection for variety of food plot options for different regions, desired hunting
Your product purchase supports QF and wildlife habitat conservation
This includes our most popular food plot seed mix options, like the Covey Rise mix, the Dove & Quail mix and the Blizzard Buster mix – all engineered to carry bobwhites through tough winters. Upland hunters will find the short stature (3′) Early Longtail Milo mix perfect for wingshooting.
Most importantly, Quail Forever is here to see your food plot from seed to sprout. Questions about mixes, food plot size and location, equipment, herbicides and fertilizer? Our comprehensive Signature Series Food Plot Guide will help, and for technical questions, just contact us.
FREE SHIPPING is standard for all Quail Forever Signature Series food plot orders. Order online or download and mail in the order form.