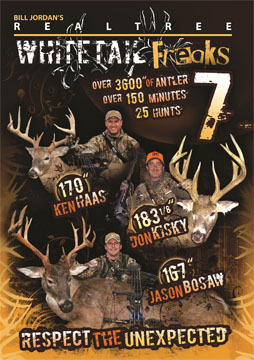 New for 2012, "
Whitetail Freaks 7
" continues to prove that good management, persistence, hard work and properly maintained food plots bring in the big boys.Join the "Freaks" for two and a half hours of hard-hitting action, including 12 gun and 14 bow kills. Watch as 
Don Kisky
, also known as "The Don," makes a ten ring shot on a 183-inch hit list buck. You won't be able to fight off the buck fever when 
Ken Haas 
and 
Jason Bosaw
 down their giant bruisers. And, the phenomenal footage of the two bucks taken down by
Indianapolis Colts kicker, Adam Vinatieri
, will leave you shaking in your seat. With four Super Bowl wins under his belt, he's no stranger to trophies .
"Whitetail Freaks 7″ will give you 3900 inches of antler-grabbin', horn twistin', freaky deer action. As if that's not enough, the bonus footage offers even more big-buck entertainment.
Bonus material:
"The Don's" Nikon spotting scope tip and velvet scouting.
Freaks Officer Ken Haas tells the heartbreaking story of "Diggler," a 200-inch buck that just wouldn't' jump the fence.
"The Don" and the two that got away
Cuddeback corner must-see pictures from 2011
So sit back and enjoy as the "Freaks" do what they do best. Realtree's newest "Whitetail Freaks" deer hunting video is now available at your local sporting goods retailer, 800-474-8733 or store.realtree.com.
For more info, check out www.realtree.com.
Any views or opinions expressed in this article are those of the author and do not reflect those of OutdoorHub. Comments on this article reflect the sole opinions of their writers.