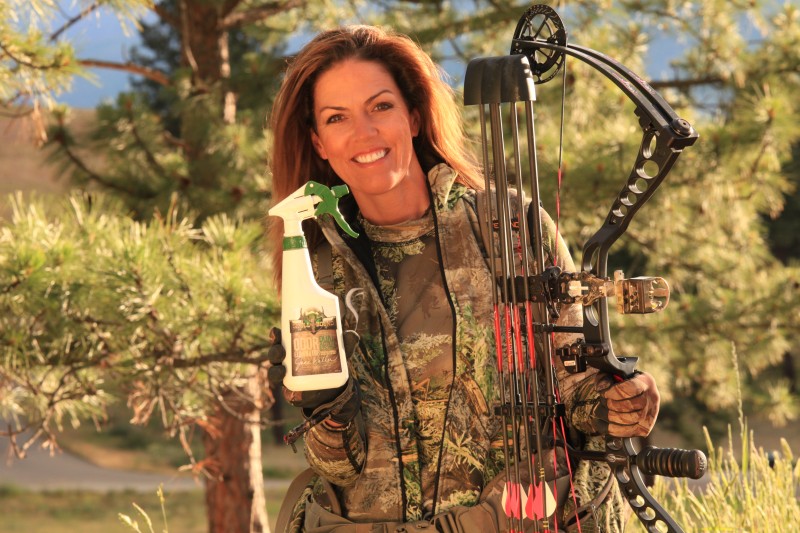 After a year of extensive field-testing two products with incredible results, Skull Bound TV's host, Jana Waller has her own scent line. Jana is no stranger to broadcast Television with appearances on Versus, The Outdoor channel "Outfitter Bootcamp" (currently airing) and her new hit series Skull Bound TV on the Sportsman Channel, it's no wonder she is the first female to have her own scent line. With the irresistible essence of White Oak Acorns blended into a secret formula, wildlife are clueless to your existence while the product keeps pesky bugs at bay. " Whether I'm hunting the Wisconsin woods or near my home in Montana the new series of scents have been developed to allow me to go undetected while pursuing the game I hunt." The 8 oz bottle of White Oak Acorn Scent works year round on all types of game and uses 100% natural ingredients. The 16.oz ODOR ELIMINATOR works wet or dry and eliminates human odor on contact.
Jana has traveled to New Mexico, Africa, Illinois, Wisconsin, Costal Alaska, and the Louisiana Bayou and beyond while testing what's tabbed as the "Dual Action System". The results speak for themselves as Jana has taken some incredible trophies while using her new product!
Having her own signature series of scents is a first for any woman in the outdoors and aligns with Skull Bound TV as being the only solo female hosted hunting show in the industry. With an exciting new season 2 of Skull Bound waiting in the wind you'll want to tune in for all new episodes starting in January of 2013 only on the Sportsman Channel! Not all cover scents and odor eliminators are created equal. Pick up your two-pack set today and discover what you have been missing! For more on Jana Waller you can follow her adventures here: http://www.facebook.com/SkullBoundTV
Any views or opinions expressed in this article are those of the author and do not reflect those of OutdoorHub. Comments on this article reflect the sole opinions of their writers.