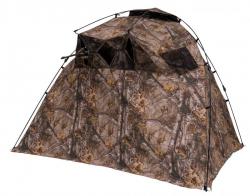 AMERISTEP and Lightspeed Outdoors are pleased to announce the launch of a NEW innovative line of ground blinds complementing Ameristep's existing premier ground blind line up. Unique to this product line are the patented Lightspeed Outdoors hub and pole systems that provide a structure which is both easy-to-use and structurally sound while offering plenty of concealed space.
NEW Patented Lightspeed Technology makes moving your hunting spot easier than ever!
SPEED: Experience lightning speed setup. Just a quick pull on the side-draw hub and your blind is open.
STRENGTH: Lightest and most sturdy design available.
CONCEALMENT: Uniquely designed shape for optimal concealment.
3601 Lightspeed RAZOR Ground Blind features include:
Lightweight 8 lbs. portable design
Ideal for crossbow and firearm hunting
Patented Lightspeed single hub frame
Blind Dimensions: 69″ shooting width x 98″ front width x 67″ back width x 60″ deep x 60″ tall
Pack Dimension: 6″ x 50″
Weight: 8 lbs.
Window Openings: 5
Window System: Mesh/elastic toggle
Available in the NEW Realtree Xtra camouflage pattern
MSRP: $149.99
Image courtesy Ameristep
Any views or opinions expressed in this article are those of the author and do not reflect those of OutdoorHub. Comments on this article reflect the sole opinions of their writers.