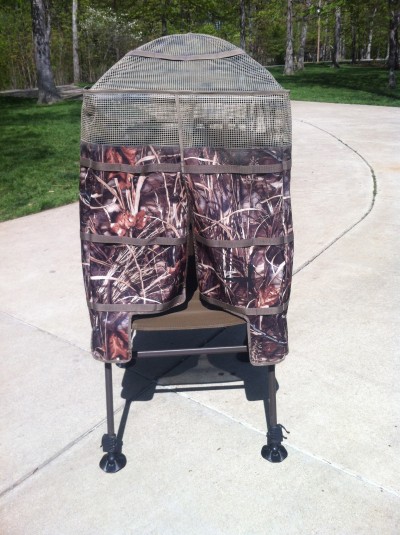 It is a reasonable statement for waterfowl hunting that, concealment is everything.  I grew up hunting in the old school, but I can tell you I quickly learned to be still, keep my head down and whenever possible back up to something for concealment.  As we waterfowler's know these are hard rules to live by and even harder rules to enforce when hunting with others.  Everyone moves, they look, and in many conditions there is little to provide the camouflage necessary to finish birds over the decoys.
MOmarsh has developed something that I think is catching on and perhaps will soon become the go to choice for hunters needing to hide in brush, flooded corn, cattails, tree lines, or any type of vertical cover.  I should add this is certainly a choice among guides working with MOmarsh and it has been extensively tested with productive results. The Shallow Water Solutions Invisichair Blind has a ton of features including:
Not much bigger than an human torso
Weight is 22 pounds
Blind is adjustable for any size hunter
Webbed chair can be adjusted from 22" to 34" out of the water
Comes fully assembled
Numerous grassing straps for camouflage
Height adjustable Domed top provides outstanding visibility
Game bag provided on the back of the chair
Removable armrest organizer for shells and drink
The Invisichair at 22-pounds packs down pretty much like a layout blind.  It is well apportioned with webbing for adding your camouflage materials and is designed to fit into a boat or sled for movement into the marsh.   After all, movement and the ability to get your on the "X" is what make the Invisichair so functional and adaptable. It folds up easily and quickly, as seen in the video below.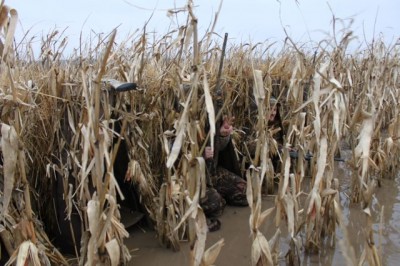 The Invisichair has adjustable legs that will get you up and out of the water and includes large pads to keep the chair from sinking into the mud.  No more buckets that tip over and float away every time you get up and the level of comfort provided by the chair, metal armrests and accessory bag, are worth a million bucks to your back and legs.  Once the chair is set, the top lifts up and over the back of the chair with braces to secure the top and a very unique kick-out bar is used and attaches to your right armrest.  The kick-out bar, once you are inside the Invisichair and have the sides wrapped around you, is among the many really cool features of this design.  What happens is you simply push the kick-out bar out and the whole spring-loaded blind tips back exposing you with clear and free movement to either shoot sitting or standing.  Not even a high speed teal pass, can beat the quickness of the kick-out system. For those hunters that cannot stand, or have difficulty standing the Invischair is superb. The design also provides stability in the chair and canopy attachment that keeps the chair and blind from tipping over once you get out of the chair.
Several other features I want to mention include the mesh dome top that gives 360 degrees of visibility, but excellent exposure control, the Advantage Max-4 camouflage (Avery KW-1 to be offered soon), 600D PVC Coated material, and the game pouch on the back of the chair.  Available too is the Invislab dog hide.  All of the Invisichair is well thought out incorporating input from guides, hunters and the product is thoroughly field tested at one of America's premier hunting facilities: Habitat Flats in Missouri.
MSRP: Pre-Orders being taken $279.95
Images courtesy MOmarsh
Any views or opinions expressed in this article are those of the author and do not reflect those of OutdoorHub. Comments on this article reflect the sole opinions of their writers.