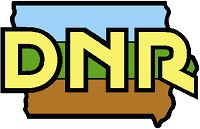 Licenses for the January antlerless deer season go on sale Dec. 15, in counties where the antlerless quota has not been filled.
To avoid over-harvesting deer where they hunt, hunters are encouraged to work with landowners to determine if deer are at desirable levels, and base decisions on how they use the remaining antlerless tags on local herd conditions.
Hunters will need a 2014 hunting license and the habitat fee to participate in the Jan. 11 to 19 antlerless deer season. All 2013 licenses expire on Jan. 10, 2014.
Nonresidents are eligible for the January antlerless season. Nonresidents may purchase a 2014 hunting license and habitat fee beginning Jan. 1, and antlerless licenses starting Jan. 11.
Logo courtesy Iowa Department of Natural Resources
Any views or opinions expressed in this article are those of the author and do not reflect those of OutdoorHub. Comments on this article reflect the sole opinions of their writers.