Trusted Review™ Scorecard
Average Score: 5.0 out of 5.0
Each product or service is rated on Quality, Reliability, Price/Value, and Referability. Each area has an individual score, and creates an overall Trusted Review™.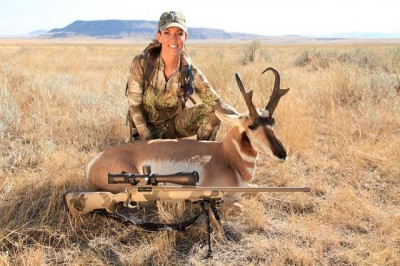 When I met Tim "Moon" Roberts from GA Precision at the SHOT Show in early 2011, I was just coming off an incredible moose hunt in Northern BC. I was introduced to one of the custom rifles he made for a dear friend of mine, Hugh Huston of Marshall, Missouri. We spoke spoke about the hunt and the new show I was producing called Skull Bound. George Gardner and Tim talked about our show after watching our show reel and decided to build us two custom rifles to use on our hunting adventures for television. Jana Waller, Skull Bound's host, was outfitted with a custom .300 WSM and I was lucky enough to receive a .338 Lapua. Tim spoke of his close friend Scott Parks from Vortex Optics and how their new Razor HD series scopes would compliment both rifles like a cherry on an ice cream sundae! Jana and I agreed and couldn't wait to see what Tim was going to build us.
GA Precision prides itself as one of the leading custom rifle builders in the US and it's no wonder their custom rifles win so many competitions. With Templar actions, Bartlein barrels, Manners stocks and more we knew that what Tim was building screamed precision! It wasn't long before two beautiful rifles began to be built. I dreamt of the day a tracking number would be sent letting me know both rifles could be picked up. Tim called us a few months later and told us he had completed both rifles. Our dream was now a reality! Both rifles soon shipped to Montana in brand new pelican hard cases. Jana and I were like two kids at Christmas, although the calendar said it was September. Right out of the box both rifles were driving tacks with Jana's .300 WSM punching a 1/4″ group at 100 yards and my .338 Lapua punching a 3/8″ group at 100 yards. Tim took both of our rifles for a test drive and dialed them in long before they reached the Big Sky Country.
At first glance I noticed the incredible detail that went into every facet of these finely tuned machines. The Templar action is as smooth a silk and the removable magazines really made these two bad boys stand out. Let's not forget the custom coyote grey and GAP desert paint job that graced the barrel, stock and scope rings. With our first television shoot approaching, we put a few rounds down range to get used to the trigger pull and overall feel for both weapons. Their 3 pound trigger pull felt crisp and both muzzle breaks took the "shock and awe" factor out of the equation and let us concentrate on the bulls-eye.
Jana was first to harvest an animal with her .300 WSM while hunting with Hunting the Rez magazine in Central Montana. She took a beautiful pronghorn antelope at 165 yards with 180 grain Nosler Accu-Bonds. The hunt was a huge success and it was fun to see that precision come through while hunting one of North America's most wary species. I hope to get my .338 Lapua into the action in the next few weeks as Montana's general rifle season gets under way. For more information on how you can get one of these rifles into your hands contact GA Precision and tell them Skull Bound TV sent you!
GA Precision
1141 Swift St., N. Kansas City, MO 64116
1-816 221 1844
GA Precision Rifles

,
Quality
Built with the highest quality components in the industry, GA Precision's name is well know throughout the shooting sports industry.
Reliability
After spending a few weeks last fall in Northern BC with one of GA Precision's custom rifles I can say they are built tough. After logging 200 miles in the saddle the rifle I used helped me take my first moose ever.
Price/Value
Base custom rifle starts out at $2,800.00 and go up from there.
Referability
Sell the farm and buy one of these or put it on your bucket list! I am glad I did! I would definitely recommend that you give GA Precision a call to discuss the caliber and combination rifle package you've always dreamed of!