Trusted Review™ Scorecard
Average Score: 4.8 out of 5.0
Each product or service is rated on Quality, Reliability, Price/Value, and Referability. Each area has an individual score, and creates an overall Trusted Review™.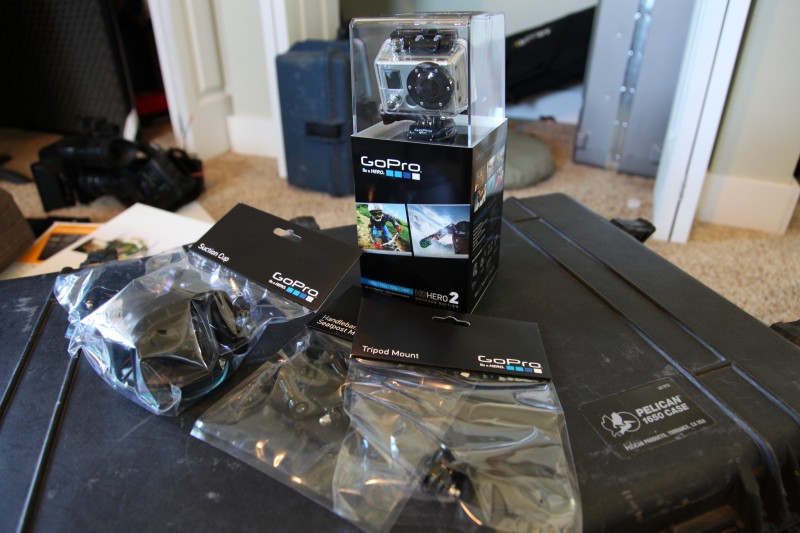 Producing outdoor television has come a long way in the last 10 years. Gone are the days of having to go to a big studio to produce a show. Many of today's aspiring creative artists now work out of their homes. Along with faster processors, hard drives, and video-capable DSLRs, there's one piece of gear I now can't live without: the new GoPro HD HERO2 Outdoor Edition camera.
The Camera
Since its first introduction to the market in 2005, the GoPro has helped millions of people get shots that were previously impossible to acquire. The latest offering offers a twice-as-sharp professional glass lens, up to 11 megapixel still capability, time lapse and many flavors of HD video to choose from. You can even shoot WVGA at 120 frames per second. One thing that you can rely on is GoPro's rugged housing, which will take a beating and keep on keeping on!
One of the greatest features I use consistently is the built in intervalometer. You can set the HERO2 to shoot 1 frame every half a second (with a class 10 card ), 2 seconds, 5 seconds, 10 seconds, 30 seconds, or 60 seconds. I personally like the 1 for 5 for time lapse sequences. In a fixed position, you can achieve some pretty incredible image sequences that can easily be imported to any editing platform.
Side note: On the footage side of things, I use a free program called MPEG slipstream to transcode the native .MP4 footage from the GoPro and convert it to match footage from my main camera, the Sony EX3. Here is a link that will help you in the process of converting the .MP4 files to work with many of the NLE platforms out there: http://gopro.com/support/final-cut-pro-tips/
After a highly successful first season of Skull Bound TV, I have to look back at how many times the little POV unit put down some mean "story telling" footage. With so many attachments to choose from, it's hard not to get the shot you're after.
Although the OEM housing protects the HERO2 from the elements, there are several aftermarket underwater housings available that will give you a solid "Edge to Edge" high definition image.
Underwater Housings
If you've watched Discovery Channel's "Shark Week", you may have watched some footage that was obtained by using a third-party underwater housing made by Eye Of Mine. Eye Of Mine underwater housings are built by hand and are depth rated to 200ft. While recently filming for season 2 of Skull Bound in Petersburg, Alaska I was able to use the roll bar mount and fixate it to a Dungeness crab trap. I dropped it 55ft below our boat while docked in the harbor and the underwater footage I obtained was spectacular!
Up until very recently, the Eye Of Mine housings were the only high quality underwater housings available. GoPro has just released their own underwater housing that is built to help divers/fishermen capture underwater footage the way it should be captured. Eye Of Mine is an official GoPro dealer and was kind enough to send the new flat glass housing along to field test. The Dive Housing's flat glass lens allows for maximum photo and video sharpness underwater in all resolutions, free of vignetting. Waterproof to 197ft/60m, the Dive Housing is ideal for diving, snorkeling and any underwater filming scenario.
Conclusion
Whether you're filming a whitetail hunt from a tree stand, your mountain bike ride down a steep mountainside or producing nationally televised programming, GoPro's HD HERO2 Outdoor Edition will help you achieve the shots you desire with a point of view that's only limited by your imagination!
Check out some of the footage I was able to capture with the camera in the video embedded below.
Quality
After years of abuse GoPro cameras just keep getting better! With a solidly built housing, this little POV camera gets the shots other cameras wouldn't attempt...even with an up to date life insurance policy.
Reliability
The GoPro HD HERO2 Outdoor Edition is brilliantly reliable! With the push of a button you can instantly see beautiful icons that tell you if you're shooting video, image sequences and more.
Price/Value
At a price point of $299.00 you can't go wrong to have this baby in your possesion for all of your outdoor adventures! The competition is heating up though with POV camera offerings from Contour and Replay XD the future seems bright for anyone wanting to capture some killer POV footage and high quality stills!
Referability
I highly reccomended this POV camera for anything outdoors whether you're a hobbyist or produce nationally televised programming!
Images copyright Jim Kinsey