Any hunter safety course graduate can tell you that transporting firearms involves knowing and following federal laws and state regulations. In addition to abiding by the law, it's critical to make safety a top priority. While state laws that govern transporting firearms can vary from one state to the next,  you can always rely on the recommended safety procedures below to  help you stay safe.
General Rules
Always unload and case firearms before transporting them. In many states, this may be the law. The action should be open or the gun broken down, whichever makes the firearm safest.
Firearms should not be displayed in window gun racks because the display may provoke anti-hunter sentiment. It's also an invitation to thieves.
Lean a firearm against a secure rest only. A vehicle does not provide a secure resting place. A gun that falls over might accidentally discharge or be damaged.
Storing your gun in a case when you're transporting it can help keep you safe and protect your firearm. There are several gun case options to choose from.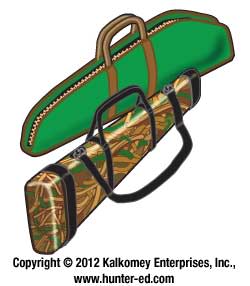 Padded, soft-sided case
Material: Canvas, nylon, neoprene, polyester, or leather
Advantages:
Light, easy to handle and store
Many designs accommodate scoped rifles
Offered in camouflage
Waterproof and floating cases available for duck hunters
Less costly than hard cases
Disadvantage:
Less protection than hard-sided cases
Lockable, hard-sided case
Material: Aluminum or composite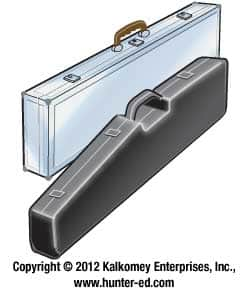 Advantages:
Lightweight but sturdy
Meets airline standards
Can include deep foam padding that holds firearm in place and cushions impact
Composite models can be molded to fit firearm
Available in waterproof models
Disadvantage:
Bulkier and costlier than soft-sided cases
Gun sock
Material: Durable stretch fabric (polyester/acrylic) or soft pile materials
Advantages:
Lightweight protection from dust, dirt, and moisture
Offered in camouflage
Often used as a second case to carry a firearm from a vehicle into a hunting area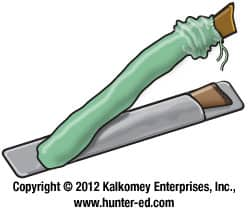 Disadvantage:
Minimal protection from elements or impact
No matter which firearms case you choose, always remember the basic rules of firearms safety:
Point the muzzle in a safe direction.
Treat every firearm with the respect due a loaded gun.
Be sure of the target and what is in front of it and beyond it.
Keep your finger outside the trigger guard until ready to shoot.
You can learn more about how to stay safe while hunting by taking an online hunter safety course at www.hunter-ed.com. The training offered at this site is approved by the state agencies responsible for hunter education, and it's the same material that's taught in the classroom.
Studying at hunter-ed.com is free. Those who must be certified before they can buy a hunting license pay a one-time fee, which is due only if they pass the test. Students can take the test as many times as they need to pass it. Online hunter safety courses are available in participating states, so visithunter-ed.com to take a course specific to your state.
In many states, students must pass an online course and a field day to complete all hunter education requirements. Field days are designed to be a hands-on, learning experience, and students are encouraged to review their state requirements about field days before beginning the online course.
What's Your Reaction?