I don't have to tell you that it's cold outside. Even parts of the country that are usually warm are dealing with record lows and some of us in the more northern areas are wondering when we skipped ahead to February. Still, the outdoors beckons us to venture forth—frozen or not.
Home base
You need good base layers as a start to keeping warm. It's like building a house, you have to have a good foundation. I'm sure that, by now, you've had base layers and layering in general pounded into your head when it comes to staying warm outside. There's good reason for that.
What I like to do is layer my base layers. I start with a compression layer. Look at what NFL players wear when they take the field during a blizzard. They have very tight-fitting compression layers on. These help them keep their body temperatures up while they are moving around. I don't know about you, but I'm not usually moving around when I'm hunting that much. But the close compression layer helps do two things. It helps keep my body heat in while pulling the moisture of my sweat away from my body when I'm walking back in.
The next layer I run is a thermal layer that fits a little loose. One thing so many forget when layering is to make sure there is some air in there. Having one tight and one loose layer of thermal protection provides me with the best base. The same goes for your socks. Thin, wicking socks on the inside and a thicker, wool, or wool-blend sock on the outside helps trap heat and pull moisture away from your skin.
The golden fleece
My next layer really depends on how cold it is, but I call it the fleece layer. Wool or synthetic blends of fleece offer a ton of warmth and trap a lot of heat. Plus many fleece offers can be found with wind-stopping materials added that block that cold, harsh wind that often accompanies winter's grasp.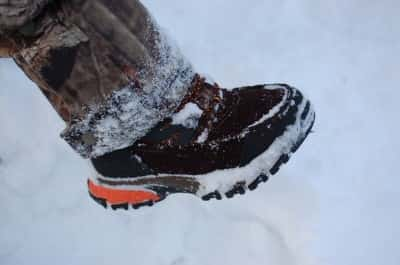 For my legs, I usually go for a wading pant made of fleece and designed to stay put on your legs as you pull your outer layer up. The ones I use most often are tapered to not bunch up at the ankle and calf and have stirrups to keep them down as I pull on my bibs or waders.
For my torso, I usually use either a shirt or vest made of thick fleece. I'll occasionally use a hooded shirt, too. On really cold days, I might use a shirt and a vest, just to keep me as warm as I can.
For the outermost layer, I favor wind and water resistance above all else. Insulation is nice, but I can insulate things pretty well. If I can't keep that wind from cutting through me, or the water from drenching me, I'm not staying warm no matter what.
The hard thing to do is layer enough to be warm, but not be too warm for what you're doing. You can always take off a layer, but I have found that it is harder to put one on. Once you get cold, it takes a lot to warm yourself back up.
There are a few other things to keep in mind. Diet plays a role in how you stay warm. When you lose weight, you obviously loose fat density and it can take some getting used to when the temperature drops. Of course, the end result is worth it, but take it into account. If you drop quite a few pounds in the summer months, winter may seem a lot harsher than it really is. You'll burn more calories when it is cold too, so adjust your intake if you're planning to spend a lot of time outdoors during winter. That's not an excuse to go nuts, but make sure you eat a good, balanced diet well before you go outside.
Make sure you get a good night's sleep before you go outside. I was having a few sleep issues and consulted with a sleep specialist and he told me that sleep deprivation can lower your internal body temperature as much as three degrees below your normal temperature.
Going to extremities
As you've probably experienced, it's the extremities that feel the cold first. Your hands, feet, and head are the three areas where you're going to lose the most heat and feel it.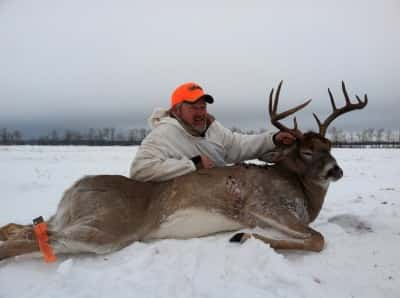 Good boots are a must, especially if you're taking kids outside. I had my son try out some new boots from Bushnell this winter so far and they are passing with flying colors. The Xlander boots have 400 grams of Thinsulate insulation, which is a decent amount for moderate activity and temperatures. There is a women's version with 800 grams, too. As with jackets and bibs and other outer layers, for me, being waterproof is a must and the Xlander boots are quite waterproof. Like the men's version, these boots are designed for active use. For more stationary activity, you'd want to look at a warmer boot for extreme cold.
In addition to the Xlander boots, I also added ThermaCELL's Heated Insoles to my wife's boots. The ThermaCELL insoles have a rechargeable element that is controlled by a wireless remote control. You have to be careful to make sure you leave enough room in your boots for air circulation, so make sure you take out the insole that came with your boots when you use the ThermaCELLs.
Technology really has gone a long way toward helping keep us warm. Imagine going hunting in Saskatchewan, Canada in November during a severe cold snap. What would you want to do to keep warm? Cabela's is offering some new, battery-powered clothing that fights the freeze. According to my friend, Mark Nelsen, who also happens to be Cabela's Senior Marketing Manager, the stuff works.
"I just put a truckload of deep cold weather gear to the test in Canada," said Nelsen. "I was the only guy in camp out of 15 hunters not using a propane heater in my blind. I was just fine with the stuff I had. The Heat Gear Powered by Gerbings is the best. I wore the big Iditarod Trans-Alaskan boots with a liner sock and the Heat Gear socks and went through a couple batteries a day but I was just toasty. Between our base layer and Stand Hunter bibs, I was pretty darn comfy sitting in a plywood box for 10 hours a day at negative 20 to zero degrees."
Don't confuse that with a marketing pitch—it just came up in a conversation between two friends talking about deer and the hunt.
Of course, there are those little disposable heater packs too that we've all used—most work via a chemical reaction with air. The ingredients are iron, water, cellulose, vermiculite, activated carbon, and salt. When the iron in the pouch is exposed to oxygen, it oxidizes. When iron oxidizes, it produces iron oxide, commonly referred to as rust. This reaction creates heat. The salt in the pouch acts as a catalyst for the reaction. The carbon in the pouch helps disperse the heat, and the vermiculite is used as an insulator to retain the heat. The cellulose is added as filler. With most disposable heat packs, a polypropylene bag that allows air to permeate the ingredients while holding in moisture keeps it all together.
I know, that's a lot of information to something so simple, right? But the thing to keep in mind is you need to let air get to the pack. See that common theme? If you want to stay warm, being airtight is not right. Carefully plan out your layers, eat well, get a good night's sleep, and plan out what you're going to do so you can dress appropriately. Don't let the cold weather keep you from enjoying the great outdoors. It's the best place to be!
What's Your Reaction?