Some of us believe that brown sugar and cinnamon Pop-Tarts contain all four food groups. Some of us work out by watching American Ninja Warrior on TV. And some of us are just born this way.
Yes, I'm talking about us guys that are on the larger side of large. Or portly. Or maybe just big-boned. However you define it, size and shape have a big impact on concealed carry. Sometimes, size is better, as there is more room to carry a concealed gun. Sometimes, size is a drawback, but that's usually when volume and shape create unusual combinations, like beer bellies. Whatever the situation, we thought it might be helpful to explore some options and things to consider about how to best carry a gun concealed if you're super-sized.
Oh, and ladies, we're not ignoring you here. While this is mainly aimed at men, because I can make fun of my own gender, there might be some tips you can take advantage of, too. But, for the most part, we'll talk about men's concealed carry here. Having a different set of parts and an incompatible dress code, I'm just not qualified to go into the nuances of female-specific concealed carry methods. We'll get into that in a future article, preferably one written by a knowledgeable member of Team X Chromosome!
So with that said, here are a few thoughts about concealed carry, for those of us who are, umm, big-boned.
Fishing shirts!
It seems like fishing shirts are all the rage these days. You know, those Columbia and Simms ones with all the neat pockets and nylon loops. Apparently you're supposed to hang hooks, lures, and shark boom sticks on them. For me, they make great CCW cover garments. They're fluffy and baggy by design and are natural to wear untucked. Better yet, whether long sleeve or short, they're lightweight and cool on hot days. You can actually wear and outside-the-waistband (OWB) or inside-the-waistband (IWB) holsters in the summer heat with this type of cover. I love them.
A beer belly can work to your benefit!
Some carry methods actually work better if you have a bit of an overhang. The SmartCarry system is a gun pouch that hangs in front of your man parts. It's secured by a belt with a Velcro attachment. You wear the whole mess under your clothes, so it's completely contained inside of your pants. The lower you wear it, the better, as that position allows you to sit down without interference from the gun.
This method has never worked very well for me, but thousands of people, men and women both, swear by it. The key is to wear pants loose enough in the front area to allow room. From my casual observation, many of the people who like this method have a bit of a beer belly. That makes sense, as the "overhang" tends to imply that there is some room in the pants area. With this carry method, the muzzle is positioned below anything important, and aimed at the ground between your toes, but be sure to exercise extreme caution holstering and unholstering.
If you can't see your shoelaces…
While I only prefer ankle carry for a second gun, or as a rare option for particular situations, lots of folks rely on it as their primary mode of gun transport. However, there's one thing for those of us on the heftier side to consider. If you can't easily see your shoelaces, or if you get just a little winded when putting on your shoes, then ankle carry may not be your best choice. While it's comfortable and convenient, fast access under stress is the key. Newton's 9th Law of Body Physics states that speed of draw from an ankle position is directly proportional to waist size. If you can't easily see it, you can't easily reach it.
Depth rules!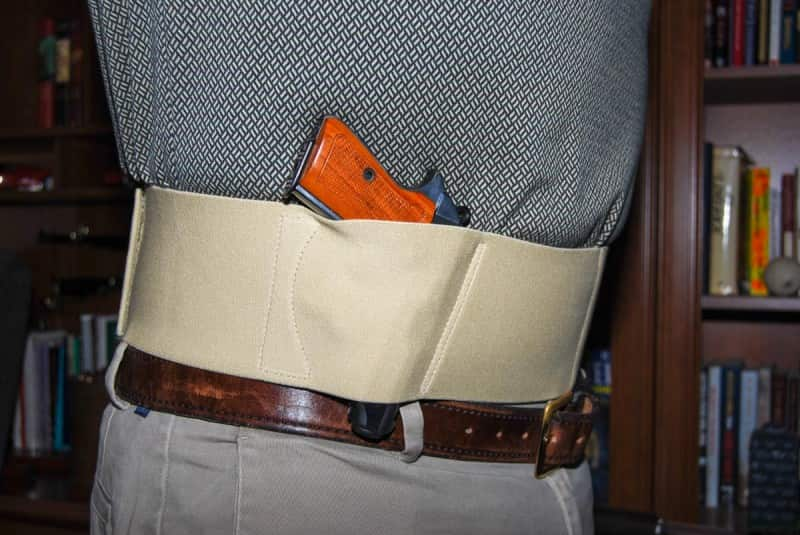 By "depth" I mean the measurement from your bellybutton to the back side of your kidneys. For belt carry (IWB or OWB), the biggest challenge is the grip of your gun. Even when tucked in close to your body, it's gonna want to protrude, especially when you bend forward. If your front-to-back depth resembles that of a lean marathon runner, you just don't have as much room to work with. If your "depth" measurement approaches sumo wrestler proportions, you can tuck away a Desert Eagle and the butt of the grip still won't stick out the back.
Appendix carry
Most people assume that appendix carry is only suitable for skinny, athletic guys. But I've seen it work for people like me that carry a few extra pounds around the waist. The secret is taking a little liberty with the location of your appendix.
If you've got a bit of a belly, then you don't generally want your appendix to be well to the front, like the one o'clock position. Keeping a gun there will remind you of its presence every single time you bend forward or sit. However, pretending that your appendix is really at a two or two-thirty position can make all the difference in the world. You might find that the grip of your pistol or revolver tends to be enough to the side to naturally slide right past the gut parts as you bend forward. It might be worth a try for you.
Being one that's on the heavier side of the 200-pound line on the scale, I've always found concealed carry, even with larger guns, fairly easy. It's not necessarily comfortable, but easy in terms of concealment options. Simply put, when you have more body, there's more surface area to hide a gun. Consider some of these methods, always paying careful attention to safety and muzzle discipline with whatever method you choose. If you've found your own successful methods for portly carry, I'd love to hear about them!
Tom McHale is the author of the Insanely Practical Guides book series that guides new and experienced shooters alike in a fun, approachable, and practical way. His books are available in print and eBook format on Amazon.
Images by Tom McHale
What's Your Reaction?