You can do without a lot of things on a camping trip; one of them shouldn't be a proper night's sleep, however. That's where good equipment, especially the right sleeping bag, can make a huge difference.
But which bag is the "right" one? That depends on where, when and how you like to camp. Sleeping bags carry temperature ratings, which denote the lowest temperature at which the bag will keep an average camper warm, and keep in mind that no single bag will be ideal in all situations.
Temperature ratings vary among manufacturers, but as a general guideline think in terms that a summer-weight bag will be good down to about 35 degrees Fahrenheit. A three-season bag will be rated somewhere between 10 and 35 degrees, and a winter-weight bag will have a rating of 10 degrees or lower. Select a sleeping bag that's rated a few degrees lower than the lowest temperature you anticipate experiencing on your camping adventures.

A bag's shape should be a consideration, too. The traditional rectangle bag (above) is a favorite among car- and family campers because it's roomy and comfortable. Two similar bags can also be joined to form a double bag, provided one has a right-hand and the other a left-hand zipper. Because they're generally heavier and less compact, rectangle bags aren't the best choice for backpack camping.

A semi-rectangle bag (above) can fit the needs of a backpack or family camper alike. It tapers toward the foot, making it more efficient in trapping body heat, but still offers campers who toss-and-turn a bit, or don't like the confines of a full mummy bag, some room to move around.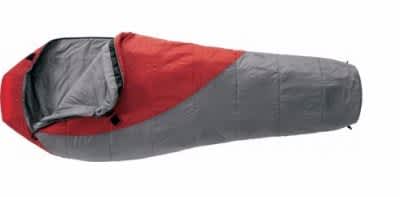 Narrow at the shoulder, hips and feet, a mummy bag maximizes warmth and cuts down on weight a backpack camper must carry. The drawback is that some people find a mummy-style bag too confining.
Insulation Options
There are two basic choices: goose-down and synthetic. The first is lightweight, compresses easily and keeps you very warm, making it a favorite among some backpack campers. Its drawback emerges in wet weather. Down loses its ability to insulate when it gets wet, and it doesn't dry very quickly.
Synthetic fill, typically polyester, dries quickly and keeps you warm even if it's wet. It's also extremely durable and costs substantially less than goose-down. This is a good choice for family campers, but if backpack camping is in your future, understand that synthetic fill doesn't pack down as small as goose-down does.
Pads and Mattresses
A sleeping pad or mattress enhances nighttime comfort, and in fact, some bag manufacturers assume you'll be using a pad when they assign temperature ratings to their sleeping bags.

Placed beneath the sleeping bag, a pad acts as another barrier to moisture and heat, and offers some measure of cushioning. Many are self-inflating, eliminating the need for an air pump.

If comfort trumps compactness in the camping you do, you can go with a full-blown air mattress if you choose. It will stop unwanted transfer of heat and moisture, and make you feel like you're sleeping in your bed at home. Plus, a full- or queen-size mattress is perfect for a double-wide sleeping bag.
There are few things worse than a bad night's sleep, especially on a camping trip that's meant for rest and relaxation. Choose the right sleeping bag and it won't be a problem.
What's Your Reaction?