Black Bears: North America's Spring Big Game
Tim Herald 07.05.17

With the vast majority of North America's big game seasons taking place during fall and winter, the man or woman who wants to hunt in spring has few choices without traveling to a different continent. There are turkeys and wild hogs, but for truly big game during spring, one should look at bear hunts. Top-notch black bear hunts are some of the most affordable big game adventures to be found, and though they can range from $2,000-$10,000, you can find a high-quality hunt for about the same or a little less than most whitetail hunts.
Most of the Canadian provinces and many western states offer good bear hunting, but my favorite place to hunt black bears considering everything is Alberta. For a very reasonable price, you can hunt Alberta, and what puts it at the top of my list is that you can take two bears. Northern Alberta has a very high bear population, as well as some really big boars.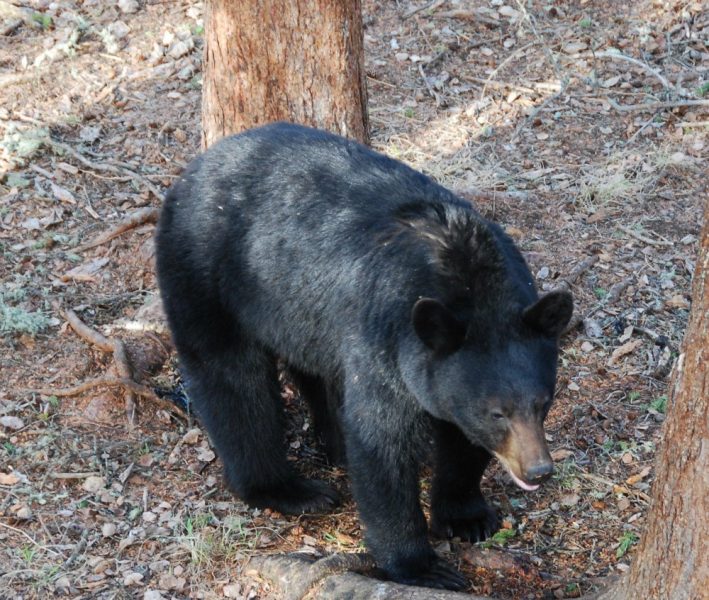 I have taken a lot of bears over the years, but still one of my all-time favorite hunts was my first trip to Alberta. I had taken bears by spot-and-stalk and with hounds, but I'd never hunted them over bait. I just didn't think I would enjoy sitting on stand and shooting a bear off a barrel. However, I'm very open minded when it comes to hunting methods and like to give everything a chance, so I headed to bear camp skeptical, but hoping for the best.
I decided to bowhunt even though everyone else in camp was gun hunting. My big worry was judging animal size; I think black bears might be the hardest animal out there to accurately judge unless you see them very regularly. I knew the camp we were in produced some real monsters, so I wanted to be conservative and careful.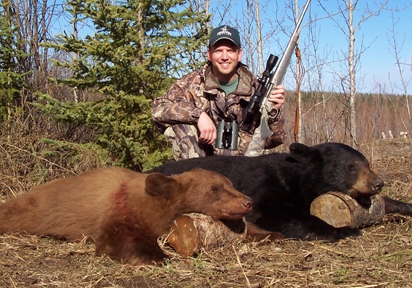 I knew all the basics about judging the bear's size compared to the bait barrel. I knew to look for a bear that seems to have small ears that are wide apart, and if a bear has a crease in the forehead, that's a great sign, etc. I figured I had two tags as well, so I decided to take the first bear that I thought was a big one, then save my second tag for a giant, or not shoot a second.
The first night I was dropped off at a homemade treestand with a log ladder and a triangular platform nailed between three trees. Within 5 minutes of my guide driving away on his ATV, I had a bear come in. I could tell it wasn't huge, and shortly after that, a second, larger bear came in. The larger bear chased the first one up a tree, and eventually they fought 20 yards from my stand.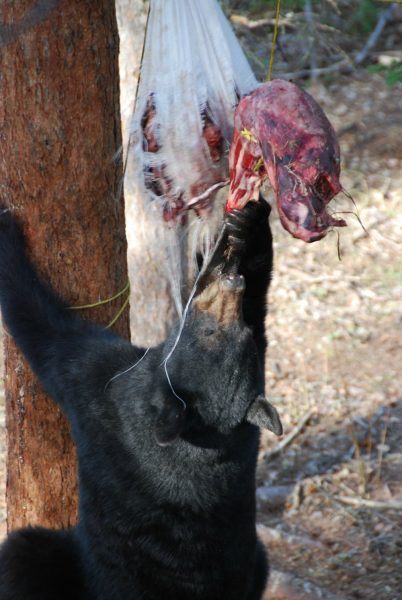 The larger bear, that I would now guess was a little over 6 feet nose to tail, ended up chasing the other off, and then he turned and looked straight at me in the stand. I could see a big gash on the boar's muzzle, and he walked straight to the base of my tree. As he got closer, I could see the cut was a gaping wound, and I could hear his breath making a noise as it escaped the gash that went all the way through his septum. He stared at me, woofed, growled, and it was pretty obvious he was in pain, a foul mood, and his interest in me was not curiosity.
The boar circled my stand a few times, and I felt like he was trying to decide which of the three trees that supported my perch he was going to climb. I had seen the speed he went up a tree earlier, and I knew it would take him about 2 seconds to be in the stand with me.
As soon as he stood up and put his front paws on one of the trees, I threw my binocular and hit him square in the face. He jumped back and stood at about 5 yards, huffing and popping his teeth at me. I didn't want to shoot him, but I was strongly considering it.
He finally walked back to the bait and fed for about 10 minutes, but he decided to come back and mess with me again. He went through his aggressive posturing, and again, he started up my tree. I hit him with a water bottle, and he stood looking up at me. I got everything out of my backpack that I thought I could throw and laid it all out on my seat. I ended up hitting him with another water bottle and a bow hanger before he finally vacated the area. I was pretty wrecked by that time, and I just wanted to sit and calm down.
This wasn't to be as a much bigger bear almost immediately showed up. I guess the bad attitude bear had seen or smelled the big boar, and that's why he left. This bear fed, and two more bears ended up within eye sight, but they kept their distance. I debated on whether or not to shoot the bigger boar as he did look very nice, and after about 25 minutes, I talked myself into shooting.
I put a Rage broadhead just behind his shoulder, and the bear sprinted only about 40 yards before he piled up. It was great seeing him go down, but there was no way I was getting out of my stand to go check him out with the aggressive bear around. It was a long 2 hour wait for my guide to come back and get me, but I was very pleased with the boar as he ended up measuring 6 feet 10 inches (skinned fresh hide).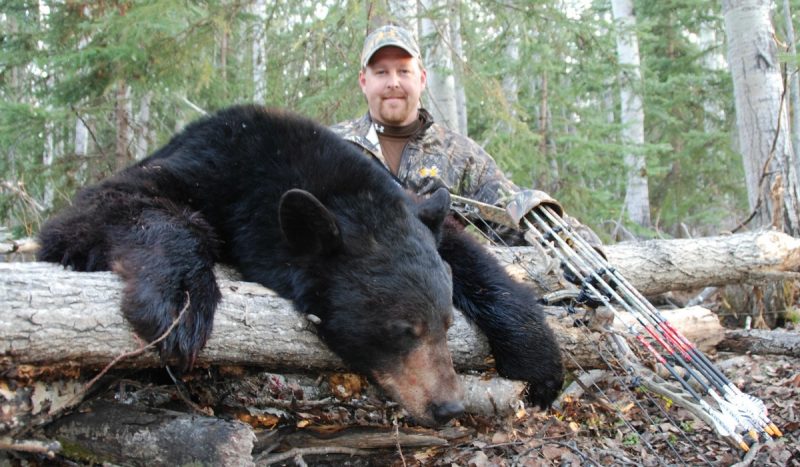 After relaying the story of my evening to my guide, he informed me that he had been run off that bait a couple of times the previous week by an aggressive bear while filling the barrel. He said, "Sorry, I guess I should have warned you, especially since you just have a bow."
With one good-sized bear down, I wanted to wait on a monster for my second tag. The very next night, I had a bear I knew was bigger than my first come in, but it was raining, and I passed him up. When I showed my outfitter some video of the bear, he flat out told me I was an idiot and I had let a giant walk. So much for my judging ability!
I sat that same stand the next four evenings with zero action, but on the fifth sit, the big guy came back. He was very wary and would never come in to feed, but he did lie down about 10 yards behind the bait for about 10 minutes. I decided if he gave me a shot, I would take it, and when he stood and turned to leave, I put my arrow in his boiler room. I heard him crash and moan, and he was only about 80 yards away.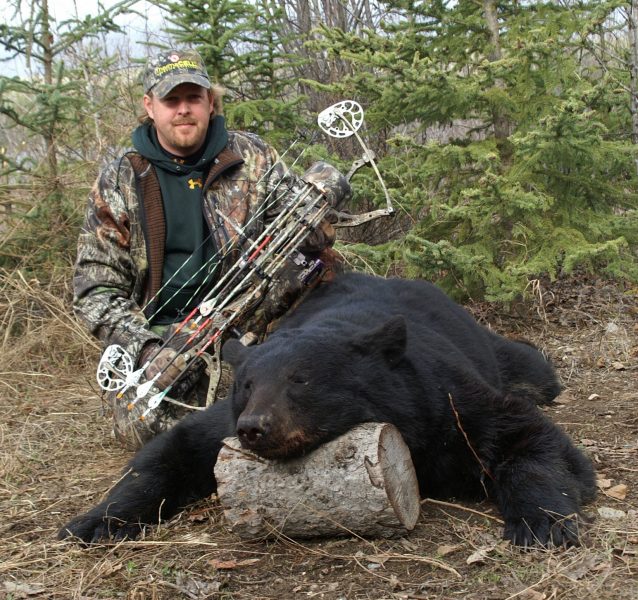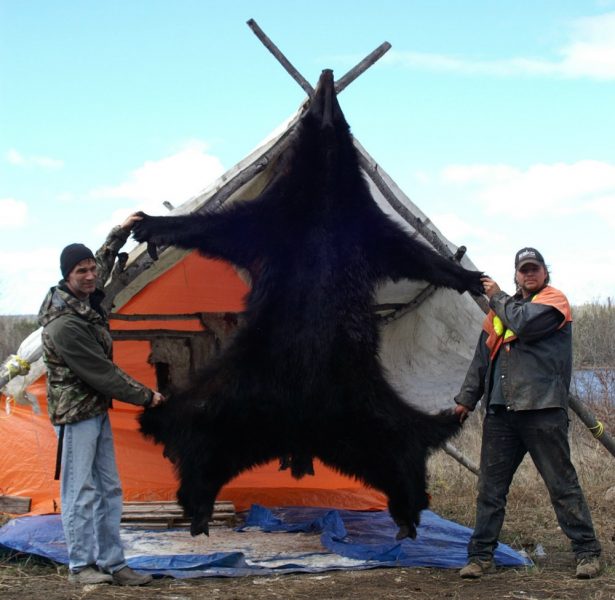 This bear was huge! He had a 20-inch skull (length plus width) and his skinned hide measured 7 feet 8 inches. I am still really not sure what I was thinking when I passed him up the first time, but it was a mistake that I'm sure glad I got a second chance to rectify. I will likely never get a chance at a bigger black bear.
There are lots of fun outdoor activities like turkey hunting and fishing that outdoorsmen can enjoy in spring, but for the big game hunter in North America, it is hard to beat a good black bear hunt.
Editor's note: Tim Herald is an owner and hunt consultant at Worldwide Trophy Adventures (WTA). To book this or any other high-quality hunt anywhere in the world, contact Tim at [email protected]. WTA's services are free; WTA is paid directly by the outfitter, and your hunt cost is the same whether you book directly with an outfitter or through WTA.