Fishing is a riddle. Figuring it out brings its own satisfaction. To an angler, there are few things more challenging and rewarding than discovering a new way to catch an old fish.
So, I was intrigued when my friend Pit Turenne, co-owner of Aikens Lake Wilderness Lodge in eastern Manitoba, mentioned an open-water trolling technique he and his pro-staff guides have discovered as a successful way to target "roamer" walleyes. My dad and I visited the family-run, five-star fly-in this summer and learned the tactic first-hand.
Colin Boissonneault, of Winnipeg, was our guide and teacher for the lesson. He explained the premise to us after a steak dinner as we motored to a mid-lake basin in our 16-foot, Lund Alaskan.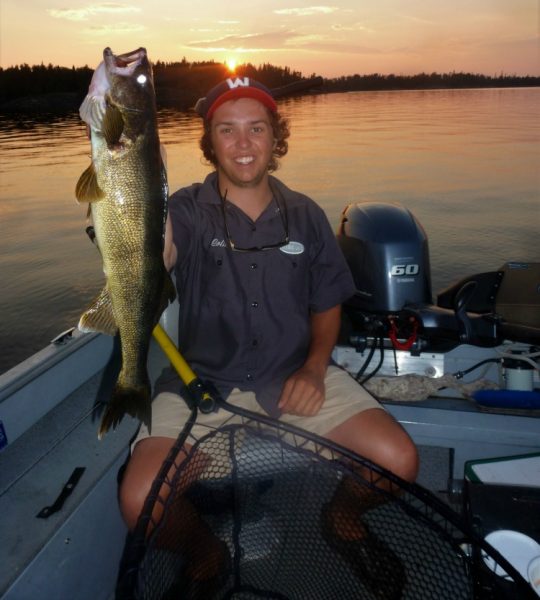 "We've discovered this open-water trolling that can be really effective in the evening, especially during the sunset hour," Colin said. "There are schools of roamer walleyes in the lake that basically spend their entire lives in super deep water. They almost never move into the shallows or onto the reefs; they just cruise around all day in over 200 feet of water."
At 295 feet, Aikens is the second deepest lake in Manitoba. These roamer walleyes actually take on a look all their own, Colin explained, because they live in such deep water.
During the day, these roamer walleyes tend to follow baitfish at or near the thermocline, and range anywhere from 20 to 50 feet deep. At night, the ciscoes move up to the surface to feed on insets, and the walleyes follow and prey on them like sharks from beneath.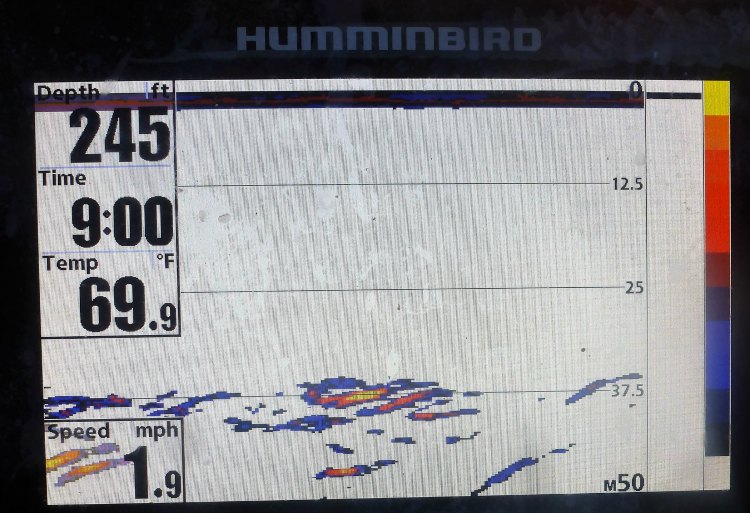 These fish live in the depths year-round, but summer through fall tends to be the best time to engage this unique tactic.
"Around sunset, they'll be in mid-lake basins where it's 200 to 240 feet deep, and they'll come up to 15 to 30 feet below the surface to feed on schools of suspended baitfish," Colin said. "We troll 6-inch Jakes and deep-running, wide-wobbling Rapalas."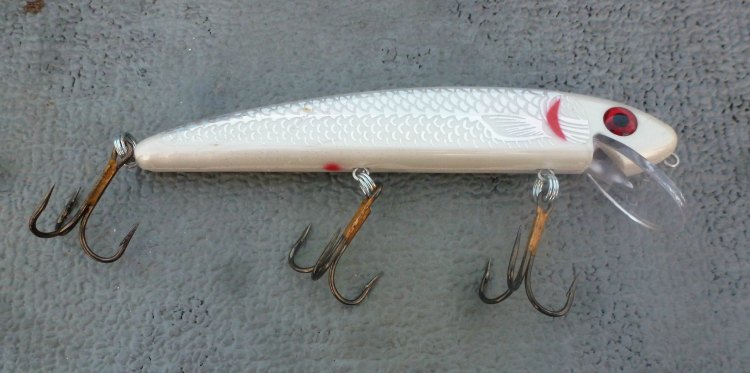 Colin looks for schools of suspended baitfish on his Humminbird Helix 7 fishfinder, then begins trolling two lines at 2 mph. For rods and reels, Colin outfits his clients with Wright & McGill trolling rods (medium action, 7 foot, 6 inches) with 20-pound braided line and matching Wright & McGill baitcasting reels.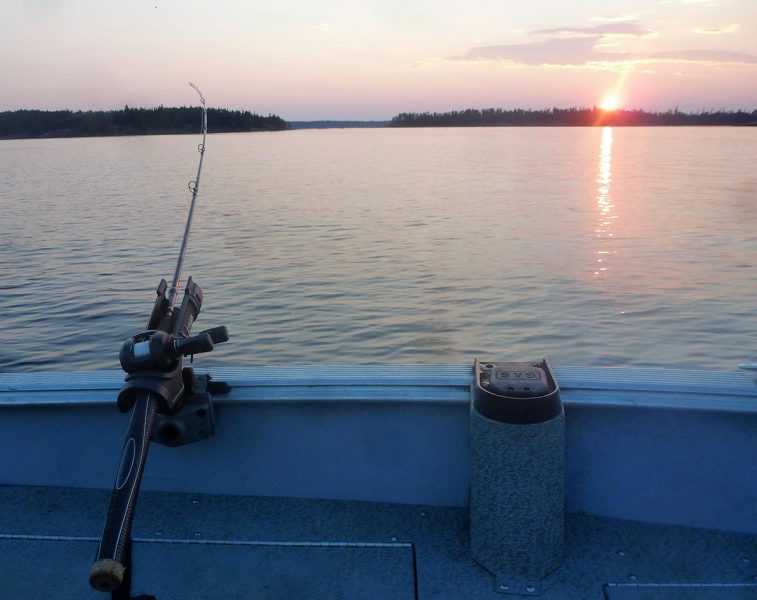 "Troll long ovals until you start getting hits, then tighten up your circles and troll more concentrated areas once you start catching them," he said, noting that speed is typically more important than lure color.
While 2 mph tends to be the magic number, some nights higher speeds trigger more strikes, while other evenings find a slower pace more productive. During our night of open-water trolling, we had our first two strikes at closer to 2.5 mph, but found the fish seemed to connect better a little under 2 mph. The successful hook-ups we had took place between 1.6 and 1.9 mph.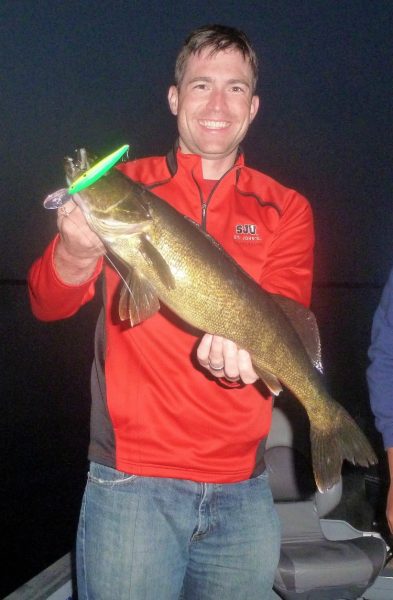 Guests love the approach, Colin said, because it's a unique way to target big, aggressive walleyes. Imagine catching up to a dozen or more walleyes as the sun is setting, the smallest of which is 3 or 4 pounds.
I have to admit, I was excited reeling in that first open-water walleye. Sure, we had already caught a lot of nice walleyes that afternoon, but this was a new way to catch an old fish, it was a cool concept, and I was curious to see the different coloring of these roamers.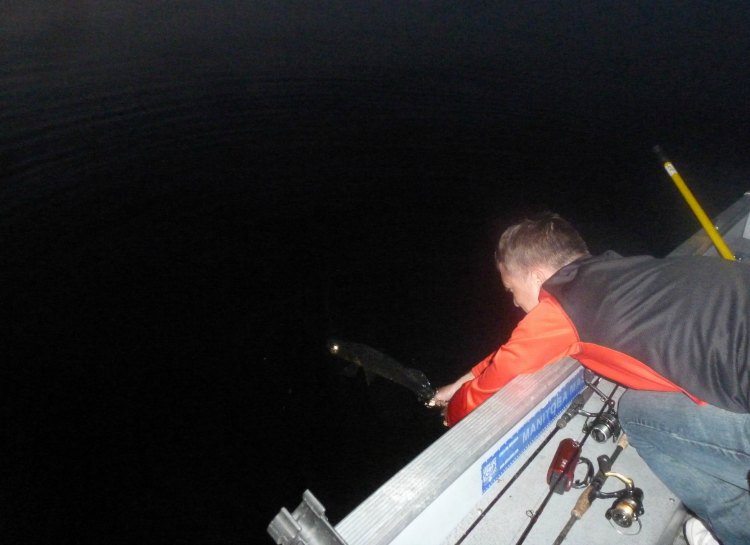 Colin had also tipped me off that virtually all of these roamer fish are super high-quality, mature walleyes, and we found that to be true. Our first fish was 25 inches with dark black coloring, and each fish we caught was over 20.
"I love the open-water trolling technique," said Pit Turenne. "It's such a different way to target walleyes that would otherwise never see a lure."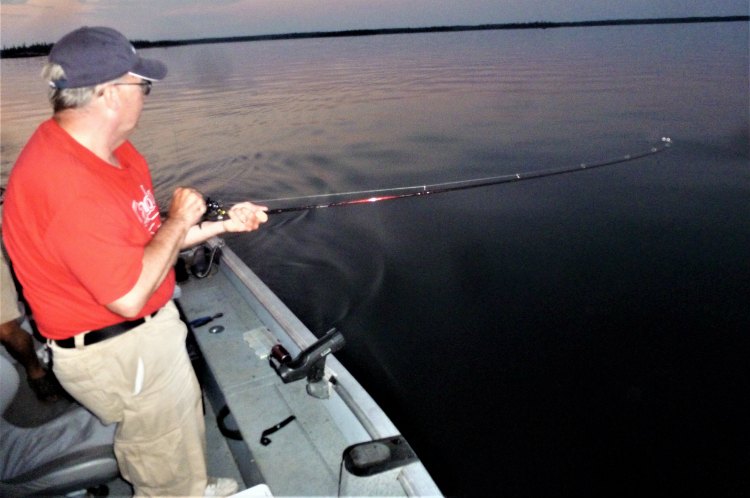 At the end of the evening, we got to enjoy a gorgeous boat ride under the quarter moon, and during the trolling itself we got to solve the riddle of fishing in a new way.
Few things are more satisfying than that.
Editor's note: After a great night of open-water trolling, the author enjoyed a beautiful late-night boat ride back to the lodge. Check out his video above — this is the definition of "quiet and remote."