Video: How to Rig Your Walleye Boat with Rod Holders
Ross Robertson 09.18.17

When I tell people that rod holders can improve your walleye fishing efficiency, or actually change the action of a lure, I tend to get odd looks. The truth is, that aside from simply holding the rods, rod holders help keep our lines from tangling and can change the line angle as it leaves the boat.
Rod trees such as those from Bert's Custom Tackle allow several holders in a small footprint, but most importantly they keep lines up and allow them to not touch the water before an attached device such as a planer board. This enables you to run lines out farther without tangling, as well as not having your boards pitch and roll in rough water, which in turn affects a lure's action as it surges.
Sometimes we need rod angles to be horizontal for presentations such as drifting, flat-line trolling or when using divers. It's under these circumstances that Bert's riser cradles are more effective. They can be fully adjusted to just about any angle, including level to the water.
The only thing better than having the right rod holder for the job is having a few extra. This is very handy for keeping rods out of the way, or for presentations such as planer board or flat-line trolling. Extra holders allow us to get rods out of the way to create a landing zone without tangling, yet still keep lures in the water fishing.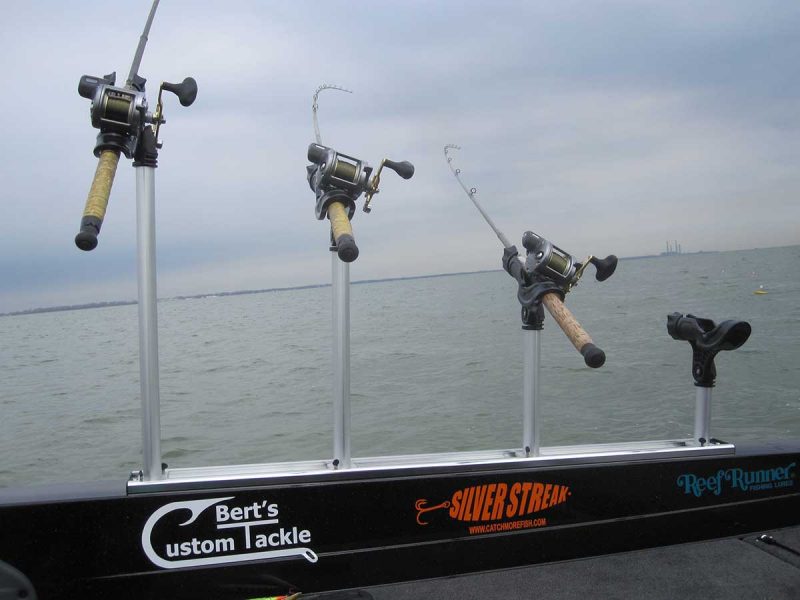 When you pair the various Bert's rod holders in their patented track system (photo above), you truly have the ultimate in versatility. This allows you to add or remove holders or accessories, and place them anywhere you have track. Options are good and you'll be hard pressed to find more than with the Bert's Custom Tackle track system. Check out the video below to see how I use them in my walleye boat.
Editor's note: Capt. Ross Robertson of Bigwater Guide Service and his crew provide educational guide trips for monster walleyes and smallmouth bass. The Bigwater team fishes ice-out to ice-up on the Great Lakes, spending the majority of the year on Lake Erie's western and central basins.