One of the most popular and well-known fishing apps is FishAngler .  In a nutshell, the FishAngler app is designed to make fishing easier for you.  It appeals to hardcore fishing professionals as well as those who have never gone fishing before but want to get into the sport.
With the FishAngler app, you will be able to do many things; from finding out where the best fishing spots are in your area to increasing your odds of making a catch, creating a record of your catches, and even meeting other anglers in your area.
Let's talk about how to use the FishAngler app in greater detail:
Social Discovery and Exploration
When you first open the app, you'll notice it resembles the newsfeed of social media outlets, such as Facebook or Twitter.  In a way, the FishAngler app is very much like social media, the difference being that it's focused on fishing.
Like social media, you can share your own content on the newsfeed while simultaneously viewing the content of others as well.  You can view the content of other anglers using the app including anglers in your specific area.
While you can view the newsfeed of pretty much anybody using the app across the entire world, you can also narrow things down from a ten mile to a five-hundred-mile radius within your local newsfeed.  Within that radius, the app will show you the content and newsfeed from other local anglers, making it very easy to connect.
Besides seeing angler activity; you can also follow specific fish species or bodies of water. For example, if you want to see all catches of Mahi Mahi or Rainbow Trout – you can follow and see any content or posts related to those specific species. You can also set certain bodies of water to follow such as a specific lake, river or section of the ocean.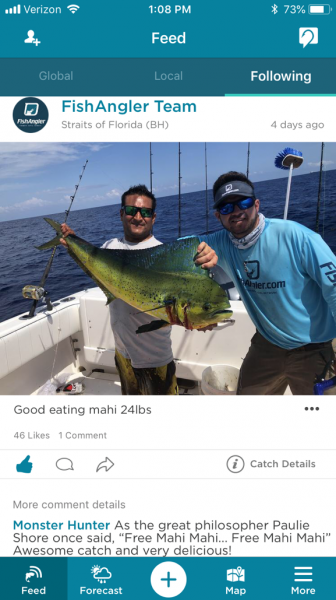 Finding the Best Places to Fish
One of the biggest appeals about the FishAngler app is the fact that it reveals the best places to fish in your area.
This is huge, because there's nothing more disappointing than setting up shop at a particular stream or section of a lake, only to get no bites at all. But what if you knew exactly where all of the fish were biting ahead of time?
It's very easy to find the best local fishing places on the FishAngler app. All you need to do is activate and use the interactive GPS devices that come installed on the app. Other users in the area log the places where they are fishing, and report how well the fish are biting.
In other words, the days of you having to test out different fishing spots will come to an end, and you can go directly to the places that other current users tell you have been successful.
Fishing Forecast & Weather Conditions
This may not seem as important as finding out the best local areas to fish, but it is important in its own right: knowing what the weather conditions are going to be like in the future. Anyone remotely experienced in fishing knows about the importance of the weather.
Finding out about future weather conditions is incredibly easy with the FishAngler app.  You'll have access to 7-day marine forecasts with wind, wave, and water temperatures. Real time NOAA marine buoy & USGS inland station monitoring with tidal prediction, water flow & water level forecasts. They also have a Solunar fishing forecast so you know the best fishing times based on the 'Solunar Theory'.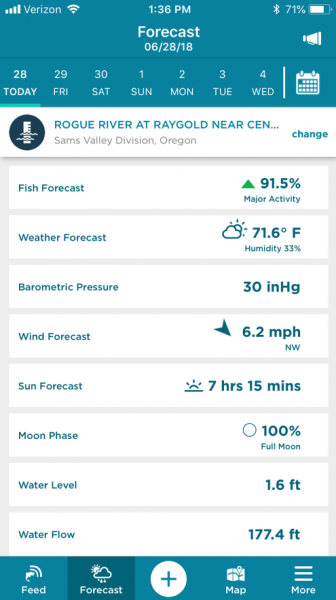 Recording  Catch Data
Another major plus about the FishAngler app is that you get to record your catch data.  Remember how you can find out the best fishing locations in your area based on the data that other users post?
You can also post the best fishing spots in your area as well to help other anglers out.
There's a specific page on the app where you can record any data that you want to including; the locations you've fished, species of fish you caught in that location, weather conditions, bait and lures you used and more.  FishAngler has specific sections for different types of data that you can record.
The benefit here is that you can easily refer back to this information at a later date instead of having to try and recall from memory or physically write down the info on a piece of paper.
With over 45 catch attributes, you can easily organize and track your fishing experiences. Choose to share your catch information or keep it private. With FishAngler you have complete control over your privacy settings.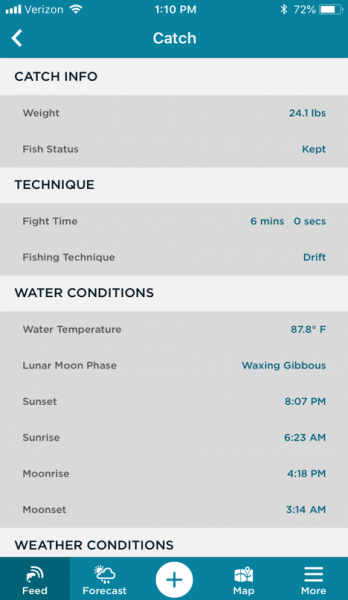 Conclusion
Unlike other apps, FishAngler has no hidden charges and is 100% free! You can enjoy your own fishing logbook with interactive maps, 7-day weather forecasts and the ability to connect with other anglers all on one single platform. In our opinion, the best fishing app to do all of this for Free is the FishAngler App.