Red Bull KTM factory riders delivered wins, podiums and solid points-winning rider in the MX1 & MX2 GPs of Belgium at Bastogne on Sunday with top riders Tony Cairoli topping MX1 and Jeffrey Herlings second in MX2. Both riders retain their red plates as championship leaders at the half way mark of the competition.
Cairoli was in excellent form as was evident in the opening moto and admitted that it was like his second home GP. The Italian rider lives for much of the year in Belgium and has a large fan base both here and in neighboring Netherlands. He shot out of the start gate to take an early lead in the opening moto and consolidated that lead right through to the flag. In the second race he was around seventh at the first corner but gradually reeled in each of his opponents and went on to win by an impressive lead. Riders, including Cairoli were pleased and relieved at the track conditions and praised the work of track officials who managed to get it into very good shape after heavy rain on Friday and Saturday had even forced the cancelation of the official qualifying.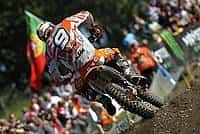 Tony Cairoli: "On Saturday the track was not so good because of the rain but this morning it was nice and there was a lot of grip. We had many different lines for both races and in the first I managed to pull away and control the race. My start in the second was not so good but I wanted to win here so I just put my head down and did my best to make it happen." Tony riders the KTM 350 SX-F bike and at half way through the season he has laid a good groundwork towards what could be his sixth world championship title. He has a 47-point lead in the standings
While Cairoli's MX1 teammate Ken de Dycker didn't finish on the podium he still put in two spectacular rides on the new KTM 450 SX-F. It was clear that the Belgian rider wanted to perform well in front of his home fans and there was an audible groan went up when be got tangled with another rider at the start after his bike slid in front of Ken. He then put on an amazing charge to come from 33rd right at the back to tenth at the flag. He also missed the start in the second race but again made a heroic charge to get back in the action. De Dycker said his confidence is growing with the new bike and he is sure that his times out of the gate will improve in the coming races. He was overall sixth and is in fifth place in the standings.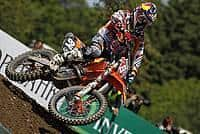 There was also plenty of Orange action in the MX 2 GP with Jeffrey Herlings dominating the opening moto. The Dutch teenager was slower out of the gates in the second race but had caught the pack and taken the lead in the early stages. The race then evolved into a two-way battle between Herlings and his main rival for the title, British rider Tommy Searle. After a mid race dogfight where both riders slipped past each other only to be passed again in sequence, it was Searle who got the edge, went on to take the race and left Herlings with the 1-2 result for second overall.
Jeffrey admitted after the race that he had not wanted to take any chances on a track surface that is not his best.
Jeffrey Herlings: "I know the tracks coming up suit me better. There is Sweden and Latvia and Lierop and it will be sandy in Russia so four of the eight tracks coming up will be good for me. Today in the second race I just couldn't stay with Tommy and I couldn't find my rhythm. Tracks like this are my weak points but I am very confident about the ones coming up.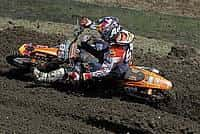 Third overall was Jeremy van Horebeek, a position he now often finds himself in and us busy working on his technique and mental application to find the extra push to challenge the championship's two leaders. "I felt good all weekend, the bike was good and I am consistent," he said. Van Horebeek is also a solid third in the standings.
The third MX2 team member Jordi Tixier finished overall sixth and is currently fifth in the standings. He was riding on Sunday with some pain in his back and hand after a nasty crash in the morning. He also had some problems with dirt getting under his goggles that was obstructing his vision but he said he enjoyed the fight and it was a good weekend for him.
MX1 Results
1. Tony Cairoli, Italy, KTM
2. Clement Desalle, Belgium, Suzuki
3. Christophe Pourcel, France, Kawasaki
4. Kevin Strijbos, Belgium, KTM
5. Gautier Paulin, France, Kawasaki
Other KTM
6. Ken de Dycker, Belgium, KTM
14. Davide Guarneri, Italy, KTM
16. Matiss Karro, Latvia, KTM
MX1 Championship Standings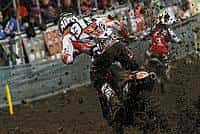 1. Cairoli, 345
2. Desalle, 298
3. C. Pourcel, 292
4. Paulin, 289
5. de Dycker, 237
Other KTM
8. Strijbos, 207
14. Karro, 112
16. Guarneri, 98
MX1 Manufacturers Standings
1. KTM, 356
2. Kawasaki, 350
3. Suzuki, 308
MX2 Results
1. Tommy Searle, GBR, Kawasaki
2. Jeffrey Herlings, Netherlands, KTM
3. Jeremy van Horebeek, Belgium, KTM
4. Joel Roelants. Belgium, Kawasaki
5. Arnaud Tonus, Switzerland, Yamaha
Other KTM
6. Jordi Tixier, France, KTM
7. Jake Nicholls, GBR, KTM
8. Jose Butron, Spain, KTM
13. Romain Febvre, France, KTM
12. Glenn Coldenhoff, Netherlands, KTM
13. Romain Febvre, France, KTM
15. Valentin Guillod, Switzerland, KTM
MX2 Championship Standings
1. Herlings, 364
2. Searle, 340
3. van Horebeek, 308
4. Roelants, 238
5. Tixier, 217
Other KTM
6. Nicholls, 204
9. Butron, 150
14. Coldenhoff, 103
MX2 Manufacturers Standings
1. KTM, 377
2. Kawasaki, 363
3. Yamaha, 229
EMX 125 Overall Results – Round 4 in Belgium
1. Tim Gajser, Slovenia, KTM
2. Nicholas Dercourt, France, Yamaha
3. Pauls Jonass, Latvia, KTM
4. Magne Klingshelm, Norway, KTM
5. Ludovic Brevers, Belgium, Yamaha
Other KTM
6. James Dunn, GBR, KTM
7. Alessio Della Mora, Italy, KTM
8. Anton Lundgren, Sweden, KTM
9. Vaclav Kovar, Czech Republic, KTM
10. Jaap Corneth, Netherlands, KTM
11. Freek van der Vlist, Netherlands, KTM
13. Riccardo Righi, Italy, KTM
14. Arminas Jasikonis, Lithuania, KTM
15. Davide Bonini, Italy, KTM
16. Dietger Damiaens, Belgium, KTM
EMX 125 Championship Standings
1. Gajser, 195
2. Klingshelm, 133
3. Bonini, 120
4. Dunn, 109
3. Vlaanderen, 102
EMX 125 Manufacturers Standings
1. KTM, 200
2. Suzuki, 110
3. Yamaha, 66
Images courtesy of KTM
What's Your Reaction?