Competitors break NRA Long Range High Power records.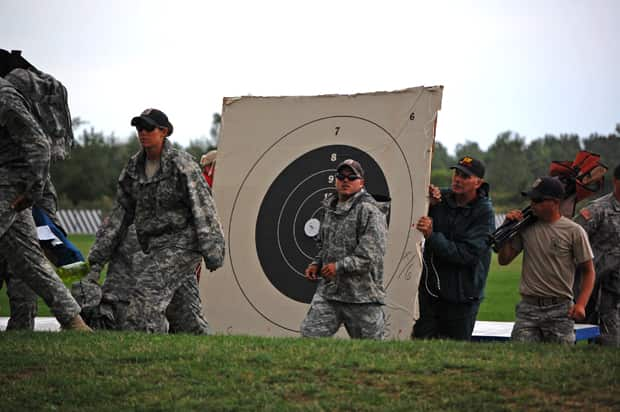 Day three. The Third day of NRA's Long Range High Power Rifle Championships. A day that will go down in the record books. For today was a day in which records were set. Records so significant that a few competitors request their targets be brought up from the Pits. Not one record. Not two records. But more then a dozen Long Range Rifle records.
One small clarification: today's record breaking performance resulted in three new National Long Range High Power records. So why did I say that more than a dozen were set? Because the standing records to which I'm referring to were broken multiple times today.
First we start with the Sierra Trophy. Sierra goes to those with the top scores from the Doc Aiken and Andrus Memorial Trophy (Palma Rifle events) match. Previous top score was Robert A. Gustin's 400-19x from 2002. Today, Norman Anderson and Great Britain's David Luckman broke new ground. Anderson with a combined 400-22x and Luckman with a 400-23x.
Next on the block is the Wimbledon Cup. Wimbledon is a slow fire Any rifle match from 1,000 yards. The record was established back in 2004 by Michelle Gallagher. That year, Michelle capped off the match with a solid 200-16x. Unfortunately for Michelle, that record was beaten twice today by the U.S. Army Marksmanship Unit. Shane Barnhart registered a 200-17x right before teammate Tyler (Ty) Cooper nailed down a 200-18x. Then things really took off.

The madness occurred when calculating the Herb "Doc" Aiken numbers. The Doc Aiken trophy goes to those with the top Palma rifleman (or woman) from 1,000 yards. Back in 1998, John J. Jackson set the record with a 199-8x. That record fell more then ten times today thanks to Parag Patel, Jon Underwood, Jon Rhynard, Justin Skaret, James Lewis, Owen Henry, Nathaniel Guernsey, Robert Sketetee, Norman Anderson before David Luckman of Great Britain swept in once again to set the bar ever so high at 200-13x.
Question is, if they're breaking all these records the day before the individual matches conclude, what are they going to go tomorrow?
Images courtesy NRA Blog
What's Your Reaction?