Boyd Duckett, who today lives on Lake Guntersville, won the Classic held on Alabama's Lay Lake in 2007. He was only one position out of this year's Bassmaster Classic field. He fishes the Bassmaster Elite Circuit and is one of the nation's top tournament bass pros. If anyone knows what to expect from the 2014 Bassmaster Classic, which starts Friday, February 21, Duckett should have the best guess. The following is his perspective on what to expect from this year's tournament, per an interview with OutdoorHub's John Phillips.
Lake Guntersville is one of the premier bass lakes in the nation and is ranked number three in best lakes in the United States to catch big bass. The problem with the two lakes ranked ahead of Guntersville, Lake Falcon and Lake Sinclair, is that you may be able to catch a lot of big bass one year, but the next year there may not be as many big bass available as the year before. However, Lake Guntersville is the most-consistent lake to produce big bass every year, all year long. If you cast a Rat-L-Trap (lipless crankbait) for eight or nine hours on Guntersville, you'll have a limit of five bass that weigh 20 pounds. Not many lakes in the United States can produce that kind of bass every day that you fish them.
I believe that in 2014 most of the Bassmaster Classic records, including the all-time record for big bass caught at the Classic or on the Elite Circuit, will be broken on Lake Guntersville. I'm convinced the Classic never has been held on a lake as productive as Guntersville in February. Even though we had unbelievably cold weather the past couple of weeks here in Alabama, you'll still see some limits of bass that will weigh 25 pounds brought in by contenders.
I also believe that the biggest one-day catch of bass will be broken, a record I currently hold for a limit caught in the Louisiana Delta. I truly think you may see as many as 10 anglers bringing in five-fish limits that will weigh more than 30 pounds.
Guntersville hosts a number of bass tournaments year-round. This weekend and every other weekend at tournaments, we'll see bass brought to the scales that weigh 10 pounds or more. The field weight record (the total number of bass caught by all competitors during the tournament) will probably be broken. The Classic never has been held on a lake that has the potential to produce as many big bass as the anglers will catch here at Guntersville February 21 to 23.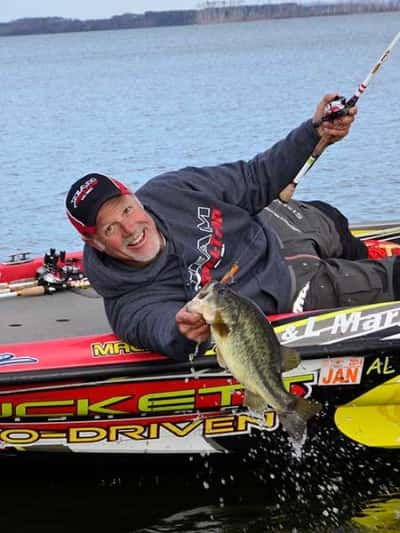 There are three patterns that I think can produce a Classic winner this week. The bridges here at Guntersville are where big bass stack up every year. I believe that one of the anglers in the top 10 will have caught his bass around the bridges. More than likely those fish will be caught on a swimbait with a jig head. The outsides of the grass lines will also produce limits of big bass. One of the top 10 finishers will have caught his fish on a lipless crankbait, fishing the edges of these underwater grass beds.
Another angler will locate a school of big bass, sit on top of that school, catch those bass with jigs and probably finish in the top 10. Two more baits that may produce a Classic winner are a weightless Senko type lure and/or a chatterbait. These three baits will produce the biggest limits of bass in the 2014 Bassmaster Classic at Lake Guntersville.
If the water warms up during the Classic, I believe the upper end of the lake will be the most productive in areas like Mud and Raccoon creeks. If the water in the lake stays cold (below 50 degrees), I think the Classic will be won on the lower end of the lake, and the weights of the limits of bass won't be as high as they'll be if those same numbers of bass have been caught on the upper end of the lake.
I've been asked the question, "If you were in this year's Classic and could fish with only one lure, how would you fish the lure, and where would you fish it?" I'd use a lipless crankbait like the Rat-L-Trap, because I could fish it in one to two feet of water or down to 12 to 14 feet of water. I'd fish the lower end of the lake, because it's more dependable than the upper end of the lake, regardless of the weather.
Check out a video with 2014 Bassmaster Classic contender David Kilgore on how he plans to win the tourney:
Register to win one of 10 copies to be given away of John E. Phillips' Kindle eBook, How to Win a Bass Tournament: Personal Lessons from 8 Pro Bass Fishermen. Click here (will open a new email in your default email software) to submit your choice for who will win the 2014 Bassmaster Classic. Those who answer correctly will have their names put together and a random drawing made for the winners.
Images courtesy John Phillips
What's Your Reaction?