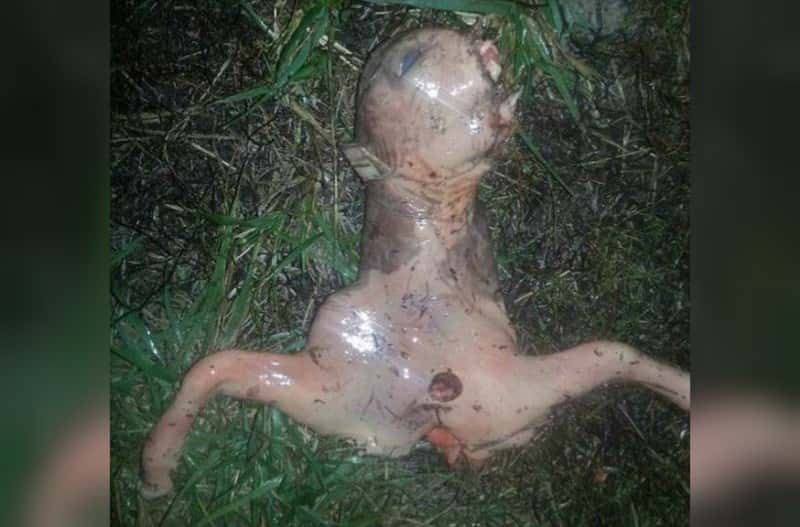 Residents of the San Francisco Bay Area peeked out their windows on Saturday night after seeing strange, moving lights dance across the sky. When images of a slimy, misshapen creature surfaced on the internet shortly afterwards, it did not take long for observers to claim they witnessed an alien encounter. According to Fox 32, Gianna Peponis of San Jose first posted the images to her Facebook over the weekend, claiming that she found the strange creature in her backyard and it was dead by the time she discovered it. In the post, which was later deleted, Peponis claimed that she heard it scream.
Did an extraterrestrial actually land in San Jose? One thing is for sure: the strange lights seen on Saturday certainly did not belong to any alien spacecraft. It was a test fire of Trident missiles by the US Navy off the coast. Local authorities had been notified of the test fire and the UFO theory had already been thoroughly debunked by Sunday.
You can see footage of the test launch below. Video includes some adult language.
ICYMI: Navy missile test causes light show seen in O.C. https://t.co/et3xtD6v9e pic.twitter.com/BSvVRY3kIc

— O.C. Register (@ocregister) November 8, 2015
What about the creature? While biologists have yet to officially weigh in on the matter, the overwhelming consensus from those who have seen the pictures and discussed it online is that it is an animal fetus, possibly that of a deer or cow. Such a miscarriage of a fetus in deer is relatively rare but can be brought about by stress or disease. Below is a photo of a deer fetus taken from a doe that was killed in a traffic accident. The image is graphic.
According to the website Snopes.com, which investigates internet rumors and hoaxes, the photos were originally taken earlier in November by a Facebook user in Missouri, so it could not have been taken by Peponis on November 7. The website concluded that the so-called "San Jose alien" was likely a hoax.
Note added 11-11-2015: This article has been corrected to reflect that the fetus may not necessarily be that of a deer.
Image from Facebook
What's Your Reaction?