The National Park Service (NPS) is currently investigating two strange bear deaths in Katmai National Park in Alaska that were caught on webcam. On October 21, thousands of viewers went online to watch the bear cam stationed at Brooks Camp near Naknek Lake.
A bear sow and her two cubs were meandering in front of the camera when one of the cubs stumbled and keeled over. It then crawled a little distance and died two days later. Just yards away, a much larger adult male was also found dead in seemingly mysterious conditions.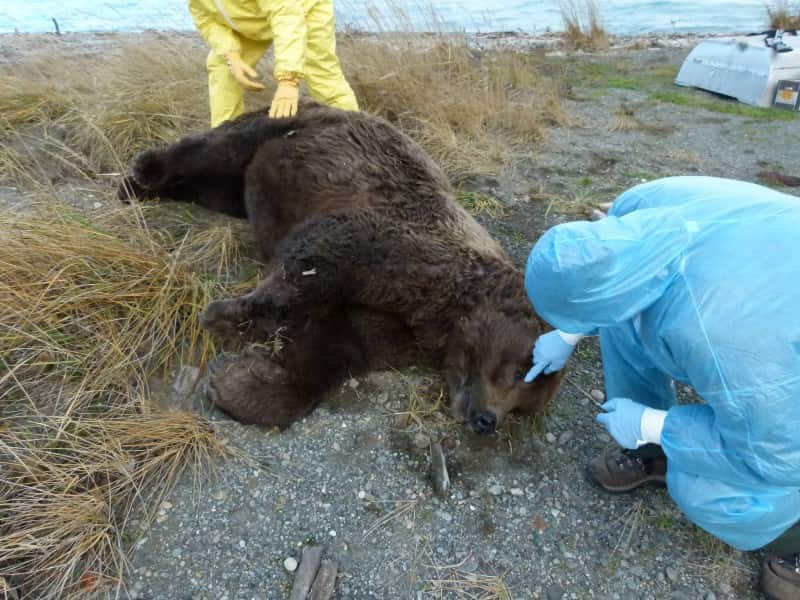 "At this point we don't know the cause of death," NPS field biologist Michael Saxton told KTUU. "It seems to be pretty sudden. Gross necropsy has already been completed. We've examined the organs to see if anything is visibly traumatic. We would expect to get toxicology reports back fairly but getting back things like bacteria cultures could take months."
Park officials are used to seeing bears die from injuries—either accidental or incurred from fights with other bears—but this kind of unknown mortality is almost unheard of.
"We see bears, especially cubs, being killed by other bears; that's why mother bears are very protective. We also know there are a lot of bears that go missing that we never see again… we've found bears at the bottom of cliffs," Troy Hamon, who oversees resource management for the park, told the Alaska Dispatch News. "But our understanding of the non-traumatic mortality modes is fairly uncommon."

Viewers who saw the cub drop last month have plenty of theories, like the cub being drugged or poisoned, some sort of disease, or even ingesting chemical waste. Park experts are still awaiting lab results but have ruled out rabies or toxoplasmosis. Perhaps what viewers remembered most was the adult sow lingering nearby, occasionally wandering over to sniff the cub.

There is currently no available video of the October 21 incident, but you can watch the Brooks Falls webcam below:
Images courtesy National Park Service
What's Your Reaction?