This lightweight, double-barreled .380 pocket pistol is already making waves on the internet, and it hasn't even entered its production phase. It is called the Ideal Conceal, and it's most notable characteristic is that it looks almost exactly like a cell phone.
"The unrivaled Ideal Conceal pistol is a carefully engineered double barreled derringer," stated its creators on their website. "Cunningly designed to look like a smartphone when folded up, one click of the safety and you're ready to go. This product is a defensive weapon designed with the utmost safety in mind."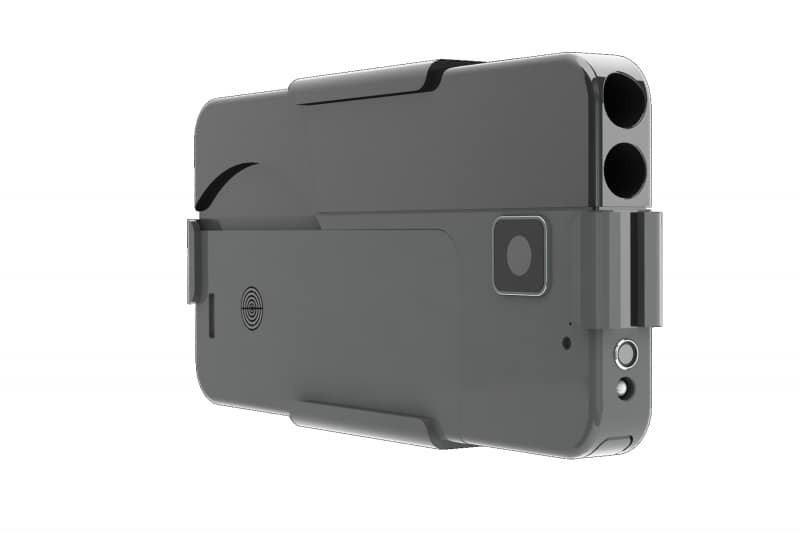 The designers of the Ideal Conceal argue that since smartphones are nearly ubiquitous in modern life, there is simply no better item for a pocket pistol to masquerade as. This makes sense, especially as phones are commonly clipped to belts or carried in pockets and purses. In addition to being inconspicuous, phones are generally kept close to hand and are readily accessible. The Ideal Conceal is not the first idea to capitalize on this—some other products, such as the ABDO, also imitates a smartphone carrying case.
The Ideal Conceal however, takes it one step further by making the gun itself hide in plain sight. The company touts the firearm as a lightweight one-piece frame with a hammerless firing system, made in America with locally produced parts. The gun is normally carried with the safety on and the grip concealing the trigger and trigger guard. Switch the safety off, and the grip swings open to reveal a more familiar pistol shape.
Not everyone is as enamored with the idea however. The design is currently patent pending, but some critics doubt the ATF will ever give it final approval. Others lambasted the smartphone-shaped gun for perceived design flaws. Perhaps the most persistent issue the Conceal Ideal had to deal with is the rumor that the design was initially conceived by felons to fool police. This rumor eventually got so popular, the company had to make several statements against it on Facebook.
"We support law enforcement 100%!" the company said, arguing that it was absurd for people to think that the gun was made with ill intentions in mind.
Of course, since the company is offering the product for sale to the general public, that would make sense. Ideal Conceal is aiming to release the derringer this summer at the list price of $395.
What do you think?
What's Your Reaction?