People who don't live in states covered by snow 3-4 months per year might have a hard time comprehending what they're about to see in this video.
Believe it or not, a snowmobile (or snow machine as it's sometimes called by our neighbors to the north), can sometimes travel quite well on water that is NOT frozen. I won't get into the physics behind how this happens, but trust me, it's possible. In fact, back in the late 1970s, I attended the annual World Championship Snowmobile Watercross (water skipping) in Grantsburg, Wisconsin, with my family when I was 13.
No, I didn't compete, but I did stand on a frozen lake 10 yards from the open water (cut through thick ice) as drivers attempted to skip their snowmobiles across the water and onto the safety of the shoreline. I recall the distance of open water being about 100 yards. The open-water expanse grew each year as drivers become more proficient with their technique, and today, top-end competitors don't just try to skip across a straight section of open water, they actually drive oval laps on a course. Amazing!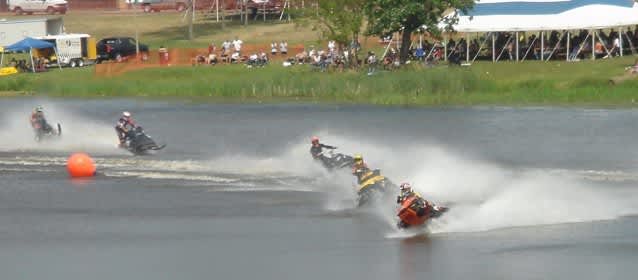 Of course, you should avoid open water at all costs while snowmobiling. However, if you ever face an unexpected emergency where you have to water-skip your sled, keep up your speed (think 40 mph), stand and stay centered over your sled to avoid bouncing or turning, and take a deep sigh of relief when you're back on solid ice or land.
Be safe out there!
Image is a screenshot from the Facebook video
What's Your Reaction?