Must-See Video: Rare Underwater Tiger Muskie Strike on Aqua-Vu!
Dave Maas 02.02.17

Check out this video that was filmed by a fishing buddy of mine, Chris Munchow, this past Saturday (Jan. 28, 2017). Chris was in central Minnesota using a common ice fishing tool called a tip-up.
Below, in Chris's own words, is the background to this amazing video:
"I had a couple of tip-ups out with Aqua-Vu cameras on both. This tiger muskie came in three times in an hour, and it actually strikes the minnow twice, both times never tripping the tip-up flag. I had no idea the muskie was there until reviewing the footage later that night. The slow-motion segment of the clip is 15% of actual speed."
Muskies are incredible predators. And somehow they seem to have an uncanny ability that isn't found in northern pike, which is the skill/instinct to strike and then expel potential prey – and artificial lures – very quickly.
I've spent over 30 years pursuing muskies, and while I've caught my fair share, Chris has caught many more. Together – sharing the same boat – we've been on muskie fishing adventures throughout Minnesota, Wisconsin and Ontario, and we've both witnessed first-hand a muskie's ability to inhale and spit out a lure in a split-second. A muskie can engulf a bucktail containing two (or even three!) sets of needle-sharp treble hooks (the entire lure disappears in the fish's mouth within sight of the boat) and then open its mouth to spit the lure before you have time to feel a strike or set the hook. If you didn't see it happen 15 feet in front of you, you'd swear it wasn't possible.
As for how Chris captured the entertaining/educational underwater video:
"I used an Aqua-Vu camera system with built-in DVR and placed the camera hole 18 to 20 inches from the hole containing the tip-up and minnow. An Aqua-Vu Mo-Pod 3 held the camera at the correct depth and direction to view my bait. The camera runs and records the entire time I'm fishing. This video was shot with the Micro-5 DVR/DT system, which has an 8GB DVR recorder and can hold around 350-minutes of video."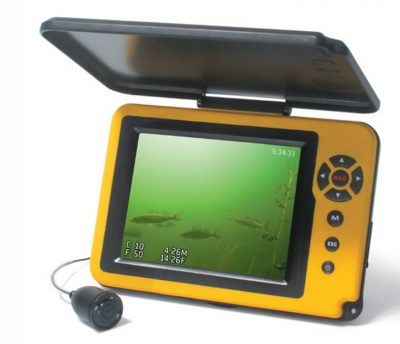 P.S. So why didn't this strike trigger the tip-up? If you watch closely, you'll notice that the muskie swims upward during its attack, which creates slack line. It spits the minnow and never pulls any line off the tip-up spool. Unless the spool moves at least a quarter-turn, a tip-up flag won't fly.
Image is a screenshot from the Facebook video