Like all years past, at the 2017 Shooting, Hunting and Outdoor Trade (SHOT) Show there were lots of new and cool products. In case you don't know what SHOT Show is, it is the industry trade show for all things gun. This extends to riflescopes, ammunition, hunting accessories, clothing and so on. The list of gear at the SHOT Show is endless. My iPhone said I walked more than 5 miles everyday, and I didn't come anywhere near to seeing it all.
This year I cast my beady little eyes on double barrel AR-15. I also saw a handgun that looked like the result of a one-night stand between a Glock and a Colt Government model.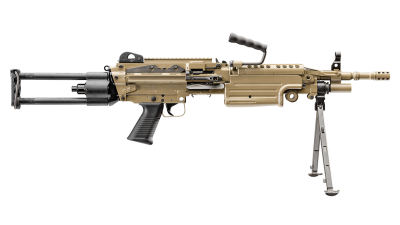 There was a semi-automatic version of the military's light machine gun, also known as a the SAW – it costs about as much as a good used pickup truck – and there was also this girl in the Sharps Rifle Company's booth that I'm sure was either a movie star or a pinup girl. She was nice, too; she even tried on my hat!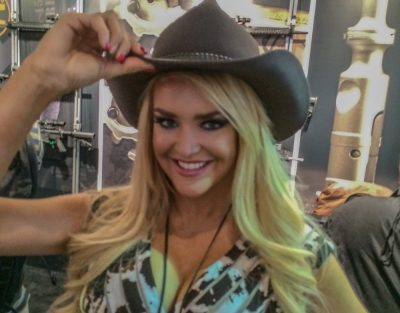 But the coolest thing, the neatest thing, the most useful thing, I handled at SHOT was a new holster from Galco Gunleather. I know what you're thinking: This old guy has just not acclimated to the modern gun world. That might be true, but if you carry a gun every day of your life – I've done so since 1990 – you learn to really appreciate a good holster.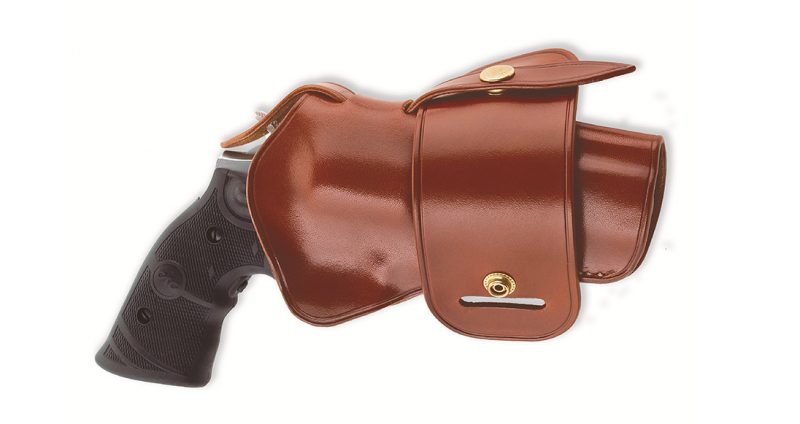 For several years, Galco has been making a holster for revolvers called the Wheelgunner. It is an ingenious design, especially for larger revolvers, because you can remove it without removing it. The Wheelgunner utilizes a contoured premium steerhide leather pouch that fits in, and snaps to, a strap that attaches to your belt with loops. If you want to remove the holster, you simply unsnap it and pull it out. This is extremely handy when you need to lower your trousers for serious business, when you need to enter the courthouse, or when the day is done. For several years I've been after Galco to make a similar holster for the 1911, and now they have.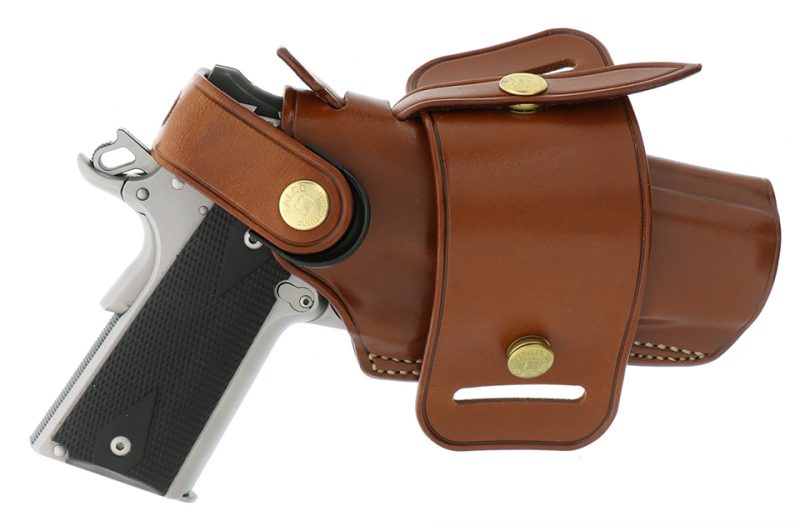 This new holster is called the Ironhide. Like the Wheelgunner, the Ironhide uses an innovative belt slide system. It can be used for both strong side or cross-draw carry, and is fully ambidextrous in either mode. The Ironhide also secures the pistol with a combination of hand molding and a reversible retention strap, with a glove-friendly polymer tab. The retention strap also accommodates both hammer-down and cocked-and-locked carry on 1911-type pistols.
It is available only in tan – which is the only color suitable for a real leather holster – and it will fit belts up to 1.75 inches in width. It actually works best on the 1.75-inch belt and that is as it should be; real men do not wear skinny belts. Additionally, but not that it matters to me, the Ironhide is also available for Glocks.
At $ 76.95 the new Galco Gunleather Ironhide might be the most versatile and adaptable 1911 holster every made. It is for sure my favorite, and not just because it was my idea!