For me, spring is all about pursuing bass (largemouth and smallmouth), birds (turkeys) and bruins (bears). I've had the chance to hunt black bears in my home state of Minnesota, as well as Alberta, Manitoba and Quebec. And no matter the location, the excitement of seeing a black bear in the wild never gets old.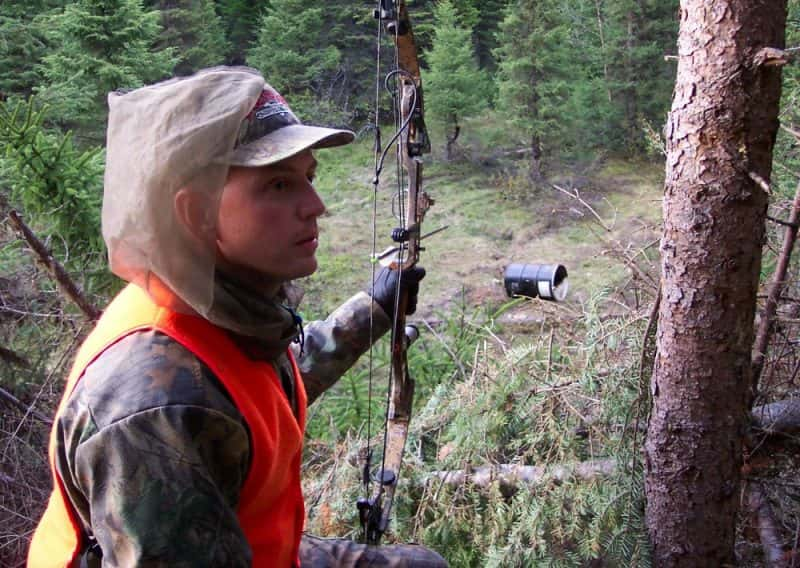 I love sitting in a treestand or ground blind waiting for last light when a mature boar might slip out of the thick, dark cover to visit a bait site. I know that hunting over bait isn't for everyone, and that's okay. I won't get into a lengthy explanation now, but there are many forms of legal hunting across the country – and the world for that matter – that don't turn my crank. But that doesn't mean I frown on those hunters who choose to pursue game in any manner that's legal.
Enough preaching from the soap box. Back to bears.
One aspect of a black bear hunt that always intrigues me is you never know what color black bear might appear. In Minnesota, almost all black bears are black. However, in the Canadian provinces of Alberta and Manitoba, you have a decent chance of seeing a color-phase bear, which is simply another way of saying a bear has a cinnamon- or chocolate-colored coat.
As the pic below from Steeprock River Outfitters proves, you can never predict what will show up when bear hunting. Amazing photo!
In northern Alberta, I once tagged a cinnamon black bear (with blonde highlights in places), and then about an hour later shot a much larger black-colored bear. Photo below; what a great experience.

I decided to have the larger bear made into a rug, which hangs on a wall just outside my kitchen. (Yes, my wife is an avid hunter, too.)

Near the door to our bedroom, I have the tanned hide of the cinnamon bear, along with the super-thick and beautiful black hide of another bear from southern Alberta. Hanging between these two bears is a coyote, which I tagged with my bow.

As I said before, I know that hunting bears over bait isn't for everyone. And I know that most people don't have bear rugs and hides hanging all over their house. That's okay, too. For me, these hides and rugs bring back wonderful memories of great times shared with family and friends in the outdoors. The same is true for the various deer antler mounts, turkey fans and fish on display in my home.
This June I plan to pursue black bears in western Quebec. Stay tuned to OHUB for details of that adventure. I can't wait!
P.S. Black bear photo tip of the day: If you're lucky enough to tag a black bear, and you (or a guide or outfitter) happens to have a moose shed in camp, use the antler to help hold up the bear's head for photos. In my opinion, the contrast of dark (hide) to light (antler) looks fantastic. The bear in the pic below is the one from southern Alberta mentioned earlier in this article.

Top image from Steeprock River Outfitters Facebook
What's Your Reaction?