What happens when you stick a $120 hen decoy in the ground, step back 12 paces and then fire a 3-inch load of 12-gauge HEVI-Shot Magnum Blend into its side?
If the hen is made by Dave Smith Decoys (DSD), the answer is "not much."
How is this possible? DSD decoys feature A.C.E. (Advanced Crosslink Elastomer) Technology, which exhibits cured properties far superior to polyethylene, the standard plastic used by most decoy manufacturers. A.C.E is flexible with perfect memory and, as the video below proves, it's unbelievably durable.
Not only are DSDs tough, but they are so realistic that most avid archery turkey hunters have stopped carrying taxidermy birds into the field and rely on DSDs instead. Think about it: stuffers are hard to carry, fragile, super expensive, and it better not rain!
DSDs aren't cheap, but you can hammer on them year after year and they'll never fail you. Never.
One final tip: When spring turkey hunting season is over, you don't have to pack away your DSD in the basement or garage. DSDs look great enough to display in your home right beside all of your other game mounts!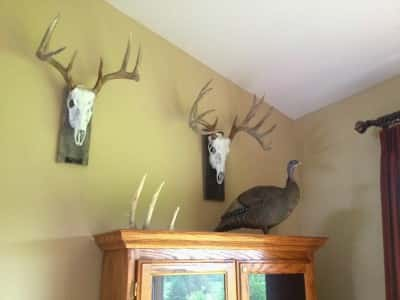 Lead image screenshot of Brad Cochran video on YouTube; bottom photo by Dave Maas
What's Your Reaction?