Known to all as the "Land of the Midnight Sun," Canada's amazing Northwest Territories is so much more than that. From its northern islands that help form the great Arctic Archipelago, to the vast boreal forests that cover its southern reaches, lie 500,000 square miles of true, untamed wilderness.
A trip to the Northwest Territories is like going back in time — to the period before American landscapes were domesticated by agriculture and industry. Here, the terrain is too rugged and infertile to be dominated by big-ag. Likewise, wide-spread industry just isn't an option. The place is too isolated, and there's not an extensive road system on which to transport goods.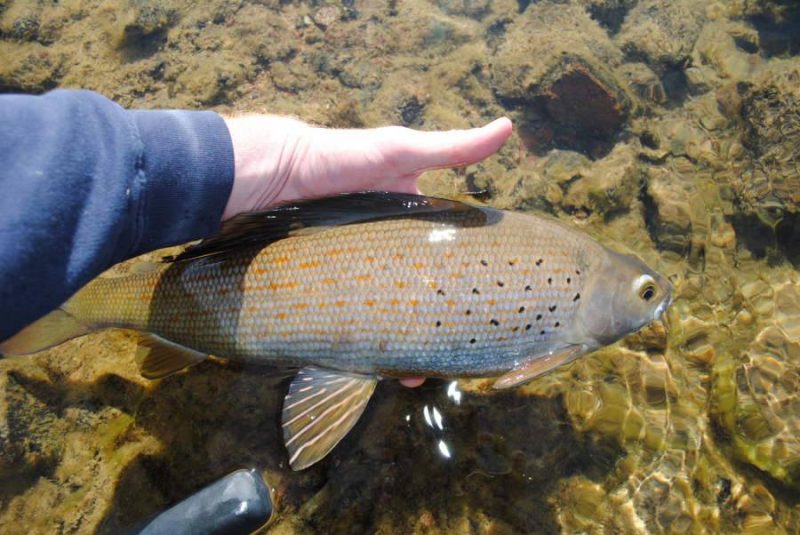 What it means for anglers is that, for decades, NWT has offered them the chance to pursue unpressured, uneducated gamefish — lake trout, northern pike, Arctic grayling and Arctic char among others — that swim in numbers that stagger the imagination. What's more, they can attain ridiculous sizes in these pristine waters.
Big water grows big fish, and NWT boasts a lot of big water. Plus, fish that live in the cool waters of the Far North grow slowly and can have an exceedingly long lifespan. A giant lake trout here, one that approaches 50 pounds, could be 60 years old.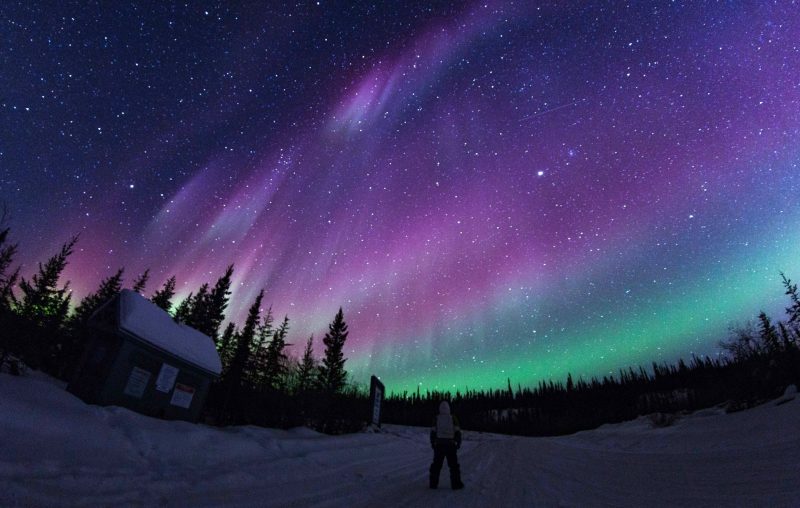 This unspoiled land attracts tourists, too. Some come just to experience the beauty of an ancient landscape, the awe-inspiring northern lights, or to observe the wild animals — caribou, Arctic wolves, grizzly bears, muskox, wood bison and more — that thrive in the extreme environment.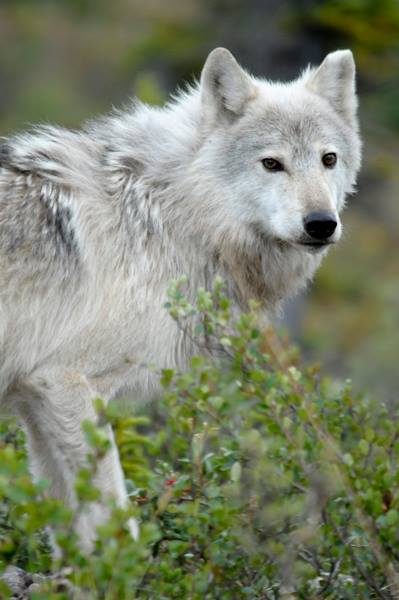 Still others come to enjoy outdoor pastimes such as kayaking, rafting, hiking, snowshoeing and snowmobiling amidst the natural splendor and quiet solitude only a truly wild place can offer. But for anyone with an ounce of angling passion running through their veins, it's the exceptional fishing that stirs the soul and makes the heart beat faster.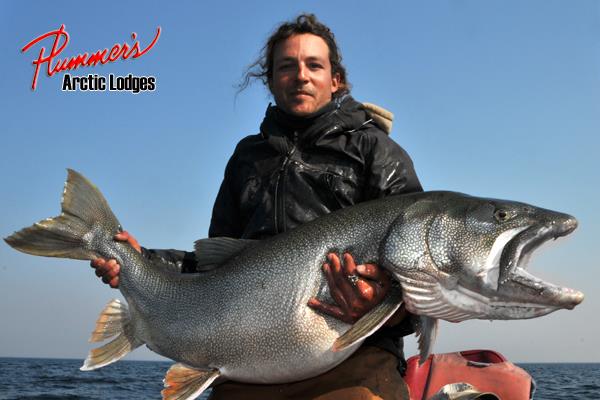 Lake trout are the major drawing card, and anglers come to NWT from far and wide to places like Great Bear Lake and Plummer's Arctic Lodges to test their skills against behemoths that run 30, 40 even 50 pounds. It's where the 72-pound IGFA all-tackle world record fish was caught in 1995, after all, as well as the home of Plummer's unofficial record laker, a fish that weighed nearly 79 pounds.
Great Bear is a huge body of water, covering about 12,000 square miles, and is ice-free only 3 months of the year. Combine that with the fact that just 300 anglers get to fish the lake during a season, and there's little wonder why the fish bite so readily.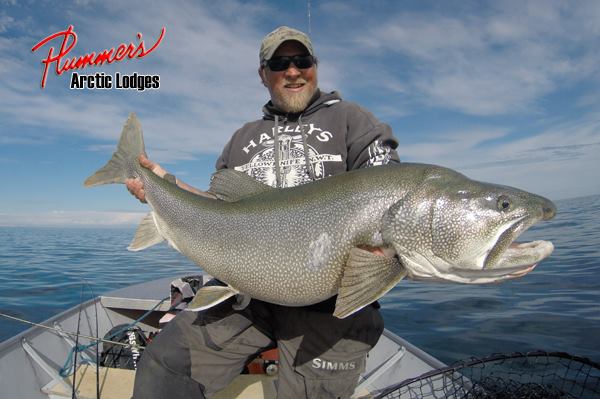 Besides the luxurious main lodge located on the lake's north arm, Plummer's has two more outpost lodges in strategic spots on the lake. With yet another outpost lodge on the Tree River and separate lodge on Great Slave lake, anglers have a list of options that allow them to pursue monster lake trout, world-class Arctic grayling, giant northern pike or gaudy and gorgeous Arctic char (below).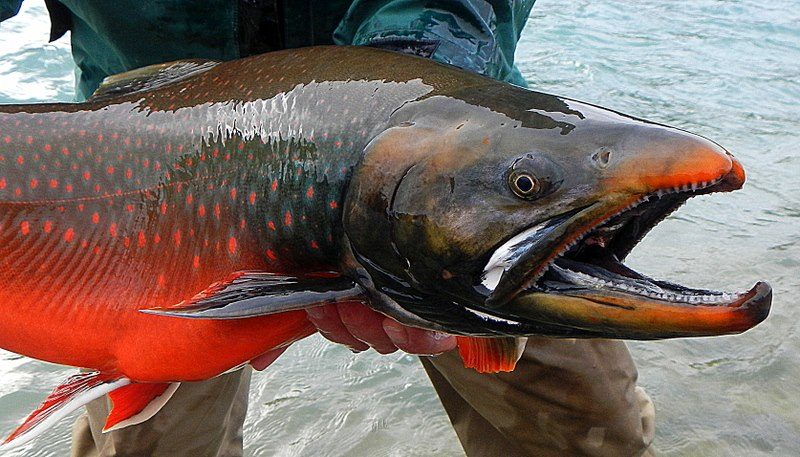 Tucked into the territory's southeast corner, Kasba Lake is another adventure-worthy destination. Anglers fishing out of Kasba Lake Lodge (below) catch scores of 20- to 50-pound lakers every season, and hundreds of giant pike ranging from the high 30s to 50 inches long. The lake record is a 54 incher that tipped the scales to 36 pounds.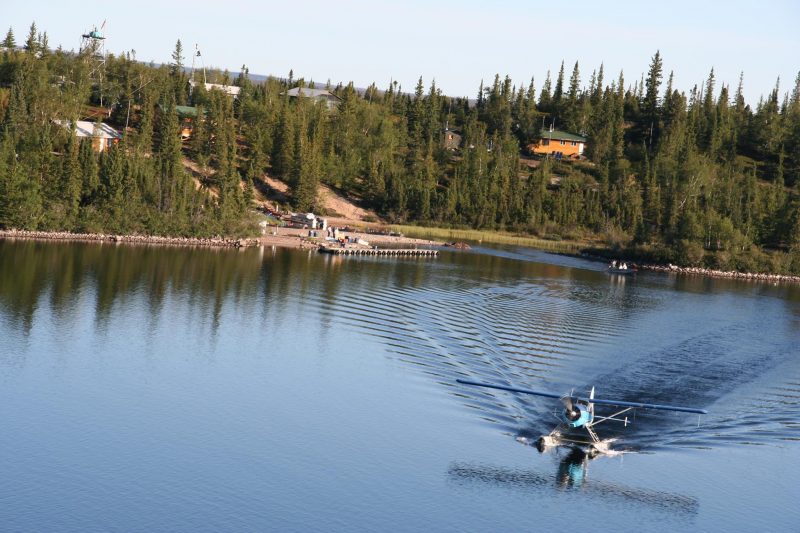 Normally lake trout prefer the depths, but at this latitude deep water is just too cold. So, even enormous fish seek warmth in the surface layers, which means they're susceptible to long-line trolling tactics (large spoons and big crankbaits), as well as casting and jigging approaches. Under certain conditions, as when they're attacking schools of ciscoes in the shallows, they're even catchable on surface lures and streamers.
As good as the lake trout (above) and pike fishing is on Kasba, however, anglers who opt to venture into the Kazan River after hard-fighting Arctic grayling (below) often claim the nonstop action made the excursion a trip highlight. Casting small spinners, jigs or flies to schooling fish, anglers are often in the thick of it all day long — with fish that top 3 pounds, and once in a while one over 4. That's downright amazing considering the world-record Arctic grayling weighed just less than 6.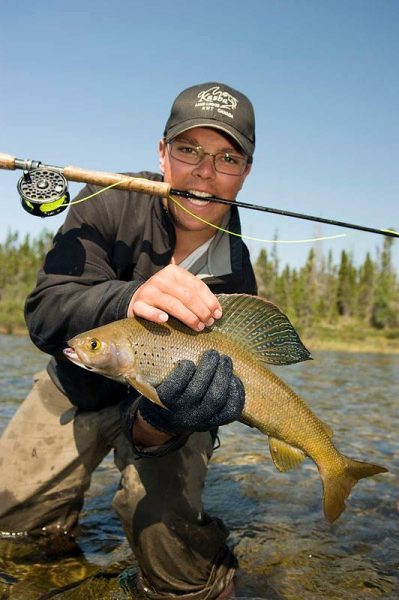 Besides the lakes and lodges already mentioned, Scott Lake Lodge, right on the Manitoba border, and Trout Rock Lodge, on Great Slave Lake, are two solid choices for anglers who yearn to battle enormous northern pike (below).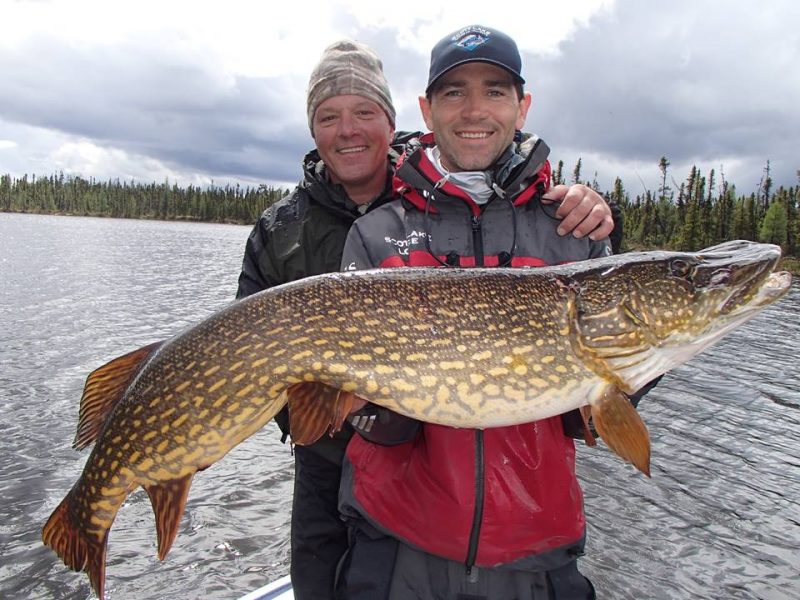 At Scott Lake Lodge, anglers can fish the namesake lake, or opt to fly out to any one of the 20 lakes in the lodge's network. All are open only to lodge guests. Ten of those lakes last year produced a combined total of 39 giant pike that measured 47 inches or more, including one 51 incher.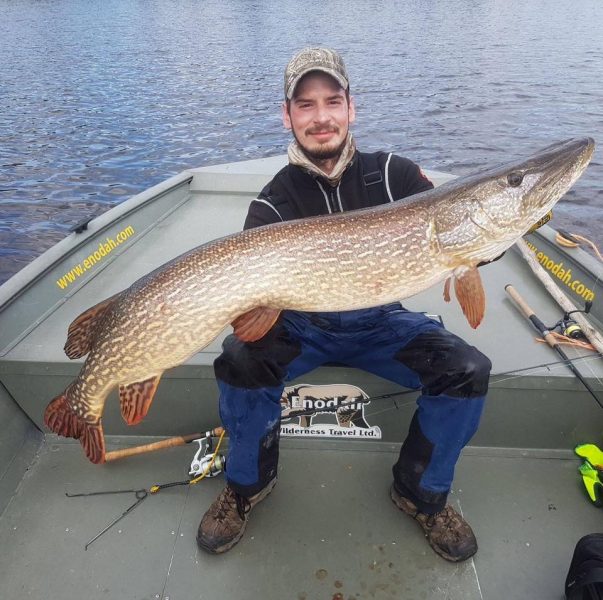 Conversely, anglers at Trout Rock Lodge never have to leave the arm on which the lodge is located to find oversize predators that are eager to bite. A good thing, too, as Great Slave Lake covers some 10,000 square miles.
Fishermen don't travel far on Great Slave Lake because they don't have to. The arm is shallow, with extensive weed growth and lots of rocky cover, and it holds an incredible amount of forage on which the pike feed. The upshot is that catching a dozen or so 40-plus inch pike in a day, along with scores of smaller fish, is not unheard of.
Okay, NWT is still the land where the summer sun never sleeps, but it's also an angler's paradise. Do your homework by checking out the operations mentioned here, as well as the many more you'll find on the Spectacular Northwest Territories website. Make a plan, then . . . let your fishing adventure begin!