Video: Jerry Seinfeld Takes Family to Visit Counter Terror Fantasy Camp in Israel
OutdoorHub Reporters 01.08.18

I don't know about you, but when it comes to Jerry Seinfeld, I have a tough time picturing him with a semiautomatic rifle taking combat lessons – maybe having words with a soup nazi, but even that's pushing it.
Well, Mr. Seinfeld raised a lot of eyebrows when he and his family showed up to Caliber 3 Israeli Counter Terror and Security Academy during their recent visit to Israel.
"Finally we are allowed to tell you!! The legendary Jerry Seinfeld and his family were at (sic) Caliber 3 during their visit to Israel last week, they came to us for shooting training with displays of combat, Krav Maga, assault dogs and lots of Zionism. It was great," read the Facebook post: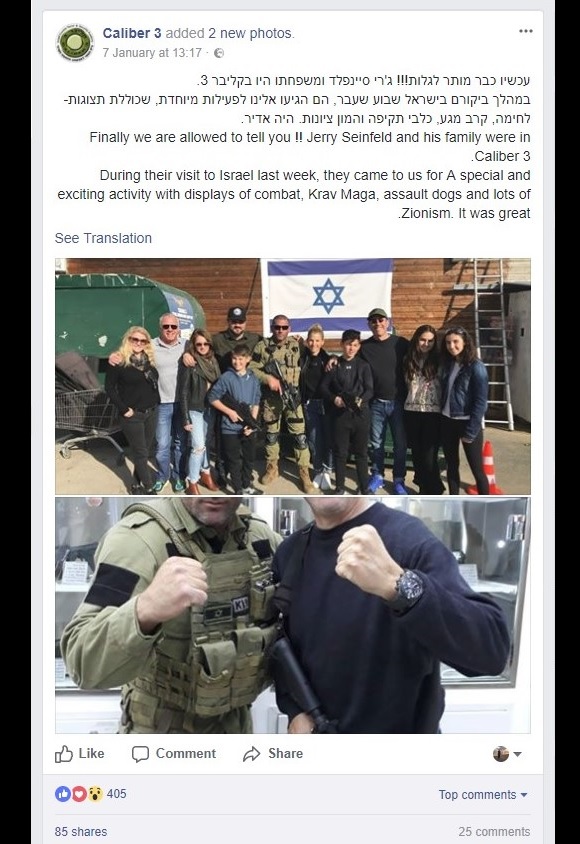 Caliber 3 is located in Gush Etzion. It's a counter terrorism and security training academy that has developed a program that offers tourists a small sample size of the Israeli military experience.
When you arrive to Caliber 3 for your training, you will be offered a basic package, which takes participants through a simulation of a suicide bombing in a Jerusalem marketplace, immediately followed by a stabbing attack, a live demonstration with attack dogs and a sniper tournament. Cost is $115 per adult and $85 per child, discounts are available for larger parties.