If You're From Minnesota, You'll Appreciate This Evinrude Outboard on Display at the Minneapolis Boat Show
OutdoorHub Reporters 01.12.18

If you're tuning into the NFL playoff action this weekend, this custom Evinrude outboard on display at the Minneapolis Boat Show is right up your alley, unless you're a New Orleans Saints fan . . .
To learn more about this unique outboard, we reached out to OutdoorHub contributor Chip Leer. 
"This is a one-of-a-kind engine and that is part of the individuality encouraged by Evinrude," Leer said. "A unique part of the Evinrude ETEC G2 family is that you can customize the engine through endless color combination options to accent your boat colors. Or if you prefer, you can do something unique like this #skol theme. I think it's pretty cool that Evinrude has implemented an option as a way for people to affordably customize their outboards." Click here for more info on customizing an Evinrude.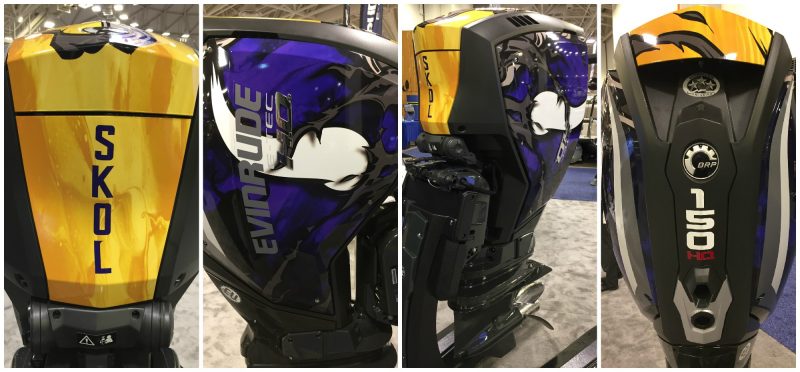 "The engine you're looking at here is an Evinrude ETEC G2 150 HO," Leer continued. "Evinrude made this color scheme as a tribute to Minnesota Vikings defensive lineman Brian Robison, who intends to pursue a pro bass fishing career after he retires from football. Robison currently runs a ETEC G2, but his outboard is the larger block 250HO. If consumers want to know what it was like to run into the MN Vikings defense, they could run into this 150HO instead — I'm sure it would feel the same! Go Vikes!"
Of course, this weekend the Minnesota Vikings continue to try and achieve the seemingly impossible: play the final game of the season (the Super Bowl) in their home stadium. No other team in NFL history has ever had the chance to play a game for the Lombardi Trophy in front of their home fans, and they'll need to rev up the engines this weekend to continue that journey.