Infographic and Video: Yamaha Outdoor Access Initiative Celebrates 10 Years
OutdoorHub Reporters 01.26.18

While much of the news coming from the 2018 SHOT Show is about new hunting, shooting and outdoor products, we caught up with the team from Yamaha to learn more about an important issue concerning access to public lands.
Yamaha's Outdoor Access Initiative (OAI) is celebrating its 10-year anniversary in 2018. Having contributed more than $3.5 million in funding and equipment over the last decade, OAI's mission is to assist and support outdoor enthusiasts working to protect and improve access to public land, as well as educate the public on its safe, sustainable recreational use.
In celebration of this milestone, Yamaha produced the video below in tribute to the hundreds of projects supported by OAI over the past decade.
The 10-year OAI tribute video was showcased at the 2018 SHOT Show in Las Vegas, kicking off a year of programming to showcase the accomplishments of the Yamaha Outdoor Access Initiative and its grant recipients. By sharing these great projects, Yamaha aims to further the program's mission: to provide practical support for efforts promoting safe, responsible use of OHVs, educate the public on proper recreational land use and wildlife conservation practices, and protect appropriate and sustainable access to public lands.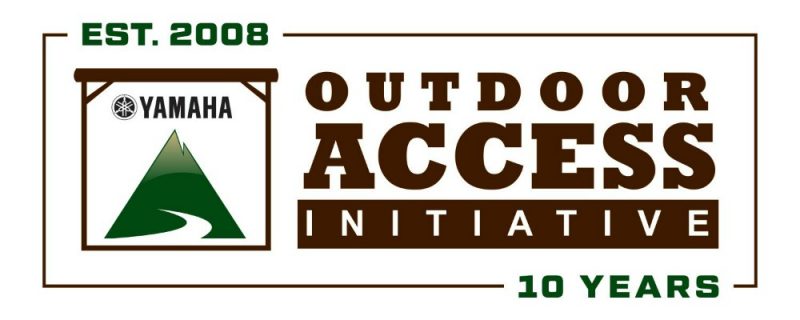 "The outdoor community is remarkably diverse, yet unified by the necessity of admittance to land. Yamaha is proud to be leading the way for access, and we look forward to many more years as a productive partner with those working to safeguard land available for enjoyment," said Steve Nessl Yamaha's RV marketing manager. "We encourage everyone who enjoys outdoor recreation to get educated and get involved. If we can help, send a grant application; your awareness and action allows Yamaha to continue our industry-leading support of important projects nationwide, along with growing the program's reach for generations to come."
Important point: Yamaha OAI accepts qualified applications for consideration of support and funding. For more information on the Outdoor Access Initiative, to submit a grant application, or learn more about its 10th anniversary, visit www.YamahaOAI.com.
Check out the infographic below to learn more about Yamaha's Outdoor Access Initiative.