ICast 2018: Huk Launches New & Exclusive Subphantis Camouflage Patterns
OutdoorHub Reporters 07.19.18

While we were out at ICast 2018, we stopped by the Huk booth to see all the new performance fishing gear they planned on rolling out. Below is a press release from Huk, which features their all new subphantis camouflage pattern created by renowned artist KC Scott, along with a few more items that caught our eyes at the show.
If you don't already, give KC Scott (@kscottart) a follow on Instagram, his incredible fish paintings will look great on your newsfeed!
And check out the awesome paint job on this boat!
Here's the news release from Huk Performance Fishing:
"Huk Performance Fishing proudly announces today Subphantis – the next generation of fishing, hunting and lifestyle camouflage.

By blending basic foundations of tree bark, mountainside terrains and the sea floor, Subphantis creates a 3-D pattern that distracts the eye through visual illusion. Subphantis is a family of patterns created by renowned artist KC Scott using imagery captured from the natural world.

Subphantis is exclusive to Huk Performance Fishing.

Huk Subphantis Double Header Vented Long Sleeve

Style # H1200136

MSRP $39.99

Huk Subphantis Icon Long Sleeve

Style # H1200130

MSRP $49.99

Huk Subphantis Icon Hoodie

Style # H1200131

MSRP $59.99

Huk Subphantis Icon 1/4 Zip

Style # H1200129

MSRP $54.99

For more information on Huk's new Subphantis collection, please visit https://www.hukgear.com/collections/subphantis-collection

For more information about KC Scott, please watch Huk KC Scott Beneath the Surface

###

About Huk Performance Fishing

Huk Performance Apparel's mission is to unite all fishermen in the way a "huk" is a piece of equipment common to every single form of angling. From freshwater to salt, offshore to inshore, bait to artificial, spinning to casting to fly – our passion is all the same. Huk clothing represents a fresh take on the fishing world, offering styles that are young and current but still appeal to anglers of all ages. We are there for every fisherman, from the first cast to the last. Huk Performance Apparel unites all anglers regardless of their pursuit.  For more information, go to www.hukgear.com or www.facebook.com/hukgear."
The one thing you couldn't miss inside the Huk booth this year, was their all new hydro reflective rain suit featuring Reflectek technology. The great thing about this foul weather gear, is not only is it a performance, waterproof/windproof suit, but it also has your safety in mind with Reflectek built right in. So, if something does happen to go south for you out on the water, your chances of being seen or hit with a spotlight dramatically increases.
Here's an example of how this super cool technology works: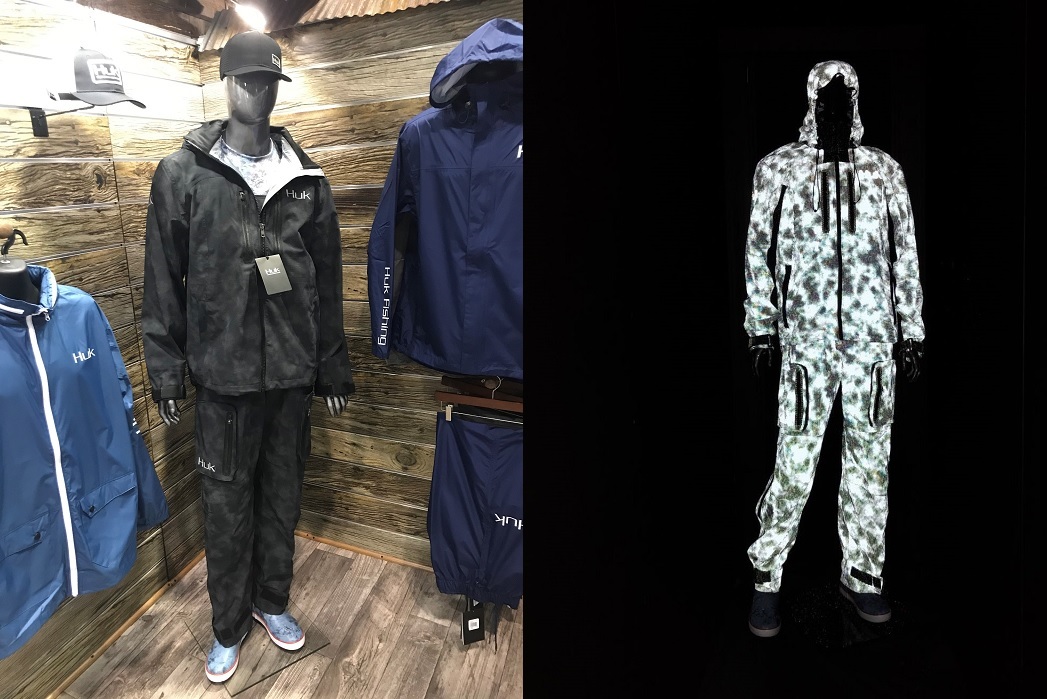 The photo on the left shows how the suit wears in everyday lighting, but the photo on the right shows what anglers can expect to see when light hits this special fabric. Basically, the suit lights up like you just plugged it in, which could really come in handy if you found yourself in a bad situation out on the water.
Huk is also expanding on their accessories with wheel and seat covers, floor mats, socks, and new shoe designs expected to launch next spring:
Here's a sneak peek of the new shoe line, which we were told is expected to drop around spring next year: