"Mac Daddy Caddy" might be the Last Chair you ever have to Buy!
Adam Scepaniak 05.13.19

Whether your favorite outdoor past-time involves fishing, hunting, and/or camping a new mobile chair dubbed the Mac Daddy Caddy likely could make your life easier. Even if you use it for alternative purposes like tailgating it boasts a lot of storage, mobility, and features you could find useful. This is something we came across at the recent NRA Annual Meetings in Indianapolis and it could prove pretty useful for a lot of people.
It is essentially a robust cart with a lot of intelligent use of space, and a chair sturdy enough to support you and all of your endeavors. This description does not quite do it justice though. The rest of the specifications for the Mac Daddy Caddy can be read below as presented by Hunter's Edge, LLC:
10" All-Terrain Air Tires
360° Silent Swivel Seat
3" Density Foam Bottom Cushion & 2" Density Foam Back Cushion
18 Can Soft Side Camo Cooler & Large Camo Shell Pouch
Heavy Duty 12"x9"x5" Plastic Accessory Box
4 Separate Storage Pouches & 2 Water Bottle Holders
600 Denier Water Resistant Fabric
Weighs 33 Lbs. & Measures 21″x 16″ x 34.5″h
Supports 300 Lbs. Static Weight Capacity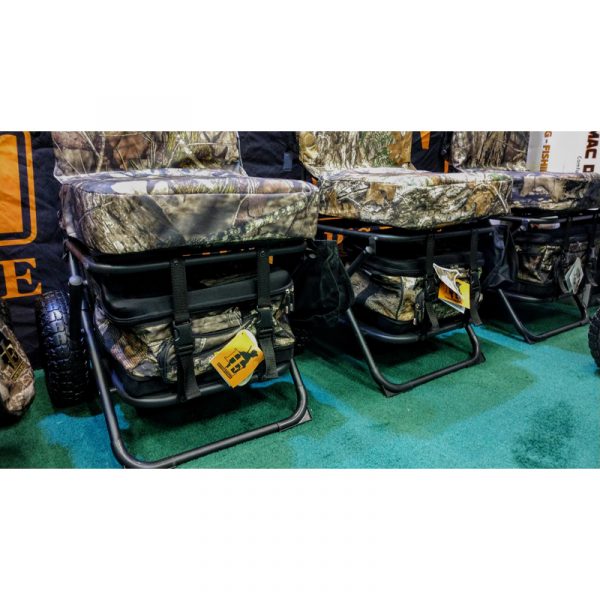 The Mac Daddy Caddy is available in 3 different camouflage configurations if you want to try and match it to other clothing or gear you own: Realtree Xtra, Realtree Edge, and Mossy Oak BreakUp Country. All three of the camouflage offerings retail for the same MSRP of $229. Hunter's Edge, LLC goes on to further explain what their Mac Daddy Caddy is all about in this quote from their website:
"The Mac Daddy Caddy, is a revolutionary mobile hunting chair, designed to take all the work out of transporting gear to and from your favorite outdoor adventure.

Whether you're pushing or pulling the Mac Daddy Caddy, you will have to marvel at how easy it is to maneuver, and how relieved you will be not having to carry all your gear by hand. The Mac Daddy Caddy, can easily be placed into the back of a pick-up truck, SUV, or trunk of any medium size vehicle. Comfort, convenience, and mobility create the Mac Daddy Caddy by Hunter's Edge."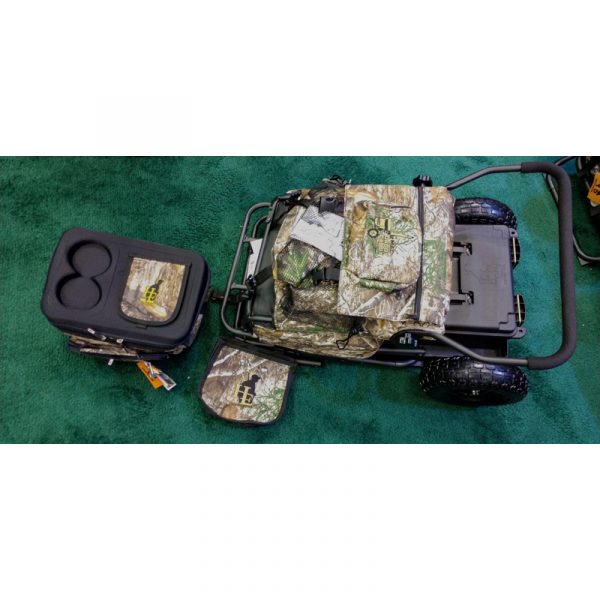 You can also purchase additional accessories for this chair from Hunter's Edge such as a firearm mount on the side or a spot to hang a bow as well. All in all, it appears to be a complete mobile chair to give you comfort and convenience in a fairly compact package. The important thing though is what do you think? Let us know all of your thoughts in the Comments below! We always appreciate your feedback.