Lucid Optics Accessories Make for a Great Day Behind a Rifle
Eve Flanigan 10.01.19

Lucid Optics, a family-owned company based in Wyoming, earned my trust years ago with their L7 riflescope – a faithful performer at distances both close and moderate. Recently, however, the company hosted some of us gun writers for a weekend of in-depth education on the Lucid brand at the stunning NRA Whittington Center in New Mexico. There, I was impressed by the company's primary offerings, but I feel their accessories deserve their own mention. While the company offers a wide range of products, the focus of this article is scope-associated Lucid Optics accessories.
The best riflescope is useless if it's mounted poorly, or with hardware that won't stay snug. Lucid Optics' quick-detach (QD) rail mount for 30mm tubes is a problem-solver on several fronts.
This cantilever-style mount places the scope well forward on the rifle, where finding perfect eye relief is a breeze. Quick-release tabs are unlocked by pressing on the skyward side of the levers, rather than the lateral side, making them less likely to be unintentionally loosened when a rifle comes into contact with any chest-borne gear. Unlike may other uni-mount systems.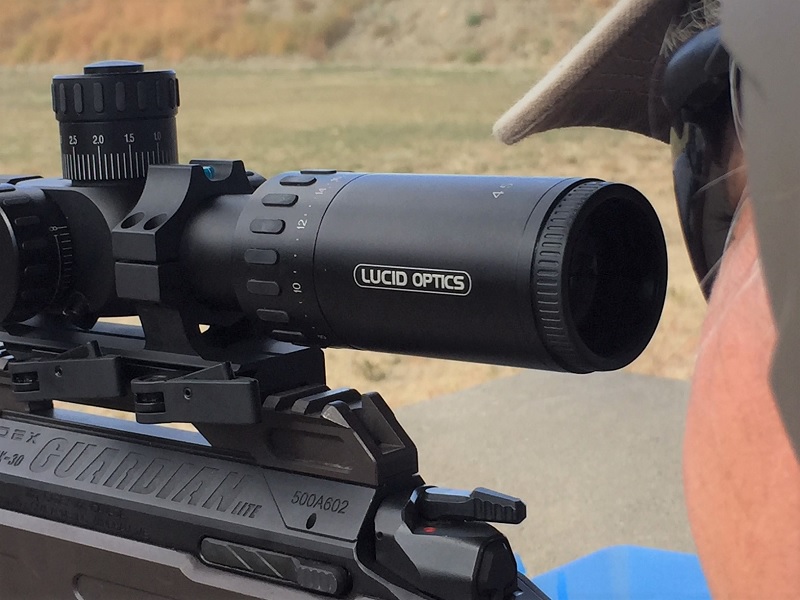 For the weekend conference, my test rifle – a Cadex Defence CDX-30 Guardian chambered in 6.5 Creedmoor – was fitted with Lucid's MLX long range scope using a QD mount. This system kept the scope reliably in place, as was the case with the other rifles on the line. It's not unusual to hear of mounting hardware needing to be reset when approximately a dozen firearms are under heavy use day after day. But tightening a mount did not arise as a need over the weekend.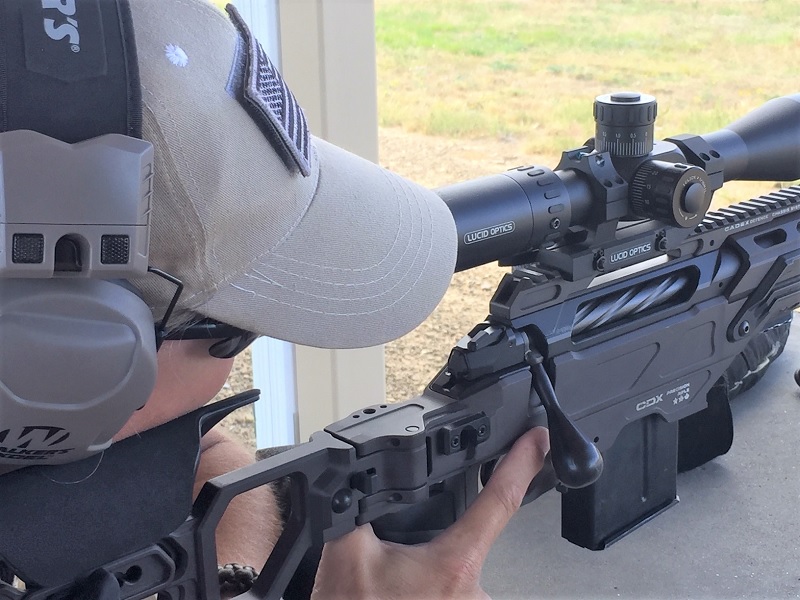 These QD mounts have two-screw scope ring bases, are crafted from 6061 aluminum and have an anodized, black matte finish. They're available in a range of ring heights from low, medium, and high. The mount weighs seven ounces and comes with a lifetime warranty. Price: $159.
A new favorite of mine is a component that's compatible with the QD mount; a bubble-level scope ring top. It can be swapped out for the top half of a ring on the QD Mount to take much of the frustration and time out of checking your range rifle is set level on its rest.
The green bubble tube is well-protected for field work by virtue of being set below the housing edges on top and sides.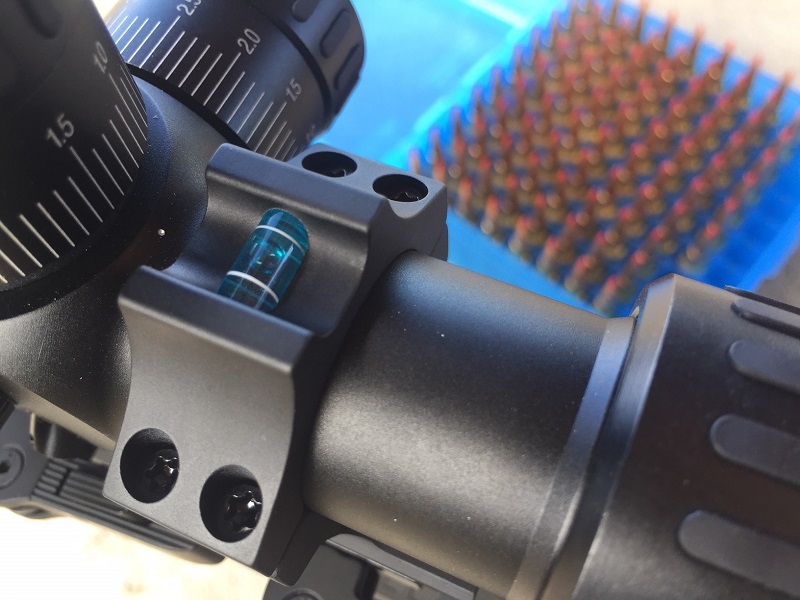 Though most of the shooting at the conference was done on a perfectly level surface, the bubble-top ring saved time in setting what had been a loose bipod attachment. Rather than settling into prone, checking the reticle, and getting up repeatedly, I was able to tilt the rifle slightly to get the bubble centered, tighten the bipod lever and then get down to shooting. Especially with a long-barreled rifle like the Guardian, this saved a ton of effort.
By itself, the ring is $39.99, or buy it in conjunction with the mount (called the PRO QD Mount) for $169.99.
Small Details Make A Difference
As I reported in 2018, the Lucid Optics Snap Rack is one of those accessories that makes a person wonder, where truck gun storage is concerned,"Why didn't anyone think of this before?"
Well, the company has done the same thing with its sight-in targets.
At the conference, as company rep Andrew was guiding the zeroing process on the MLX scope, I expressed how the black center dot of the reticle on a black bullseye – placed there by a well-meaning previous shooter at the range – wasn't exactly easy to match up with precision. Andrew quickly resolved this issue with yet another Lucid Optics accessory. But first, some backstory:
In my first encounter with Jason Wilson, CEO of Lucid Optics, he was presenting products to a different group of gun writers at a different conference. But this presentation was like no other, in that I left understanding more about the interface of optical devices and the human eye than I ever knew before. Among the facts I found most interesting is how the color red appears too vibrate when viewed by the human eye, whereas lighter blues appear to be still, albeit less visible in bright daylight.
Given what is known, then, about color and eyesight, it's no surprise Lucid Optics solved the target visibility problem with their 18 x 18-inch precision sight-in target. Printed in eye-calming cyan, each target offers nine aiming points, a one-MOA grid, and half-MOA hash marks to make the zeroing process easy – if your scope has MOA-based dials or if you have the sort of mind that can quickly convert MOA/MIL comparisons.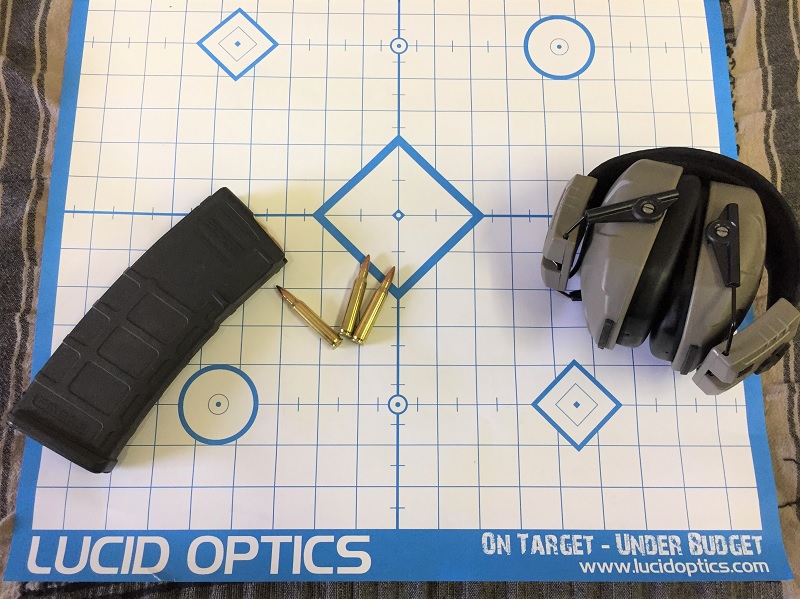 For the growing number of people who have milliradian-based controls, Lucid Optics is soon releasing a double-sided version of the sight-in target, with one side serving the MOA shooters and the other, the MIL-using marksmen. What a handy tool that ultimately saves ammunition with its precise markings and saves time with hits being easy to see on the light blue and white paper. Pick up a pad of 20 targets for $17.99.
Lucid Optics accessories are a great example of the best and easiest solutions often being the simplest. I love it when I encounter products that make me say "why didn't anyone think of this before?"