[ATA Show 2020] Avian-X HDR Hen offers LIVE BIRD Quality in a Decoy
Adam Scepaniak 01.10.20

OutdoorHub is in attendance at the Archery Trade Association Show (ATA Show) for 2020, and there are LOTS of new products, sights, and sounds to take in! For those on the show floor, one product that is truly a head turner is the Avian-X HDR Hen they have on display that is new for 2020. Many people within turkey hunting circles are already aware of the impressive realism Avian-X offers in their turkey decoys, but this HDR Hen quite possibly takes it to another level.
The chatter on the show floor from the Avian-X booth was loosely that… "most of us have turkeys mounted at home that do NOT look as real and life-like as this new decoy." Those are some strong words of recognition, but we would honestly have to agree. The specifications for this decoy can be read below as presented by Avian-X:
Durable blow-molded design for many seasons of use
Authentic rubber-molded leg stumps
Customize setups with two interchangeable head postures
Outstretched head for aggressive setup
Resting head signals submissiveness
True-to-life paint scheme and feather detail
Flocked tail section for added realism
Includes integrated mounting stake that stores in tail
Realistic movement without unnatural spin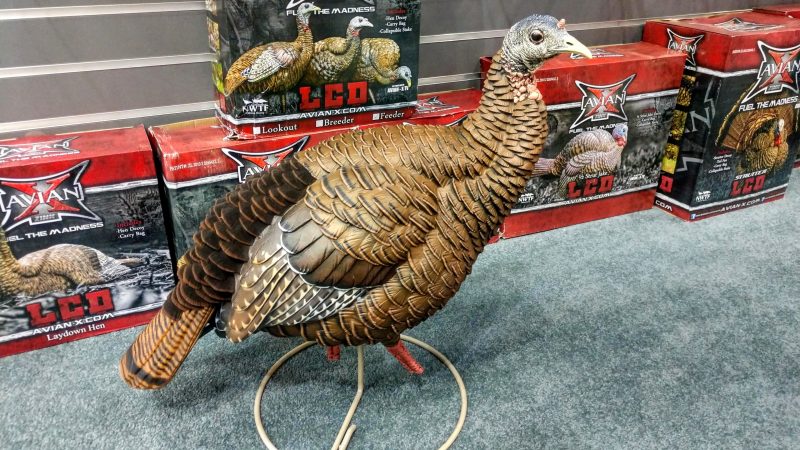 The Avian-X HDR Hen is currently benchmarked at an MSRP of $149.99 and it comes with a few extra essentials at that price point aside from the literal decoy that catches your eyes (and hopefully other turkeys as well). This is everything you are receiving with the HDR Hen decoy package:
Hen Decoy
2 Removable Heads
Integrated Stake
Decoy Bag
With a release of this new product in the winter like this at the ATA Show, it should hopefully provide enough time for both the manufacturer, Avian-X, to get a bunch of these produced, and enough time for the consumer to run out, find one in their local sporting good store, and be ready for spring turkey seasons across the US. A final statement provided by Avian-X can be read below to hopefully tempt you into adding one to your flock:
"Introducing the Heavy-Duty Realism (HDR) line of turkey decoys. Blow-molded into reality from hand-carved designs, these decoys harness unbeatable detail and durability.

The HDR Hen features an upright body with two interchangeable head postures for double the realism and double the customization. Use the outstretched head for more aggressive setups, or the resting head to signal submissiveness. The HDR Hen pairs perfectly with jake and gobbler decoys as well as other hen decoys to create an authentic, enticing turkey setup."
So the biggest question that remains is, what do you think? Is this a decoy that you would be willing to spend money on and add to your setup come hunting season? Would you like to see a jake or gobbler in this "Heavy-Duty Realism" series? Let us know all of your thoughts in the Comments below! We always appreciate your feedback.