Walther Shows Off Two New Pistols at SHOT Show 2020
Eve Flanigan 01.20.20

German gun maker Walther Arms trotted out two new products at 2020 SHOT Show that are available now. These new pistols are at different ends of the handgun spectrum—a carry gun and a target/competition model.
Q4 All-Steel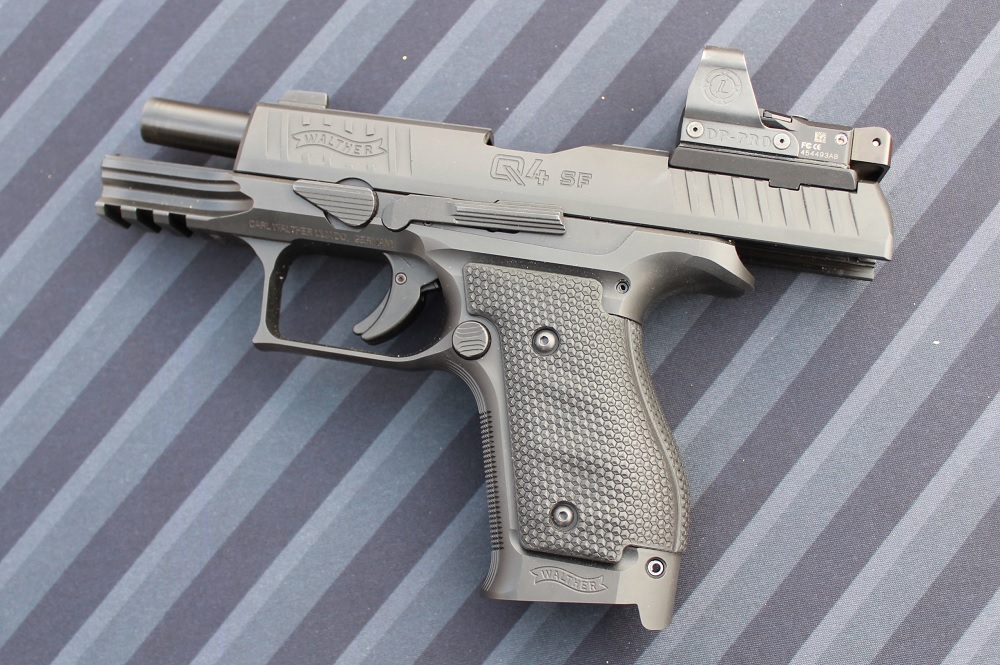 Fans of the company's Q5 steel frame competition gun may be pleased to hear there's a new, slightly smaller spin-off. The new series, called Q4, is currently comprised of two varieties, but company reps said the line will continue to evolve. The Q4s shown at SHOT Show range day retain the precedent of all-steel construction, but have an inch less length in the slide, with a four-inch instead of the Q5's five-inch barrel. It retains 9mm chambering.
At this time, there are two renditions of the Q4, Standard and Pro. The Pro version is milled for mounting a reflex optic, and has a flared magazine well. Both have very grippy texturing on the panels and frame grip aspects. Firing the Q4 confirmed it retains the smooth trigger operation and accuracy Walther is known for. This writer would be seeking a pair of gloves after a couple boxes of ammo thanks to the pistol's abrasive grip texture.
The Q4, in both renditions seen at SHOT, ships with three 15-round magazines. Expect prices around $1,299 for the Standard model; $1,399 for the Pro.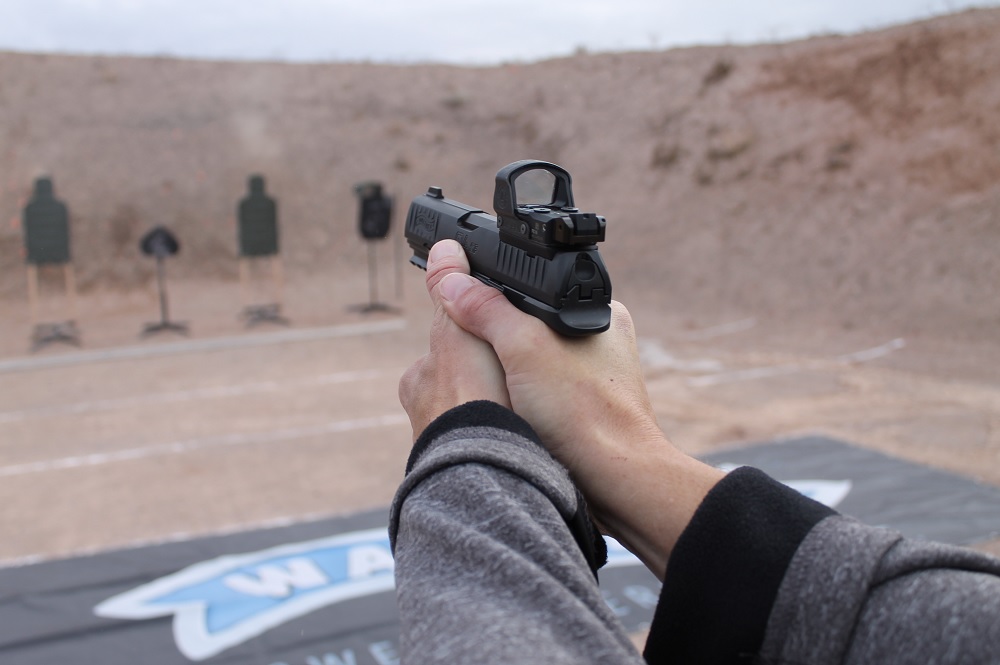 Specs for the Q4 are:
Barrel:  4.0 inches
Trigger pull:  5.6 pounds
Trigger travel:  0.4 inches
Capacity:  15 rounds
Overall length:  7.4 inches
Height:  5.4 inches
Safety:  Three, passively operated
Width:  1.3 inches
Weight:  39.7 ounces
CCP M2 380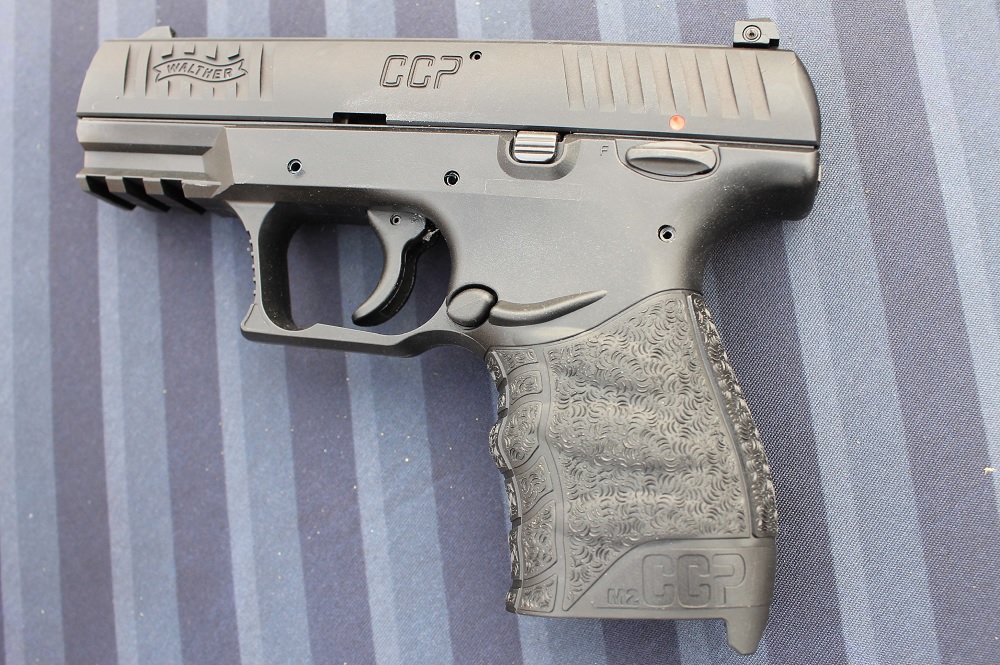 Also new for Walther is the CCP M2 380, chambered in .380 ACP. This is a carry gun purpose-built for ease of operation. It has a light-racking slide and simple takedown process. It has a phosphorescent, three-dot sight system. An easily-operated thumb safety lever is attached from the frame. Two 8- or 10-round magazines (rep's input differs from company website) are shipped with new CCP M2 380s.
Combined with another product displayed at the show, the CCP M2 380 can present a solid choice for concealed carry. According to a factory rep, Federal's new Hydra-Shok Deep .380 ACP load has, in factory testing, exceeded documented FBI parameters for gel penetration.
The load is not yet listed on the Federal Premium website.
Firing the CCP M2 380 proved it to be a firearm that handles well, with grips sufficiently large to take up most anyone's hand while still being of concealable size. The soft recoil and easy operation will be appreciated by many. The trigger has a clear reset after a reasonable medium travel distance. Unlike some firearms aimed at the women's market, this one functions much the same as any full-size pistol and should help new shooters gain confidence in correct gun handling and marksmanship.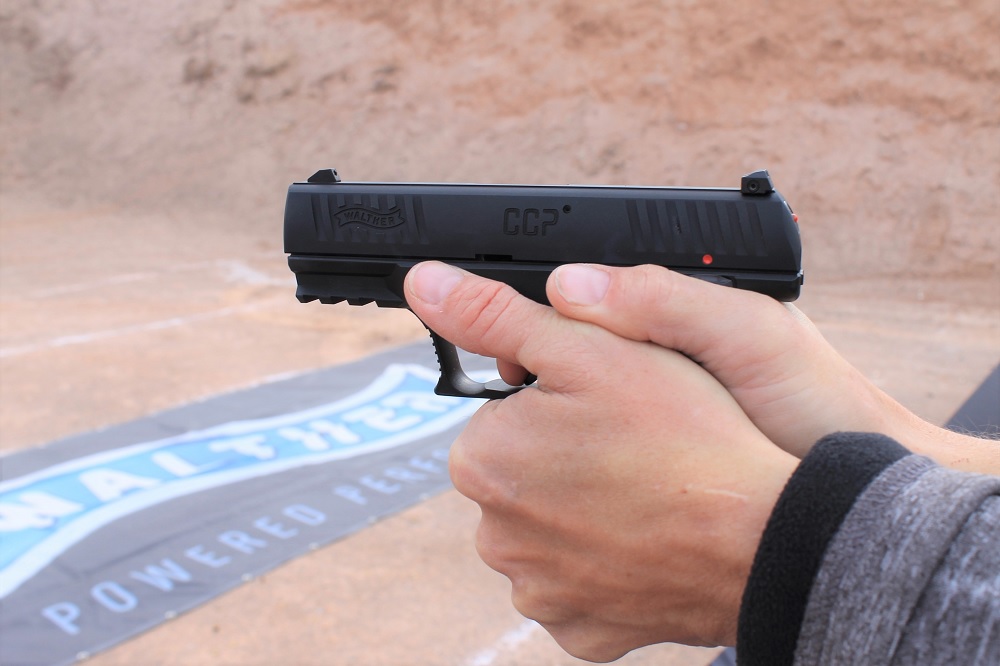 Specs for the CCP M2 380 are:
Barrel:  3.54 inches
Trigger pull:  5.5 pounds
Trigger travel:  0.27 inches
Capacity:  8 rounds (per Walther website)
Overall length:  6.41 inches
Height:  5.12 inches
Safety:  one external thumb-operated; one internal
Width:  1.18 inches
Weight, unloaded:  19.4 ounces
Market price for this new .380 is around $429.
Neither the Q4 or CCP M2 380 appear to be covered by Walther Arms' 30-day, money-back guarantee. However the company's track record as well as the flawless manner in which both operated at the show during our short test would indicate that, with proper maintenance, both will operate reliably for years to come.