[SHOT Show 2020] MDT Chassis Upgrade! NEW Savage Arms B Series Precision
Adam Scepaniak 01.22.20

While a lot of firearm manufacturers in the shooting industry are resting on their laurels, Savage Arms is upgrading a LOT of their firearms with new cartridge offerings, new stock/chassis systems, and/or other heavily improved features. This has even flowed over into the Savage Arms' rimfire line-up as they have teamed up with MDT (Modular Driven Technologies) to produce the NEW B Series Precision rifle.
The new B Series Precision rifle plays host to a very lean one-piece MDT Chassis that is machined from Billet Aluminum. There is also the function of an adjustable Length-of-Pull (LOP) built into the MDT Chassis that moves from 13.25″ – 14.25″ as well as an adjustable Comb Height. The different cartridges that this improved rifle are going to be offered in can be read below as presented by Savage Arms:
.22 Long Rifle (.22 LR) | 18″ Barrel | MSRP $599
.22 Winchester Magnum Rimfire (.22 WMR) | 18″ Barrel | MSRP $599
.17 Hornady Magnum Rimfire (.17 HMR) | 18″ Barrel | MSRP $599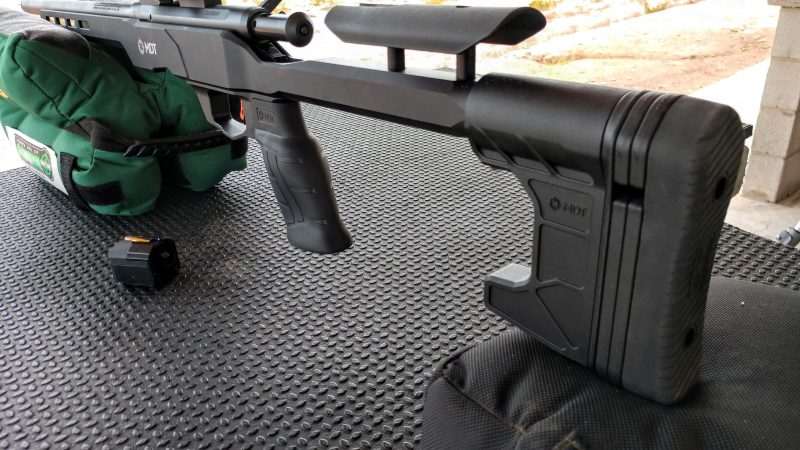 Something else that people will immediately notice if they have the opportunity to shoot this rifle is the very short and crisp Target AccuTrigger. The standard AccuTrigger is a good-quality, factory trigger in its own right, but the Target AccuTrigger is even better with an adjustable trigger pull of 1.5 – 5 Lbs in pull weight. While shooting this rifle at SHOT Show, the Target AccuTrigger pleasantly surprised us with how nice it was.
All of the Carbon Steel barrels on the B Series Precision rifles are threaded to 1/2″ x 28 TPI for those who want to add their own muzzle brake or favorite silencer. This rifle also has a one-piece rail for the easy addition of optics, and comes with one (1) 10-round rotary magazine. While at "Industry Day at the Range" at SHOT Show, we fired the B Series Precision chambered in .22 Long Rifle out to 100 Yards at some clay pigeon targets laying on a berm with relative ease.
With the tremendous affordability of rimfire cartridges compared to centerfire ones, practicing your craft of marksmanship is much lighter on your wallet in a customizable rifle like this one. The only question that remains is whether consumers are willing to give the B Series Precision a shot? Is this rifle one that you would be willing to purchase to shoot varmints, take part in a league, or simply practice with? Let us know all of your thoughts in the Comments below! We always appreciate your feedback.