These Heavy-Duty Boots Have Seen the Miles
Terry Nelson 02.06.20

Footwear for the outdoorsman has been a long and continued discussion over the years, kind of like tires for your off-road vehicle. There are constantly new developments in heavy-duty boots for those that work their footwear hard. For me it has been decades of working, hunting, fishing, hiking, and time on the range either instructing or receiving training.
In the last few years, I have developed some preferences in heavy-duty boots. Generally speaking, I have found that cheaper is usually not better, although that factor may well depend on your needs. Today my needs center around comfort for lots of hours on the range, protection and ankle support for some hiking and hunting in rocky country usually, with lots of spiny things that will stick you. I need boots that can take lots of punishment and not come apart in the first few months or even a few years. I like boots that at least come up over the ankle, and times that go even higher onto the lower leg. Lightweight boots are always a plus, but durability and comfort are necessities.
Below are three different models of boots that I have used, the first two more extensively that the last, but I like them all.
Lowa Zephyr Mid TF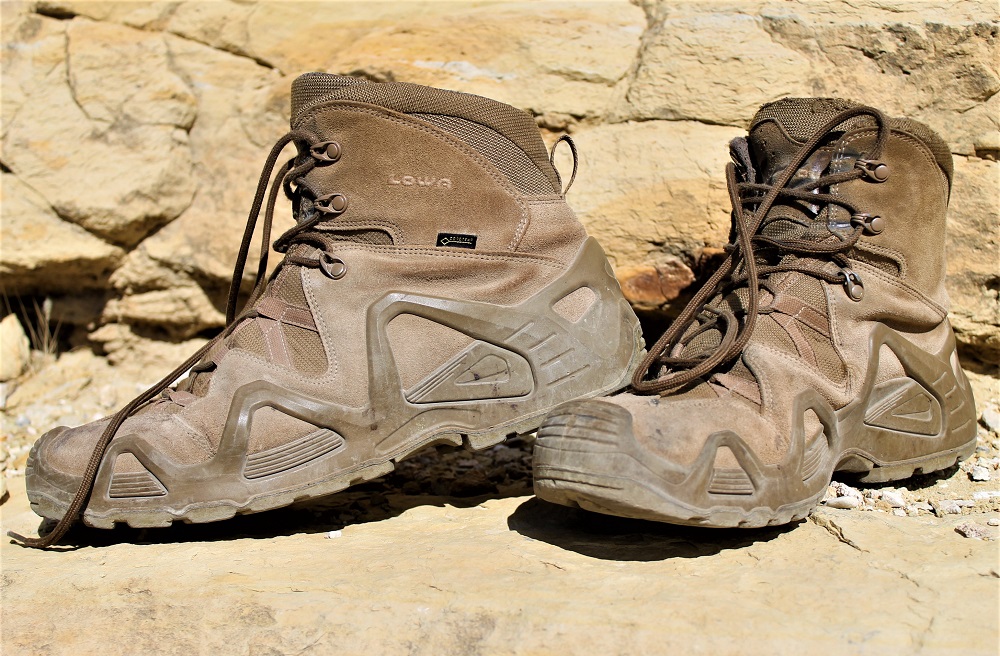 The Lowa Zephyr has been my everyday boot for quite some time now. I have spent many hours and walked many miles in these boots on the range and in the field, including a cross country run and gun event. The are very tough, form-fitting, and give my feet the support they need. I wear a size 14 and the Lowa Zephyr is a good fit, so much so that I usually wear a light- to mid- weight sock as heavy socks would be too tight for me in this boot. But day in and day out these are great boots. Then again, the Lowa Zephyr Mid TF boots are designed for warm and dry climates; that's my environment most of the time.
Features include:
Uppers–split leather and Cordura
Lining–quick dry, breathable fabric with climate control footbed
Midsole–double injection DuraPU
Outsole–Lowa Cross II
Stabilizer– ¾ length nylon
Weight–2.4 pounds, pair
Height–over the ankle (4.3 inches)
Colors–Coyote, Desert
Country of origin–Slovakia
You can find these boots in the $160 to $220 range.
Danner Pronghorn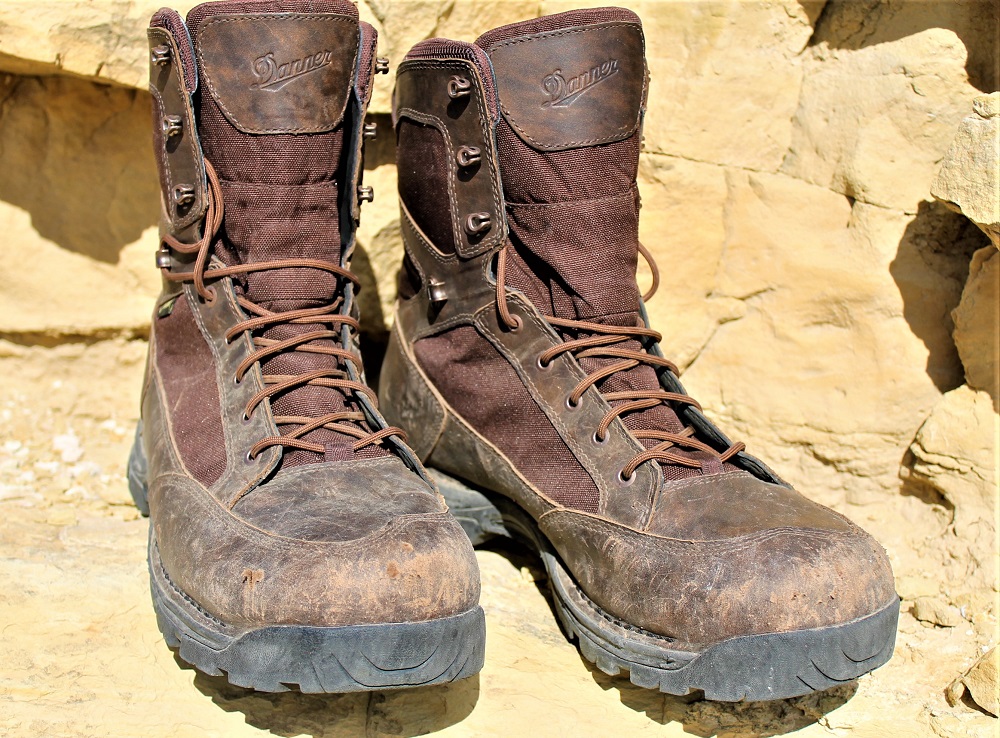 When it comes to an all-around hunting boot, the Danner Pronghorn has my admiration. The first pair I owned was probably 15 to 20 years ago, about the time Danner first came out with this model. I would love to know the number of miles I put on these boots in the field, mostly hunting. I finally replaced that original pair this past year, and yes, they were worn out completely.
Features include:
Weight–3.3 pounds, pair
Height–8 inches
Leather and canvas uppers
Color–Brown
Footbed–DuraPU
Lining–waterproof
Liner–Gore-Tex
Shank—Bi-fit board
Insulation–non-insulated (insulated model available)
Imported
Costs on the Danner Pronghorn is in the $200 range. My original pair were wonderful boots, I am seeing reviews that say this new model is not holding up as well as the old Pronghorns. So far, I have had no issues; time will tell.
Salomon Quest 4D GTX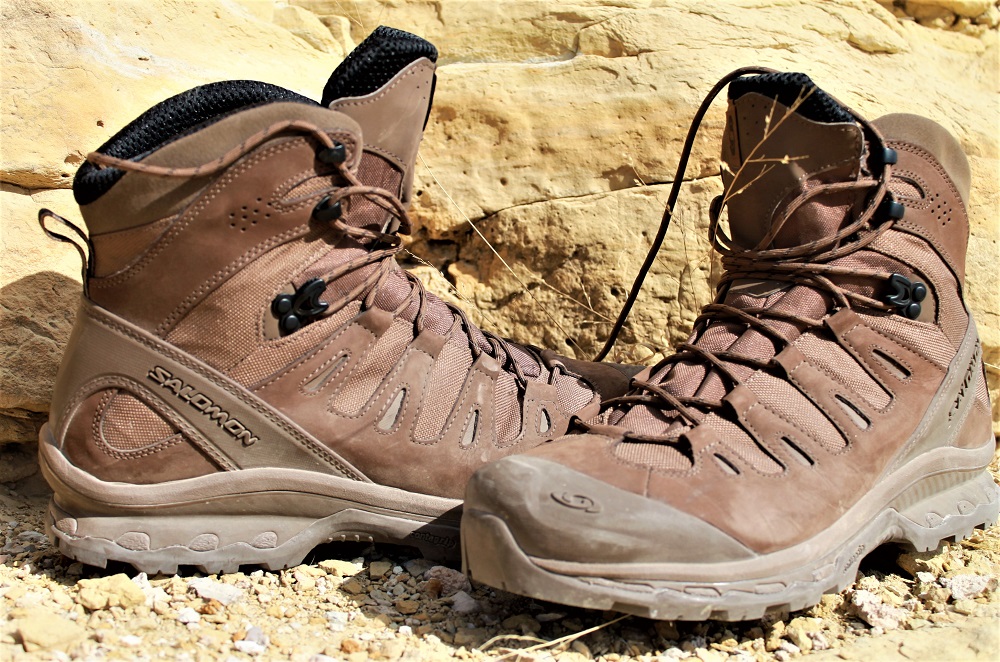 Of the three brands of boots reviewed in this article, the Salomon boot is the one I have had the least time in the field with. However, other than a lengthy break in period, the Salomon Quest 4D GTX has proven to be a top contender for on the range everyday or on the hiking trail.
This boot seems to fit the mold of a hybrid between a full-size hiking boot and a more tactical style shoe. Key features include:
Weight–1.4 pounds, pair
Upper–Gore-Tex with anti-debris mesh, textile and non-reflective materials
Midsole–molded EVA
Midsole–non-marking Contragrip
Chassis–4D Advanced Chassis
Sock liner–Ortholite
Protective rubber toe and heel cap
Closed hooks and gusseted tongue
You can find the Salomon Quest 4D GTX the $200 to $250 range.
As with all products, models and materials receive new and updated technology. Currently all three of these boot companies have added new versions of the models listed here but still have these specific boots listed in their offerings. I can honestly attest that I have put countless miles on the three of these boots combined.