[SHOT Show 2020] NEW Federal Premium PUNCH Defense Ammo is a Knock-Out!
Adam Scepaniak 02.09.20

Federal Premium has introduced a new self-defense round at SHOT Show 2020 with the unveiling of their Punch line of ammunition. With over 30 years of knowledge under their belt, Federal Premium set out to produce a great defense round for the everyday concealed carry holder that was not over-complicated. What they came up with in the end was Punch!
The needs of law enforcement and civilians can often be similar when it comes to self-defense ammunition, but in some respects, LE ammo can be over-engineered for the average CCW holder. We do not need our ammunition to potentially shoot through barriers like car glass on a daily basis. We need simple traits like a cartridge that will always function, have reliable ignition, good barrier performance, terminal performance, and strong ballistic characteristics. Some of the other attributes that Federal Premium poured over the Punch line of ammunition can be read below:
Jacketed hollow-point bullet design provides a balanced mix of effective penetration
and expansion
Out-performs comparably priced competitor rounds
Nickel-plated brass case with primer seal
Available in the most popular defensive handgun cartridges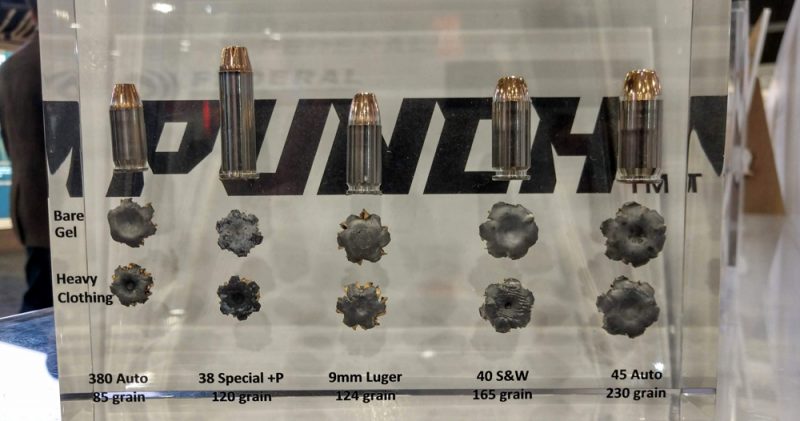 As you can see from the image above, the Punch hollow-point gets very similar expansion to some of Federal Premium's other premier defense rounds through bare gel and even a barrier like heavy clothing.  To start with, Federal is offering Punch in 5 common cartridges for concealed carry. All of those cartridges along with their grain weights and associated MSRPs can be read below:
.380 Auto 85 Grain Punch JHP | 1,000 FPS | 20 Count | MSRP $15.99
.38 Special +P 120 Grain Punch JHP | 1,070 FPS | 20 Count | MSRP $19.99
9mm Luger 124 Grain Punch JHP | 1,150 FPS | 20 Count | MSRP $15.99
.40 S&W 165 Grain Punch JHP | 1,130 FPS | 20 Count | MSRP $21.99
.45 Auto 230 Grain Punch JHP | 890 FPS | 20 Count | MSRP $20.99
The price-points these new self-defense rounds are being offered at are extremely affordable for the performance they are delivering. A stout 9mm hollow-point that could see a street price south of $15 per box is an incredible deal. Some shooters do not like change though so the biggest question is what do you think? Is this something you would be willing to carry? Let us know all of your thoughts in the Comments below! We always appreciate your feedback.