A familiar face landed  on the podium in the Can-Am Grand National Cross Country Series.
This season's opening race, the Moose Racing Westgate River Ranch GNCC, was an exciting deep mud race to the finish.  Heavy rains had soaked the course in the previous days making for an epic battle in the mud.
Last year's winner Chris Borich (SUZ) was again in the thick of the fight after racing for 2 and half hours. Borrich made a last lap pass, overtaking Chris Bithell and Adam McGill on his Maxxis/Yoshimura Suzuki in route to his first victory of the season.
Borich, three-time and defending ATV champion, settled into the third position, but after tagging a tree with his front bumper, Borich was forced to pull into the pits for some additional tweaking.
"I hit the berm a little bit wrong and ended up tagging a tree," Borich said. "I bent my front bumper and I had to stop in to readjust the clutch perch, which cost me about 40 seconds and I was a little worried about losing the clutch before the race was over. Luckily everything held together and I was able to pull it off at the end there."
West Virginia's Adam McGill changed teams in the off season leaving the Factory Can-Am  team and now riding for Precision/Moto X Perts/ITP/Lonestar/RG Motorsports team on a new Honda. McGill settled for 2nd place not bad for a brand new team and machine.
"I pretty much led all day but I lost my brakes on the second to last lap and that helped push me into second at that point," said McGill. "The new bike really impressed me; I'm just looking forward to getting it out to the Georgia clay and letting her eat!"
XC1 Results: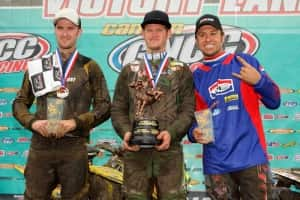 Chris Borich (SUZ)
Adam McGill (HON)
Chris Bithell (CAN)
Walker Fowler (YAM)
Johnny Gallagher (YAM)
Derek Swartfager (HON)
Mark Notman (YAM)
Jeff Pickens (YAM)
Kevin Yoho (YAM)
Craig Bowman (HON)
XC2 Pro Am Results: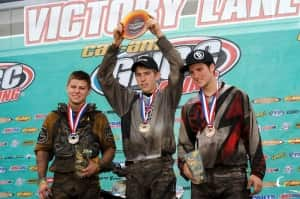 Patrick McGuire (YAM)
Braden Henthorn (HON)
Eric Hoyland (HON)
Nathan Thomas (HON)
Matt Hanna (YAM)
Michael Lancaster (HON)
Scottie Rich (SUZ)
Cody Ellison (HON)
Dallas Goins (HON)
Josh Merritt (YAM)
XC1 Standings:
Chris Borich (30)
Adam McGill (25)
Chris Bithell (21)
Walker Fowler (18)
Johnny Gallagher (16)
Derek Swartfager (15)
Mark Notman (14)
Jeff Pickens (13)
Kevin Yoho (12)
Craig Bowman (11)
XC2 Pro Am Standings:
Patrick McGuire (30)
Braden Henthorn (25)
Eric Hoyland (21)
Nathan Thomas (18)
Matt Hanna (16)
Michael Lancaster (15)
Scottie Rich (14)
Cody Ellison (13)
Dallas Goins (12)
 Josh Merritt (11)
$250 Motosport.com Holeshot Award: Jarrod McClure (HON)
$100 Motosport.com Pro Am Holeshot Award: Patrick McGuire (YAM)
What's Your Reaction?
[reactions id="29966"]